How to prepare for patrol rifle malfunctions
A good M4 carbine, fed good ammunition from good magazines, is a highly reliable machine – but any machine can fail
---
In my book "Building a Better Gunfighter" I compile my 40+ years of experience as a police firearms instructor into the three key elements I feel you must master to be a gunfighter: marksmanship, mechanics and mindset.
By mechanics I mean the ability to run the gun on "automatic." Your ability to load, reload and clear malfunctions must be so deeply programmed onto your hard drive that your mid-brain can perform these manipulations while your fore brain is concentrating on the aspects of a shooting that require your conscious attention – situational awareness, sight alignment and trigger control.
We program these skills well with our duty pistols, but I continue to see officers who lack such lifesaving skills with their patrol rifles. A good M4 carbine, fed good ammunition from good magazines, is a highly reliable machine. But any machine can fail, especially during the rough and tumble circumstances of a gunfight.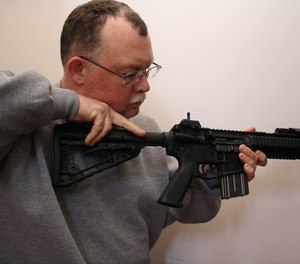 Patrol rifle malfunctions
Most instructors break down pistol malfunctions into three types:
Failure to feed/fire;
Failure to eject;
Failure to extract (often mistakenly called a "double feed").
The AR15/M16/M4 weapons platform can experience these same failures plus a couple more – a true double feed and a bolt over misfeed.
1. Failure to feed/fire: A sickening "click" sound when you expected a bang.
The cure: The standard immediate-action, rifle-clearing sequence like the "tap-rack" we know so well for clearing Type 1 and 2 pistol malfunctions – SPORTS. This clearing acronym – Slap, Pull, Observe, Recharge, Tap, Shoot – was drilled into my subconscious more than 40 years ago at Fort Benning, Georgia.
SLAP – Slap the magazine to ensure it is fully seated. Some instructors add the step of pulling down on the magazine to make sure it is fully latched, especially when reloading.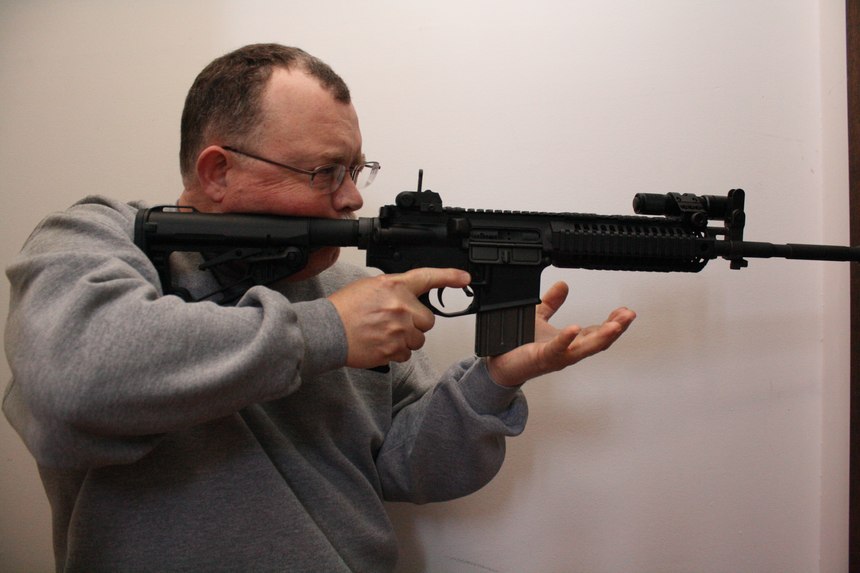 PULL – Pull the charging handle sharply to the rear and hold it back.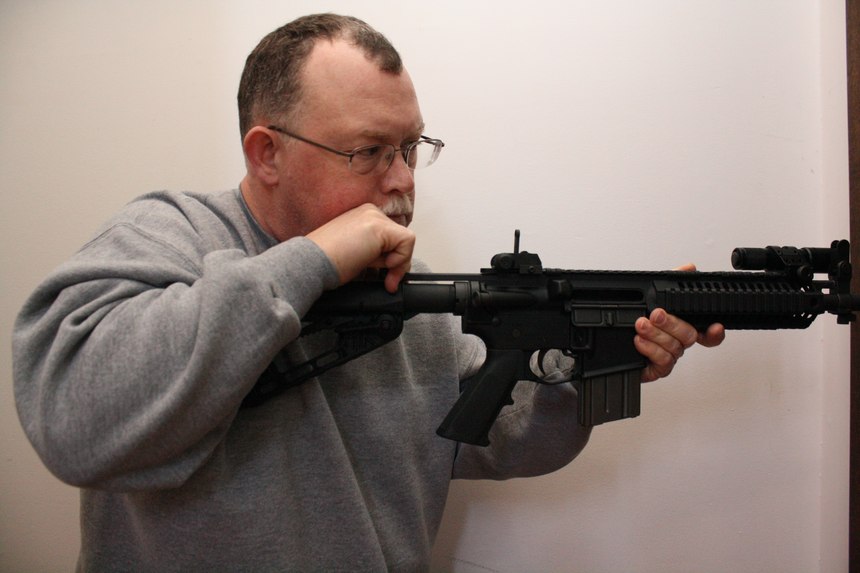 OBSERVE – Observe the chamber area to ensure there are no loose rounds or empty cases there.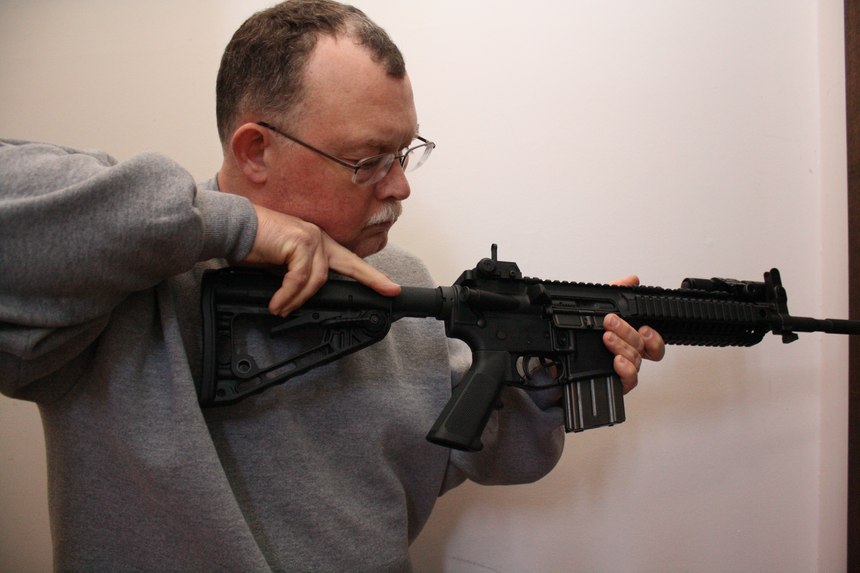 RECHARGE – Release the charging handle from its fully retracted position allowing the bolt to feed a fresh round from the magazine.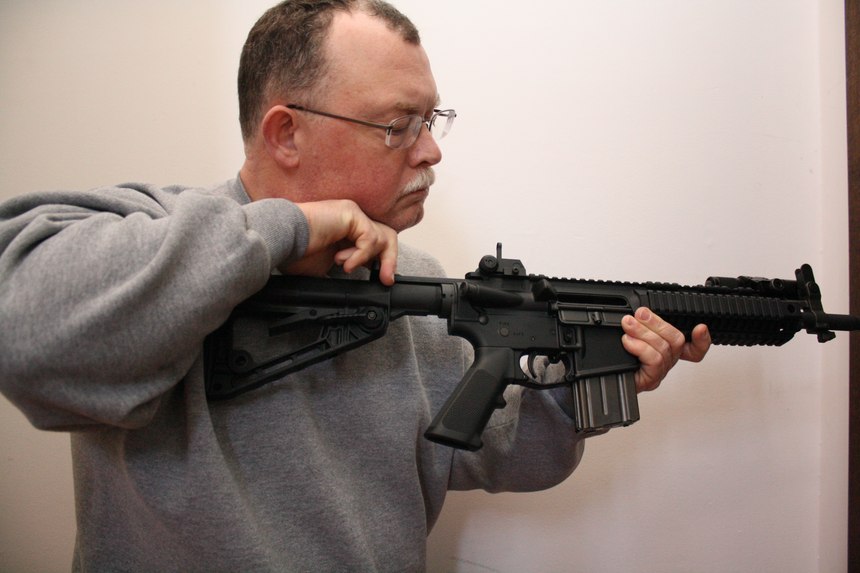 TAP – Tap the forward assist plunger with your right hand to ensure the round is fully chambered and the bolt is locked in battery (some rifles, like the original AR15 SP1 model, do not have a forward assist plunger).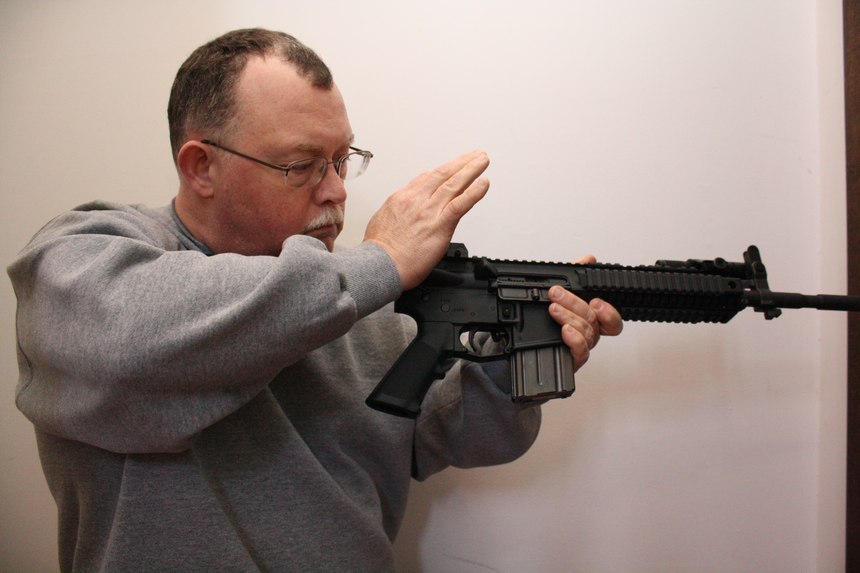 SHOOT! - Reengage the threat.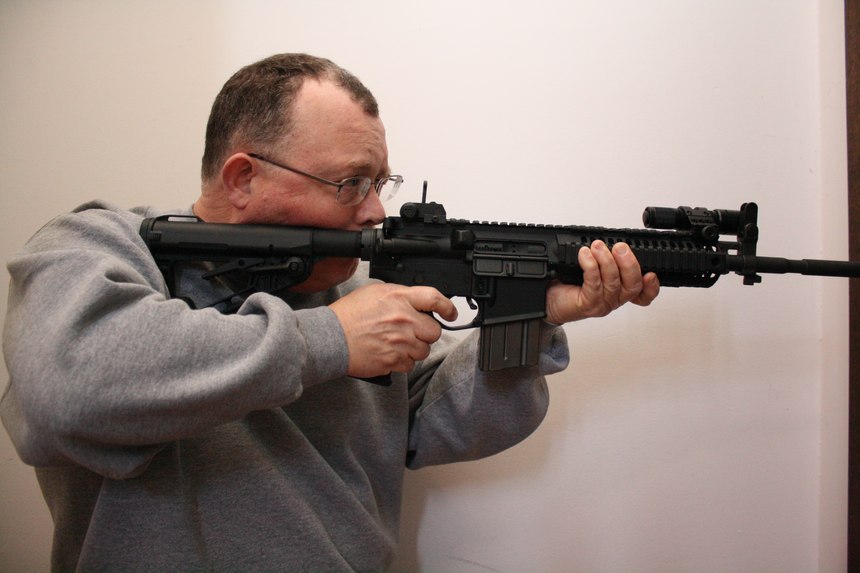 2. Failure to eject: An empty case sticking out of the ejection port, sometimes called a smokestack.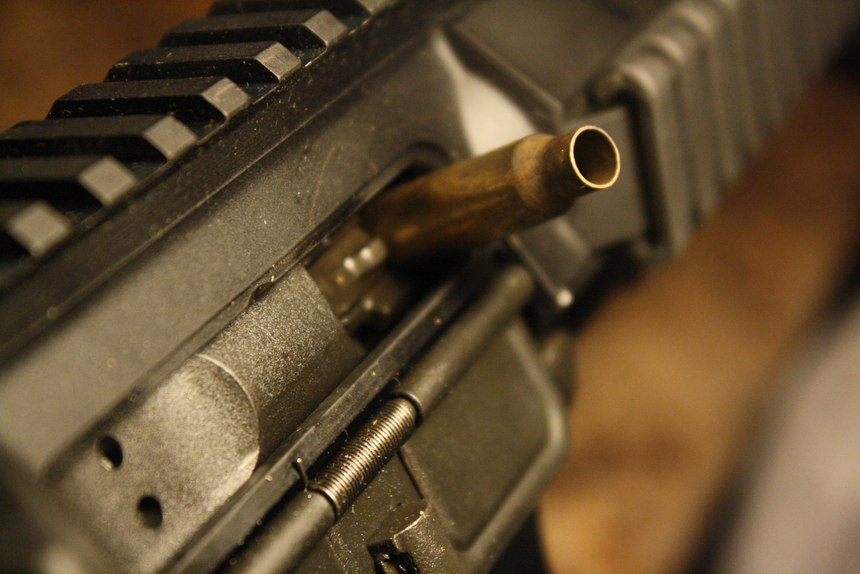 The cure: SPORTS.
3. Failure to extract: A fired case is left in the chamber and a fresh round has fed up the ramp, stuck against the empty in the chamber.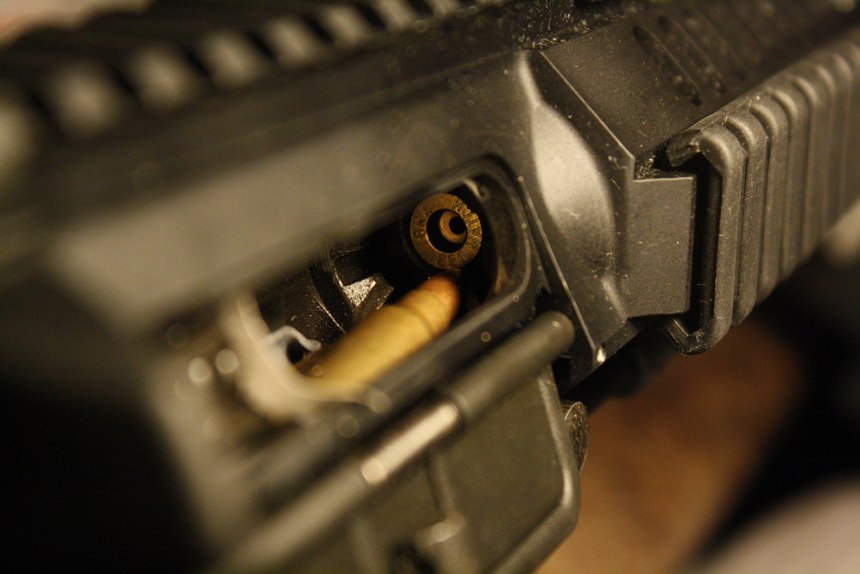 The cure: Rip out the magazine and let the bolt slam closed. Cycle the charging handle until the fired case in the chamber ejects or falls free and you see an empty chamber. Then insert a loaded magazine and cycle the charging handle to load a round.
4. Double feed: In pistols a true double feed is impossible since the magazines only feed from a central position in the feed lips. With an M16 magazine, the rounds alternately feed from the right or left side of the feed lips, so a damaged magazine can allow two rounds to strip towards the chamber at the same time. This is ALWAYS caused by a bad magazine.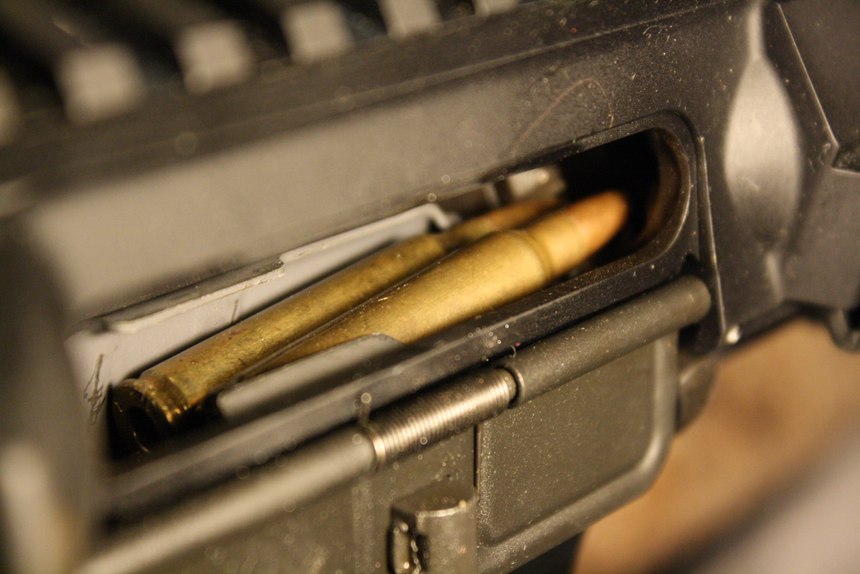 The cure: Strip out that magazine and discard it, cycle the charging handle to clear the action of any loose rounds, insert a new loaded magazine and cycle the charging handle to load a round.
5. Bolt over misfeed: These are uncommon malfunctions and usually an indication of a bad magazine, but might also be caused by a weak cartridge, causing a short stroke in the bolt operation. The stuck cartridge typically has a noticeable dent and bend.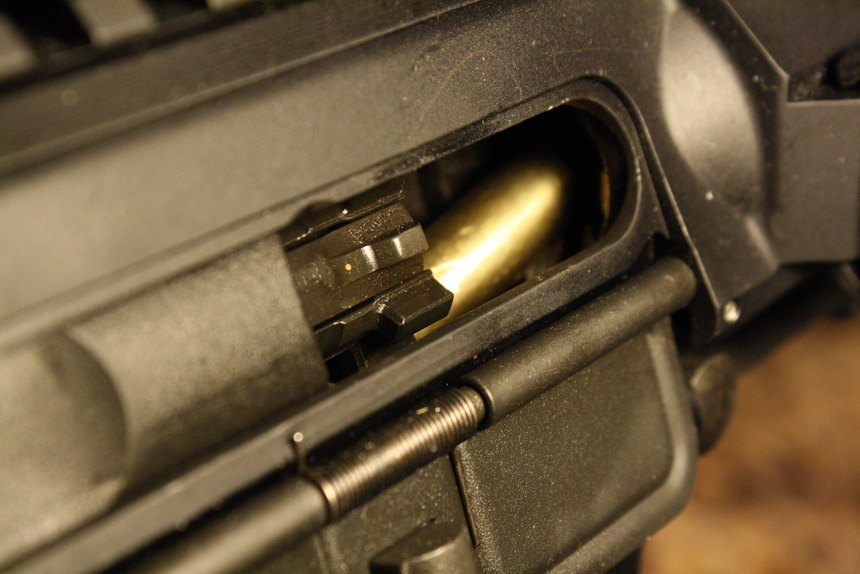 The cure: Strip out that magazine and discard it if you have another, cycle the charging handle to clear the action of any loose rounds, insert a new loaded magazine and cycle the charging handle to load a round.
Polish up your gun handling skills
Get yourself some dummy rounds for your AR-platform rifle and practice malfunction clearing. Always practice moving to cover whenever possible to clear any weapon malfunction and remember that it might be a better choice to let the long gun drop to its sling position and draw your sidearm for a close threat. A well-practiced pistol presentation is faster than using SPORTS.
Lastly, though this problem is less likely with newer rifles, one common cause of AR malfunctions is a weak extractor spring. Adding a polymer De-fender "D" ring around the extractor spring will greatly boost its power and virtually eliminate extractor-caused malfunctions.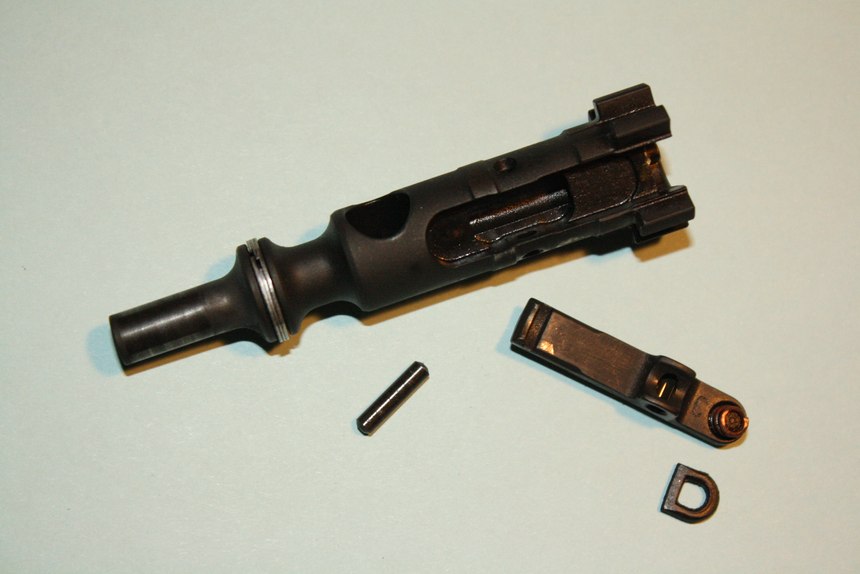 The streets we police today are ever more dangerous with ambush attacks and anti-police sentiments bringing us to the edge of a dangerous cliff. Polish up your gun handling skills – marksmanship, mechanics and most of all, your mindset – to maximize your safety and that of your fellow officers.

Request product info from top Police Firearms companies
Thank You!