How will the election result influence the gun industry?
Let us know in the comments what you think will happen to the gun industry
---
This article originally appeared on The Firearm Blog.
By Steve Johnson
TFB avoided clickbaiting during the election. I even killed a number of grey-area stories that my team wanted to write. This resulted in us conceding a lot of traffic to our competitors, but I could hardly claim we are not about politics if we suddenly become political when it suited us.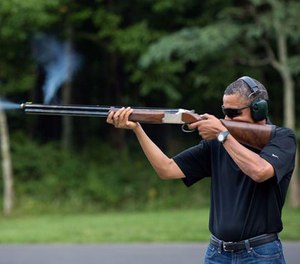 That said, this election was always going to have a significant effect on the gun industry, regardless of the outcome, and due to popular demand from readers I am going to share my opinion on how the election of Donald Trump as President, along with a Republican House and Senate is going to affect the industry over the next four years.
In the short term, we can expect NICS background checks to slow resulting in lower total numbers. The sale of pistols, Modern Sporting Rifles (semi-automatic rifles) and ammunition will soften. Consumers are not going to feel any sense of urgency to buy guns like they had after the previous two elections.
It is ironic that both Smith & Wesson and Ruger's share prices have fallen significantly (both dropped approximately 15% over the last week) on what is ultimately good news for the industry. Investors had assumed a Clinton win which would have led to yet another round of panic gun buying in the short term. The share price fall has wiped $230 million off the market cap of S&W and about $130 million off Ruger.
Long term, of course, a pro-gun President is good for the industry, but the record profits after the Obama elections are not going to happen. Obama was truly the world's greatest gun salesman. Investors will be confidant that Federal gun-control legislation is unlikely to be passed over the next four years and so I would expect greater investment in the gun industry. This will ultimately lead to innovative products for consumers, rather than a race to produce as many AR-15 stripped lowers as possible.
As far as gun right legislation, I think the common sense Hearing Protection Act should easily pass into law. The NPA allows suppressors to be purchased with just an ATF Form 4473 like any pistol or rifle, no tax stamp or waiting period. Quite frankly there is no reason why suppressors should require more paperwork than car mufflers to purchase, but the HPA is at least a good step forward.
Sadly I don't foresee the manufacture of transferable machine guns being legalized anytime soon, but now is the time to remove restrictions on Short Barreled Rifles and Any Other Weapons (AOWs). It is insane that screwing a vertical grip onto a pistol (making is an AOW) is a federal crime punishable by 10 years imprisonment. This is just common sense.
It seems likely that Trump will start talking to Russia and eventually roll back the sanctions, imposed by Executive Order, against Russian companies thereby allowing Kalashnikov firearms back into the USA. Trump will need to be seen to get something in return for easing sanctions, so don't expect them to disappear overnight.
Chinese firearms are also banned by a number of Executive Orders. I cannot see Trump reversing these. He campaigned on fixing the trade imbalance with China and he is not about to open up the domestic gun market to cheap Chinese imports. For the same reason I cannot see the general ban on the importation of "non-Sporting" firearms to be dropped.
Lastly, I know for sure that SHOT Show 2017 won't be as chaotic as it would have been if Clinton was elected. It was complete madness four years ago when Obama decided to proclaim his intention of introducing gun control during the Show. I am looking forward to an optimistic and drama free SHOT Show in January.
Let us know in the comments if you agree or disagree with my assessment, and what you think will happen to the gun industry.

Request product info from top Police Firearms companies
Thank You!