Meet Staccato's first entry into the law enforcement duty gun market
Staccato handguns are currently issued, authorized or carried by almost 300 departments nationwide to include the LAPD and the Texas Rangers
---
The 1911 Government Model has just celebrated its 110th anniversary. Serving as the U.S. Military's standard handgun for much of that time, the 1911 has also been used with distinction by American law enforcement.
One thing the 1911 is not known for is ammo capacity. More modern designs, specifically the Glock 19 and 17, have become popular based, in part, on the fact that they have magazine capacities that double the 1911's ammunition payload.
So what happens when the accuracy, safety and ergonomics of the 1911 are combined with the magazine capacity of the Glock? The result is the Staccato 2011!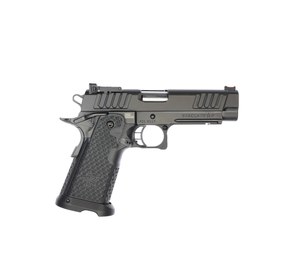 Never heard of Staccato? This is the new name for STI. STI had been selling 2011 pistols and parts for decades but primarily sold products for competition use only. STI recently came under new ownership and the decision was made to move aggressively into the law enforcement market. The company's name was changed from STI to Staccato to help reflect this change in the market.
Still based in Georgetown, Texas, Staccato has changed its product lineup to focus on building complete pistols rather than frames, slides and other parts for custom gunsmiths.
Staccato's current 2011 lineup is made up of firearms for personal protection and concealed carry, competition shooting and police duty carry. Specifically, the Staccato P is the company's entrant into the law enforcement duty gun market.  
I recently communicated with Buck Pierson GySgt, USMC (Ret), vice president of LE&MIL Business Development, regarding Staccato's move away from the competition market and into the police firearms market. 
Q. I know retired FBI agent and professional firearms trainer Hilton Yam offers a 2011 armorer's course. Are there other ways for departments who allow the Staccato to be carried on duty to certify personnel to inspect and work on pistols?  
Conducted by Staccato Law Enforcement and Military team members and Staccato Master Gunsmiths, we provide factory armorer certification for officers and departments. The certification includes test firing to diagnose root causes of malfunctions, and how to fix them. This course is free to departments who approve our pistols for use, as well as for special units who field our guns. We also offer a free 2011 transition class for the same departments and units when they purchase our guns.  
Q. If an officer in a small department without armorer support or who buys a pistol himself requires service do you have an expedited repair program? How soon can this officer expect to have the pistol returned if it does need some repair or inspection?
Our guns have a lifetime warranty and any concern an officer has will be taken care of immediately. The typical turnaround time is a week or less. We also have a loaner program for officers who have their Staccato 2011 pistols pulled from service after an officer-involved shooting. We will loan that officer a factory Staccato until the duty gun is returned.
Q. The Staccato P doesn't have any sort of active firing pin block or safety. Are you using a lightweight titanium firing pin to help ensure the pistol won't fire if dropped? 
It is not necessary, as the P has passed every drop test at all the major departments that have tested and approved our guns. The use of firing pin blocks like the Colt Series 80, Kimber style, etc., cause more problems and malfunctions.
Q. What does the letter "P" in the name Staccato P designate? 
We offer pistols in several sizes. The "C" in Staccato C stands for Carry; C2 designates that it is a double stack. The C-series guns are marketed more for concealed carry and personal defense. The P stands for Professional, as this gun is primarily intended for uniform carry. 
Q. How many magazines come with pistols bought through the law enforcement sales program?
The P comes with six magazines total under our LE sales program: 4 x 17 rd, and 2 x 20 rd mags.
Q. I see you have optics-ready pistols available. How do these compare to the non-optics models?
Depending on the model, the pistol is available either with a dedicated rear sight or the removable patent-pending DPO plate. For example, the Staccato P firearm alone comes with a non-removable rear sight. The Staccato P with the optic ready DPO option is the same firearm but with the addition of the optics mounting plate.
Staccato handguns are currently issued, authorized or carried by almost 300 departments nationwide to include the Los Angeles Police Department and the Texas Rangers. Both agencies have a time-tested history with the 1911. Allowing the 2011 for duty carry only seems like the next logical step. Officers or departments looking for more info can email heroes@staccato.com 
The patent-pending DPO plates are available for a variety of different optics and are made for Staccato by Dawson Precision. Adapter plates are also available from C&H Precision Weapons. Either company should be able to provide a mount for the most popular dot optics in the current market. 
Staccato 2011 P Technical Specifications:
Caliber: 9 MM Luger
Capacity: 17 rounds standard, 20 round extended mag available
Barrel: 4.4" Bull 1x16 twist
Finish: Diamond-like carbon, black
Trigger: 4 lbs.
Safety: Ambidextrous with extended levers
Grip: 2011 G2
Frame: Machined from billet with 1913 accessory rail
Weight: 33 ounces without magazine 

Request product info from top Police Firearms companies
Thank You!