Review: Radical Firearms Blue Line rifles
Texas-based company sources inexpensive parts to build economic AR-15 rifles
---
In 2013, Radical Firearms opened shop with a simple business model: source inexpensive parts from all over, build economic AR-15 rifles, and then sell them at a low price.
I was recently afforded the opportunity to tour the company's facility in the sweltering belly of Houston and meet with the folks working behind the scenes.
Marketing director Mel Miranda was a gracious host and gave me some background about the all-American start-up saying he and COO David Spector had started the business with a handful of other people.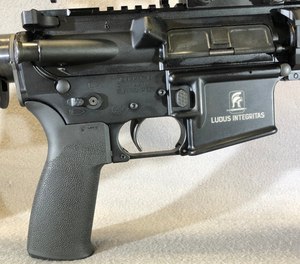 The company experienced exponential growth and soon outpaced some of their suppliers who could not keep up with demand. This forced them to grow into manufacturing, purchasing expensive machines and raw materials so they could keep up with the building crush of orders coming in.
Within five years the company grew to 100 employees, currently manufacturing 75 percent of all its rifles in house, creating parts and assembling 600 units per day, and still having some backorders. Radical Firearms builds the AR platform in just about every configuration and caliber currently available.
It hasn't all been smooth. Spector admitted they had an issue with bolt carrier groups previously and learned some hard lessons. They re-sourced to a better supplier and now the issue is fixed. Reputationally, the company has moved forward, honoring its lifetime warranty on parts they build.
Radical Firearms has a large reach through distributors Brownells, RSR, Williams and Atlantic, as well as direct to customer sales. The company also builds parts for some major players in the firearms industry. They have military clienteles, and even foreign government militaries, but law enforcement holds a special place in their hearts. The company has donated somewhere between 700-800 rifles over the last few years – at least half of them to law enforcement officers, the other half to support worthy charities. Radical has issued weapons to 305 law enforcement agencies.
Radical Firearms Blue Line offering
The company story is great, but I wanted to see exactly what Radical Firearms is doing for cops around the nation with its Blue Line offering.
Officers who can prove their credentials can order a quality base rifle for $699.99, much less than the $1049.99 MSRP. The AR is duty ready and comes with a lot of great features for the price.
The basic rifle is a 16-inch, Melonite-coated barrel (1 in 7 twist), 5.56 chambered, mid-length, direct impingement gas system, with pinned gas block and staked castle nut. The upper and lower are forged and the MHR rail I chose (one of a few options) was a full length, free-floated rail having M-LOK and quad Picatinny at the end. The rail is flat-top, so you can mount whatever optic or BUIS you like.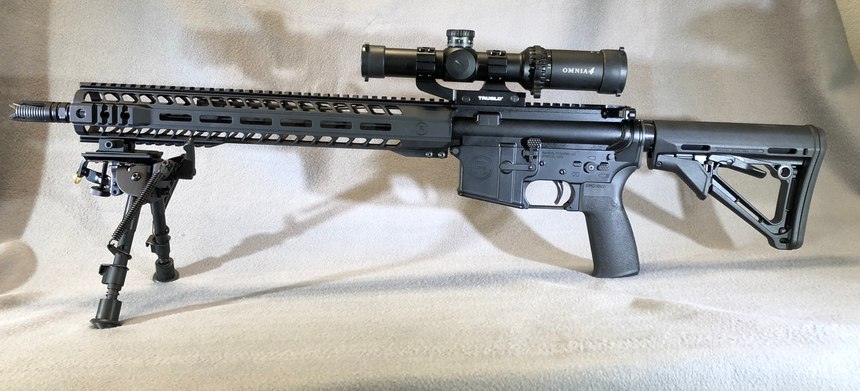 Plus, law enforcers can select from a limited amount of upgrades offered to them just above Radical's cost. Options like a CMC Trigger, Aimpoint optic, BCM charging handle, or Streamlight weapon light, are within your grasp at a discount making this a one-stop shopping destination.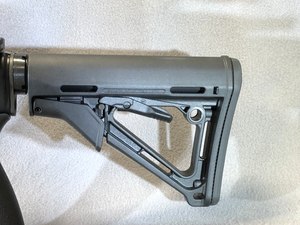 Once the weapon is configured, Radical Firearms gunsmith Clayton Schubert hand-assembles all the parts and puts the rifle through a 36-point inspection before test-firing it in-house using 50 rounds. Schubert went to the oldest gunsmithing school in America at Trinidad State Junior College, incidentally the same place I went to the police academy many moons ago. I observed as Schubert assembled and fired my test rifle in an in-house booth marked with a blue line down the middle of the walls. We then drove to a local gun range and fired the better part of another 150 rounds before it was even cleaned or lubricated. I liked the balance of the rifle, the feel of the rail and the Magpul furniture, and experienced zero malfunctions.
To the range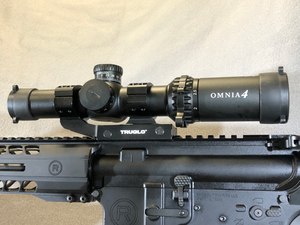 Next, I wanted to stretch the rifle out for some MOA testing. Considering the theme of high-value at a low-cost, I asked Truglo for one of its Omnia 1-4 scopes and a bipod. When these arrived, I mounted them up and headed out to the 100-yard range with several different brands of ammunition.
When I saw the $182.00 cost of the Truglo Omnia on Amazon, I tempered my expectations, but was completely surprised – it was a good optic. The glass was clear, the throw lever helped manipulate the magnification with ease, and there were 11 levels of illumination for the reticle. I set zero pretty quickly with turrets that popped out for adjustment, then locked back into place with a snap.
The Truglo bipod was also a good value, providing a stable platform and different angles of adjustment capable of dealing with different shooting terrain. The only negative I found involved having to retighten the bipod after a couple hundred rounds.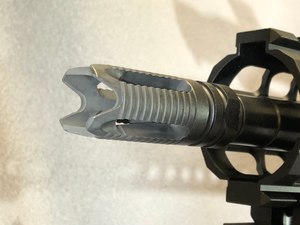 I was able to hit some 1.5-inch groups at 100 yards with this setup. I suspect the rifle could do better, but with my eyes using a 1-4x24 at that distance, I felt this was pretty good.
Performance
The Radical Firearms Blue Line RF-15 ran flawlessly through 700 rounds of testing. The first 200 rounds were pre-lube/cleaning. I lubed the rifle for the next 300 rounds and then cleaned it before the final 200 I shot for MOA. There were zero hiccups and the performance became predictably solid through American Eagle, Winchester, Hornady Black and Hornady Frontier brands of .223/5.56 ammunition.
The muzzle break (RF design) gave me a very controllable recoil impulse and the Magpul furniture was a delight (though the Magpul CTR was not 100 percent beard friendly). All the controls were outstanding and I found myself learning the rifle and getting comfortable with it.
I don't care where you work, officers on the street need an AR. The chances of you being out-gunned are fairly high, but barring that, you sometimes have to engage a threat from a greater distance. Most agencies provide officers with this option, but some allow employees to provide their own. I found the Radical Firearms Blue Line to be a great choice to fill this role. The standard rifle is of high quality and at least to the limit of 700 rounds, has been perfectly reliable. Most problems would have been ferreted out well short of this mark. Cops looking for an inexpensive option should check out the Firearms Radical website and build themselves a duty rifle.
Specifications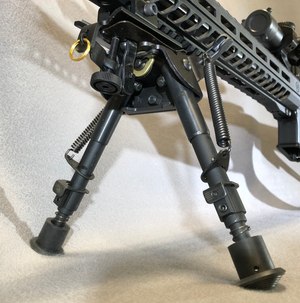 Manufacturer: Radical Firearms (Stafford, Texas)
Caliber: 5.56 (multi)
Action Type: Semi
Barrel: 16 inches with RF muzzle device
Magazine: Detachable
Sights: Optional
Weight: 6 lbs., 9 oz.
Length: 33-36.25 inches 
MSRP: $1049.99 ($699.99 Blue Line price)

Request product info from top Police Firearms companies
Thank You!