How cops can train at home while social distancing
These new products will not only improve your own skills, but may also get your family off the sofa
---
Many families have been thrown together for nearly 24 hours a day and even first responders may be told to stay home if they have shown symptoms or are thought to have been exposed to the coronavirus. Rather then veg out in front of the TV, this might be a great opportunity to keep up your training and get your family engaged while you are stuck at home.
In a previous article, I covered content from two SHOT Show LEEP sessions, Deliberate Practice: If It Doesn't Challenge You, It Doesn't Change You and Weapon Retention and Presentation from Close Quarter Combat. In this article, I will review just a few of the new products that will let you not only improve your own skills, but may also be used to get your family off the sofa. How about parents against kids or guys versus gals target practice?
Improve your shooting skills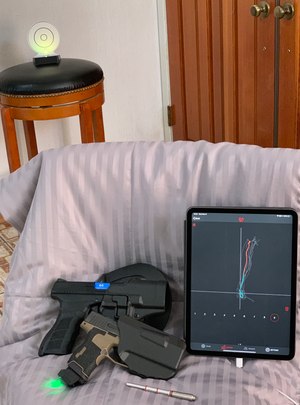 I am a huge fan of any product that works with an officer's weapon to help them understand where they need improvement. I covered the Laser-Ammo i-MTTS when it was first introduced several years ago. I-MTTS has two major components – one or more intelligent target bases and either a Laser-Ammo laser training pistol or a compatible laser cartridge that fits into a real or airsoft weapon. The bases communicate with each other and can run through a handful of timed or untimed drills including follow the ball and shoot/don't shoot.
Unfortunately, you can spend hours at the range or with the i-MTTS but still not know exactly what is wrong if your speed and accuracy are improving too slowly or not improving at all. That is where the MantisX training system comes in to play.
While attached to a pistol or rifle used for live fire, airsoft or dry fire, the MantisX analyzes every shot and generates actionable data you can use to improve your shooting skills. Several models are available and the X10 can help you improve your draw and initial on-target time.
By combining i-MTTS and MantisX, you get a complete shooting analysis system that will help you increase speed and accuracy. Did you buy a new concealed carry weapon or holster? Strap it on and go for a spin in your living room.
This year, Laser-Ammo introduced a system controller add-on that communicates with upgraded target bases. Unfortunately, I was not able to get one by my deadline, but I can tell you that Laser-Ammo will be selling the controller separately and offering to upgrade older bases at little to no charge. Laser-Ammo and Mantis products still are shipping during the shelter at home shutdown. 
Flashbang training
I like bright lights and loud sounds as much as the next guy, but real flashbangs are not a device that you want to practice indoors unless that indoors is a shoot house or a range.
Shenzhen-based NexTorch was showing off the Nex Distractor, an LED- and speaker-based flashbang-type device that uses 8,000 lumens and 80db to throw your adversary off balance. When I saw it, I immediately thought of using it with virtual simulators, airsoft or sim training where you don't want a repair bill afterward. This device also could be used at home to practice throwing it around corners into another room before entry.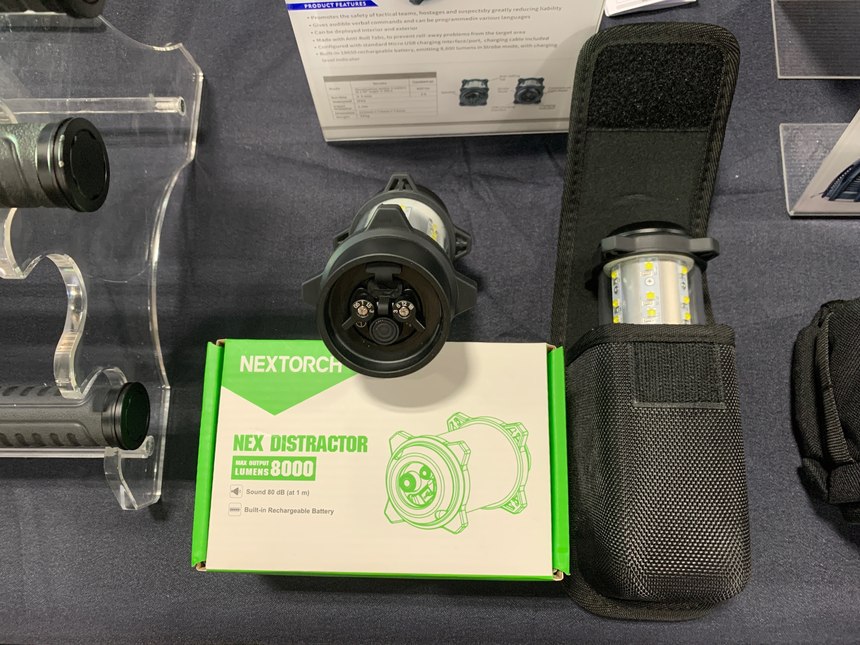 And much more
FEMA offers hundreds of free online classes and many have college credit. This might be a great time to become certified in the Incident Command System (ICS) or to learn how to help build Community Emergency Response Teams (CERT).
Khan Academy is a place for the whole family to learn, with thousands of courses on just about any topic you can imagine.
If your agency has a subscription to the Police1 Academy you might be able to learn new skills, get college credit and knock out some state training requirements at the same time. The Police1 Academy is currently offering a free online course on recognizing COVID-19, preventing transmission and finding reliable information. 
If you're stuck at home, now is the time to go through your patrol seat and bug out bags to rotate out food, snacks, water and batteries for fresh replacements. Maybe you should move ammo into different magazines to give the springs a rest – and check for proper bullet seating. Each time you chamber a round from a magazine, the nose of the round hits the feed ramp. Repeated cycling of that same round slightly pushes the bullet back into the case.  And when was the last time you cleaned and oiled your issue or backup handgun?
Conclusion
Training doesn't stop just because you're stuck at home or even when you think you have mastered a skill. You need to practice to keep your skills fresh and there is always something more to learn. If you have stuck-at-home training tips you want to share, please do so in the comments box below.

Request product info from top Police Firearms Training companies
Thank You!