Can DNA-marked goods stave off thieves?
Applied DNA Sciences uses a DNA-based, anti-theft mark in a pilot project with Swedish police.
---
Stockholm police are testing Applied DNA Sciences' DNANet, a tiny, plant-based DNA-based taggant used to mark and later connect thieves to stolen household wares.
Applied DNA Sciences' DNANet anti-theft tool is a precision-engineered botanical DNA mark used to track items, said Mitchell Miller, the company's director of communications. Botanical DNA is one of the most dense information carriers known, so only minute quantities are needed for analysis and authentication.
"Anywhere where identification is an issue, this mark can be used," Miller said.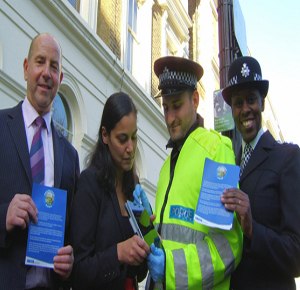 Applied DNA sciences can decode DNANet. Miller said proprietary technologies add to the security of the mark, making it court admissible as part of a forensic case.
It also is rugged and long-lasting, Miller said. DNA occurring naturally can encode roughly the capacity of 100 billion DVDs per gram and, unlike a computer's hard drive, can last for thousands of years when properly encapsulated.
In addition, it is resistant to UV radiation, heat, cold, vibration, abrasion and other extreme environmental conditions.
"DNA is an incredibly dense, robust, and long-lasting information carrier," he said. "That is why DNA is used. It is a unique mark that can't be destroyed or changed. It is proof that particular product came from a particular place."
DNA case study
In Stockholm, the police are using media campaigns and going door-to-door to find residents to volunteer for the DNA-connected community municipal pilot program.
Currently, 500 homes in Stockholm have agreed to become part a DNA-protected community. It works with Stockholm police entering registered residents' homes with a DNANet kit and marking items. The homeowner's address is included on the mark.
All police cars in Stockholm will be fitted with UV lights to identify DNA-tagged loot, Miller said. Stolen wares are recovered and then scanned with the UV light to reveal the mark.
Miller said the mark also rubs off on the criminal, his skin, his clothing and his shoes.
"It is not necessarily going to help the police find a criminal," Miller said. "But once they have someone with the object, you can connect the suspect to the crime with court-admissible evidence."
The Stockholm trial is similar to one under way in London, where DNANet has been used in more than 2,000 homes, Miller added.

Request product info from top Investigation companies
Thank You!