Bringing DNA profiling in-house: How grants could make it possible
The time to start thinking about funding is now. Read below for more information from PoliceGrantsHelp.com
---
The following is paid content sponsored by GE Healthcare Life Sciences 
By Linda Gilbertson
PoliceGrantsHelp.com

As equipment and personnel costs rise and budgets become tighter, police departments often turn to grants for additional funding. You can find funding resources for big-ticket items such as vehicles, bullet proof vests, in-car video recording systems, computers, all the way down to even the most basic of needs.
In the past, you may have overlooked the potential of using grants to buy modern in-station equipment that could dramatically improve the outcome of policing activities and increase public safety. Just as the implementation of radio dispatch was a vast improvement over street-side call boxes, today's advances continue to provide police departments with indispensable resources.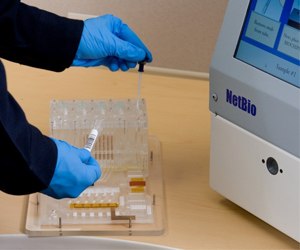 DNAscan™ Rapid DNA Analysis™ System from GE Healthcare Life Sciences and NetBio is a good example of a modern high-tech instrument that you can use to process a suspect's DNA sample during the booking process. It is a fully automated tabletop system that you can use to process cheek swabs in less than 85 minutes. 
In 2013, the US Supreme Court ruled that obtaining a DNA sample from an arrestee is no more intrusive than taking a fingerprint. Since this practice is yet to be adopted in every state, it is important to understand the regulations in your jurisdiction. If routine DNA sample collection from arrestees is legal in your jurisdiction, you may want to look into the possibility of applying for a grant to buy the DNAscan™ Rapid DNA Analysis™ System.
You may contact our grant experts at www.policegrantshelp.com for assistance in identifying the appropriate public or private grant awarding institution for your specific needs. The first step you need to take before deciding to apply for a grant is to make sure that rapid DNA analysis is aligned with both your department's strategic plan and that of the state. Gather a team comprising of your leadership, forensic officers, and investigators to determine the need for such equipment.
For a successful grant application, it is very important to develop an in-depth project proposal that includes: (1) A detailed needs statement; (2) Project design and implementation (3) Monitoring; and (4) Anticipated outcomes. A budget should include the cost of the equipment, training, and the supplies that will be needed throughout the duration of the project.
For more detailed information, visit www.gelifesciences.com/DNAscan for our Grants Resource Guide.