IACP 2012: How police and firefighters can SWARM
During the past two years, the Joint Counterterrorism Awareness Workshop Series (JCTAWS) Project has been conducting tabletop exercises in selected urban areas
---
Dr. Reed Smith is a guy you'd want to have on your team in a fight. He'd be on my team, that's for sure.
To say this guy is impressive may be the biggest understatement made during the entire IACP 2012 conference so far. I have to break it to you, though, he's not a cop (gasp!). Worse, he's with the fire service (double gasp!).
Dr. Smith was among the panelists on a Sunday afternoon session, which was made up of individuals from FEMA, DHS, FBI, NCTC, and several local police and fire agencies, who convened to discuss the lessons learned from a series of regional workshops held in the past two years.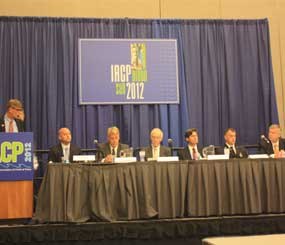 Each tabletop exercise — conducted in cities such as Philadelphia, Boston, Sacramento, Indianapolis, Honolulu, and Houston — was designed to improve the ability of local jurisdictions to prepare for, protect against, and respond to complex, coordinated terrorists attacks specific to that particular city. 
The program is called the Joint Counterterrorism Awareness Workshop Series (JCTAWS), and it has yielded some pretty interesting results.
Dr. Smith's Prescription for Training
The 90-minute session contained entirely too much information to disseminate in a single column, so for now, I want to focus in on the comments of just one of the panelists — Dr. Smith.
Smith is a board-certified emergency room physician, currently practicing at one of the local hospitals in Northern Virginia. He's a full-time employee for the Arlington County Fire Department, serving as their Operational Medical Director. In that role, he's also a consultant to the Arlington County Police Department and is a medical responder for Arlington County SWAT.
As we all know, fire, EMS and police routinely converge on the same scene — whether that's a traffic collision or some other "regular" call — but we also all know that there are gaps in training for all disciplines to work together in a coordinated fashion during a major terrorist attack. 
Listening to Smith, you get the impression he thinks about those gaps rather a lot. 
What police, fire, and EMS personnel all need to have in order to be prepared for a coordinated attack, Smith says,  is at once simple and not.
"What we have to do is change our response paradigm. We have to adapt conventional roles — the conventional police, fire, and EMS roles — to this new threat," he said.
"We have to accept new roles in response. It's not 'I do my part, you do your part.' It's an understanding of all the operational roles and how and where they overlap, and when they transition."
The First Responder SWARM
During the session, Dr. Smith dropped on the audience perhaps the very best tactical acronym I've ever heard — SWARM. 
That stands for Syndicated, Water-Enabled, Anti-Siege Response Matrix Teams and it's attributed to Theodore Moody, apparently from his Naval Postgraduate School thesis (although a quick Google search reveals that it really may be from Sean Newman, in another Naval Postgraduate School document).
Here's SWARM in a nutshell: We must prepare our response to the fact that fire has been and will forever be used as a weapon.
That's just a fact, and we're way behind the curve in planning for it (sadly, another fact).
In the event that a coordinated attack involves fire as a weapon — and, again, there's a damned-high likelihood that a sophisticated attack will involve fire as a weapon — it will mean pre-event planning and pre-event training for fire and police alike. 
It will mean that fire and police personnel will have to work together to use armored vehicles to deploy fire hoses and fireground equipment downrange to the area in which the battle is still very much under way.
It will mean that cops be able to operate in tactical environments which are ablaze. It will put firefighters in a fire fight (the kind with bullets flying).
It will mean giving police officers basic knowledge in simple fire behavior — fire doesn't shoot back but it does have behavior.
"We have to blur the lines," Smith said. "You hand a firefighter a ballistic vest, he'll drop it on the ground and say 'I'm not a police officer.' Same thing will happen if you hand a police officer a turnout coat."
So, how do we actually blur those lines?
"What about having police officers or contact teams carry hand-deployed smoke-extinguishing grenades? They're made. They're about the size of a hubcap, they weigh about five pounds.
"You can knock down a fire in a pretty-large-size room. You can Molle them on the back of your gear. Why don't we teach those guys going into the fight to — as they go by those areas — to start to knock that fire back for life rescue? At that point we don't care about property damage, we care about life rescue." 
Smith concedes that there is risk involved in this concept. Police departments doing first-responder medical care are opening themselves up to certain risk. Fire departments putting firefighters into places where a gunman — or many gunmen — have not yet been neutralized are an equally absorbing risk.
But the threat we may face may require precisely that type of risk-taking, and as Smith — and others — have said, game day is not the time to be figuring this stuff out. 
Responding to the 'Normal Calls'
In addition, Smith outlined coordinated responses during day-to-day  "normal" calls.
Let me give you an example. In an incident not far from Smith's home AOR, Smith had trained a PD with officer-down care, and equipped those officers with a simple blow-out kit, including a tourniquet.
One night, there was a call of a fight in progress, and when officers arrived, they discovered it was actually a multi-casualty incident with numerous stabbing victims, one of whom could have been mortally wounded with a cut at the brachial artery.
"Unfortunately, in this area, there's about a four- to five-minute response time. In those four to five minutes, the responding officers who were trained did the right thing. They quickly triaged and initiated care on the sickest of the patients — the one with that brachial artery injury."
Good story so far, right? Here's the best part.
"When the fire department showed up, they didn't just push those police officers away, saying, 'It's our job now.' What they did was they supported those police officers, transitioned the patient for transport, and took over the care in a seamless way."
That is the result of training prior to action. That is breaking down traditional barriers. That is a truly-coordinated response. 
Point-of-Wounding Care, and TECC
"Napoleon's surgeon in the 1700s said that the fate of the wounded lies in the hands of the first person to render care," Smith remarked. "That kind of still holds true."
Smith saliently observed that as a nation we are sitting on more than a decade of data related to Tactical Combat Casualty Care — life-saving tactics that have been employed by our military brothers and sisters in the Long War overseas.
"This is data," Smith said, "that in my opinion was earned by the blood of American soldiers. We shouldn't let this data go to waste. We have data that shows the success of point-of-wounding care by non-medically-trained responders."
Smith was quick, though, to add that Tactical Combat Casualty Care as we know it in the armed forces is probably not an exact fit for police on the street. 
"The problem with Tactical Combat Casualty Care is that it's written for a healthy, 18- to 25-year-old soldier, in downtown Kabul. It's not written for a 65-year-old with high blood pressure, is on blood thinners, and is in downtown Houston."
Good point.  
A couple of years ago, Smith was part of the effort to begin rolling out a civilian-appropriate version of TCCC called TECC — Tactical EMERGENCY Casualty Care.
"It's T-triple-C-based guidelines that are appropriate for civilians that accounts for populations that T-triple-C doesn't account for — pregnant women, kids, elderly, chronically ill, special populations. To me, that's the simple answer to the question. To me, we need to train first responders in TECC and give them the right equipment to do it."
This cannot be training limited to your tactical medics. The scale of attack about which we're talking is too big for the five or six tactical medics you might have at your PD (if you have even that many!).
The aim of point-of-wounding care is to get the training and equipment into the hands of the first responder on the scene. In this type of situation, that's almost certainly going to be a patrol officer.