Axon unveils TASER 10 with 10-probe capacity and maximum range of 45 feet
The TASER 10 creates more distance for officers to de-escalate and resolve conflicts
---
By Police1 Staff
SCOTTSDALE, Ariz. — Axon recently announced the release of TASER 10, marking the unveiling of its first product following their announcement of a "moonshot" goal to help cut gun-related deaths between police and the public by 50% in the next decade.
With a maximum range of 45 feet, the TASER 10 creates more distance for officers to de-escalate and resolve conflicts. In the event that de-escalation efforts do fail, officers can deploy up to 10 individually targeted probes without the need to reload for a less-lethal interaction.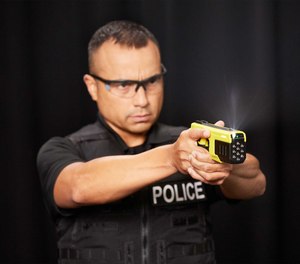 Axon premiered the TASER 10 during its TASERCON conference. 
"As technology leaders in public safety, we have a responsibility to identify every possible way we can give officers better tools to reduce officer-involved shootings," said Axon CEO Rick Smith. "We have worked tirelessly to develop TASER 10 because we know that public safety needs better ways to stop imminent threats and protect their communities and themselves without lethal force. TASER 10 ushers in the potential for a less-lethal future, and we are confident it will be a key factor in helping to cut gun-related deaths between police and the public by 50% in the next 10 years." 
Axon added a pulsing light and loud alert sound to the TASER 10, which emits whenever the weapon's Warning Alert is initiated. This allows the user the opportunity to de-escalate without deploying cartridges.
For training purposes, TASER 10 can be integrated with Axon VR, allowing officers to receive advanced technical training to enhance proficiency, use-of-force decision-making, confidence and accuracy under stress. Users can also use the TASER 10 in combination with Axon Evidence and The Axon Network for a broad range of multi-functional resources from pulse graphs, weapons activity, event logs, and firing log storage to Axon bodycam and in-car camera accessibility.
An additional safety improvement to the TASER 10 includes its individually targeted probes, which enable the user to create their own spread, compared with the previous need to deploy two probes simultaneously at a predefined angle.
The TASER 10 also provides more opportunities than other less-lethal options to immediately stop a threat without needing to reload by being a two-probe-connect energy weapon. The first trigger pull discharges a single probe without electrical output and the second trigger pull discharges a second probe to create neuromuscular incapacitation (NMI). The device provides additional opportunities to obtain effective NMI when the subsequent trigger pulls if the previous probes did not connect.
Further safety enhancements include an onboard sensor that pairs with certified holsters and the ability for the TASER 10 to detect when it has been removed from a holster. It also logs the de-holstering event and emits a wireless signal to alert local body cameras to begin recording. 
To learn more about Axon and TASER 10, click here.

Request product info from top Police TASER companies
Thank You!