Why the tourniquet holster should be on your duty belt
The tourniquet holster fits onto a duty belt, providing easy access for officers no matter the situation
---
The following is paid content sponsored by S4 Solutions
By Police1 BrandFocus Staff
While there may have been some debate over the efficacy of officer's carrying tourniquets, in recent years those arguments have largely been laid to rest, most famously in the aftermath of the Boston Marathon Bombing. Cops have used them to save themselves, their partners, and the lives of civilians across the country and the world.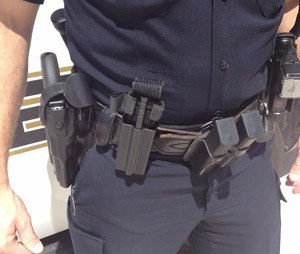 The tourniquet is an essential part of any officer's toolkit. Just like a flashlight or handcuffs, it's something that should be part of every officer's basic load-out, something you carry with you every day.
That's what one officer thought when he developed the tourniquet holster. Buck Blundell, a Texas police officer and tactical law enforcement instructor with over 9 years on the force, developed and patented (US# D689,281) the S4 Solutions TQ911 tourniquet holster as a logical solution to this problem.
The holster is designed to provide officers—no matter the situation and no matter where—with the means to stop bleeding in an emergency.
Why tourniquets are critically important
Officers have been trained to provide basic first aid in a first responder situation for decades. Equally critical in an emergency, however, is the officer's ability to render first aid to themselves or other officers. If the injury is severe enough, and bleeding profuse enough, one can go into shock very quickly. Having a way to prevent that can save lives, which is why having a tourniquet in an accessible location is critical.
Unfortunately, most officers keep tourniquets in cargo pockets or – worse – in their patrol cars. That means were they to get into a dangerous situation away from their vehicle, they may find those lifesaving tourniquets too far out of reach.
"What's the use in having a tourniquet if it's in your car, or otherwise inaccessible? If you don't have it on you and within reach when you need it, you might as well not have it at all," Blundell said.
Forged from experience
The TQ911 tourniquet holster was designed with rugged use in mind. Field tested by patrol officers, SWAT members, and military personnel to further refine the design, the fully American-made holster uses a 20 percent injection molded, glass-filled polymer formed into a single, strong piece ensuring the tourniquet holster can stand up to any abuse that's thrown it's way – it can even be run over by a patrol car without breaking. It's the same material used by many major firearms manufacturers.
Because it's formed from a single piece, officers don't have to worry about rivets snapping or clips breaking and rendering the holster useless. There are no sharp edges that can cut or fray the nylon in the tourniquets. In addition, the design includes drain holes to prevent pooling in inclement weather.
The TQ911 doesn't use traps or a cover to secure the tourniquets. Instead, the tourniquets are kept in place by the formed design of the holster itself. Its compact design takes up less cubic space than other tourniquet holsters. The design of the holster fits perfectly onto standard 2.25-inch duty belts.
Works with the most popular tourniquet
Currently, the TQ911 is designed to fit Combat Application Tourniquets (C-A-T), one of the most widely used in the nation. Soon, a version will also be available which fit the SOF Tactical Tourniquet-Wide (SOFTT-W) as well.
There currently is no standard protocol for carrying tourniquets. But considering the often dangerous situations officers find themselves in, it's only a matter of time before this becomes the case.
The TQ911 Tourniquet Holster by S4 Solutions is both professional and affordable, making it ideal to serve just such a purpose. It is also affordably priced, keeping it with reach of individual officers who want to take advantage of the benefits it offers.
For more information on the S4 tourniquet holster, visit www.tq911.com.

Request information from S4 Solutions
Thank You!