A checklist for launching a successful (and legal) UAS program
Just buying equipment does not enable an agency to deploy a drone – policy and training issues must also be addressed
---
By Phil Raum
The goal of a police drone program is to create a deployable UAS capability to meet the agency's mission requirements.
Generally, building a capability requires several tasks associated with planning, organizing, equipping, training and exercising. Just buying equipment does not enable an agency to deploy a drone – policy and training issues must also be addressed.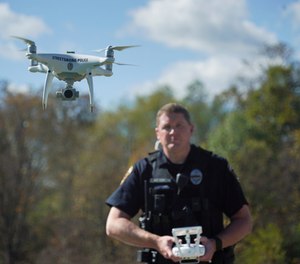 Here are 10 steps to assist an agency in developing a police UAS program: 
1. Define objectives and outcomes 
Clearly define the outcomes the agency wants to achieve with the UAS capability, such as:
Situational awareness;
Payload delivery;
Search and rescue;
Other.
2. Create policy, plans and procedures
Develop appropriate agency policy, plans and procedures that cover the entire range of drone activities.
FEMA considers drone equipment to be controlled equipment; therefore, if the agency is using federal grant funds to purchase drone equipment, FEMA must approve the agency's policy before the agency spending grant funds on that equipment. 
Consider the following:
Policy should be compatible with political leadership requirements;
Policy should address all legal privacy concerns, as well as other community concerns;
Policy should address evidence-retention issues for video, photos and other sensory information gathered; 
Development of an SOP and operations manual;
Establishing mutual aid agreements where appropriate.
3. Comply with all legal requirements
Ensure the agency complies with all federal, state and local laws, regulations and case law. Be aware of the following:
The Federal Aviation Administration (FAA) has the authority to regulate the nation's air space;
The FAA's website lists all appropriate laws and regulations for UAS operations;   
Public safety agencies can operate drones under a COA (Certification of Authorization) or a 14 CFR Part 107. There are advantages and disadvantages to each option. The agency needs to be familiar with them to choose the option that best meets the needs of the jurisdiction or agency. 
Federal case law that addresses privacy rights as it relates to surveillance by UAS vehicles. 
4. Identify risks and mitigation strategies
Identify risks associated with developing and deploying this capability and the strategies to mitigate those risks such as:
Political support;
Senior leader support;
Damage to drones and private property;
Personal injury;
Staff time for training;
Budgetary sustainment of this capability over time;
Maintenance;
Evolving technologies;
Legal and regulatory changes.
5. Develop a realistic budget 
Ensure the agency's budget addresses all the expenses associated with developing a deployable capability. There is a significant risk that equipment will be damaged or destroyed during training and/or deployments. Suggested equipment includes:
UAS vehicles and replacement vehicles;
Control equipment;
Batteries and chargers, enough to sustain extended flight times;
Replacement parts, e.g., rotors;
Signal amplification equipment;
Operator training;
Landing pads;
Software for aerial mapping, live-streaming and GPS.
6. Consider building the UAS capability in phases
Build upon lessons learned during real-world deployments and exercises;
Leverage the development and advancement of technology over time.  
7. Ensure all the right people, disciplines and agencies are involved
Ensure all appropriate personnel, disciplines and agencies are involved in the development of the UAS capability and can weigh in on that process. This includes:
Political leadership;
Agency senior leadership;
Agency legal representatives;
Budget personnel;
Community leadership (experience has shown that involving the community in the capability development early in the process can significantly increase public support for a UAS program);
Risk managers;
Drone SMEs;
Unions and collective bargaining units;
Jurisdictional and agency technology review committees; 
End users.
8. purchase the right equipment appropriate for the agency's mission
Ensure the agency purchases equipment and software that will accomplish the mission of the UAS program. Do the research and talk to the people who have already developed a UAS capability. Review the following:  
UAS vehicles: There are a variety of drone vehicles that have varying capabilities relating to durability, flight time and load capacity;
Flight control equipment;
Sensory equipment: Video cameras, thermal cameras, night vision and radiation detectors;
Payload capacity: Equipment the agency needs to deliver the payload required of the mission, such as delivering items to remote or inaccessible areas, e.g., PFDs, radios, EMS supplies, food and water;  
Batteries and chargers: Enough batteries and battery chargers to provide the agency with the flight time required for the missions;
Live-streaming software;    
Evidence retention: Ensure the agency's evidence retention system can handle the additional load created by a UAS program;
Flight software: Software is available that will automatically restrict the use of the drone inside of a federal "no-fly zone" (NFZ). Additionally, other software will direct the drone to fly a precise path to search and photograph/video a designated area. Other types of software are available and will develop even more over time. 
9. Operators need the right training
UAS operators need to be familiar with the legal and regulatory requirements, as well as the safe operation of the vehicles. Considerations include:
Operators can receive FAA Part 107 certification by taking the required written test through the FAA. No skills demonstration is required at this time;
While not required if operating under a COA, agencies should consider training their operators to the Part 107 standards for the sake of proficiency;   
Some private vendors can provide the training and education to prepare for the Part 107 test and to fly the UAS vehicles;
As with maintaining any type of skill, some regular practice is required. 
10. Agencies need to exercise this capability
Agencies should ensure drone operators maintain and enhance their flight capability through real-world deployments and exercises. Additionally, command staff and others in decision-making roles should participate in exercises to test, develop, and enhance the agency's UAS capability. Consider the following:
Test the capability of the agency's equipment and operators in drills in a variety of indoor and outdoor environments;
Participate in discussion-based exercises for operators and command personnel to develop and enhance the operational planning for drone deployments;
Include the deployment of the drone capability in other operations-based and discussion-based exercises conducted by the agency and/or jurisdiction.
---
About the author
Phil Raum is with the Maryland Emergency Response System and an IPSA UAS Committee Member.

Request product info from top Police Drones/UAS companies
Thank You!