Axon partners with Fotokite to bring tethered, autonomous drones to public safety
Fotokite's tethered drones can fly with the push of a single button, eliminating the efforts of piloting
---
By Police1 Staff 
SCOTTSDALE, Ariz. — Public safety technologies company Axon has partnered with Fotokite, a provider of tethered drones, to bring more live, aerial situational awareness to public safety, according to a press release Tuesday from Axon.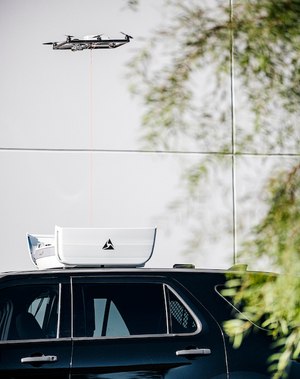 Fotokite's drones are connected to the ground via a long tether – it can launch, fly and land with the push of one button – which eliminates the efforts of piloting, according to the release. It is the only unmanned aerial vehicle permitted by the FAA to be operated by public safety personnel without the need for a pilot license or further authorization.
Through Axon's real-time operations platform, Axon Respond, ground operators can access real-time streaming video from Fotokite's drones. 
"We are thrilled to bring an actively tethered drone solution to public safety. Whether the use case is traffic control, accident scene management, search and rescue, or routine patrol, users can easily operate the Fotokite Sigma to receive a bird's-eye view of an incident," said Axon CPO and EVP Software, Jeff Kunins, in a statement. "With seamless connection and integration into Axon Respond – our real-time situational awareness platform – agencies will have better visibility into what's happening in the field." 
"The Fotokite Team is proud to work alongside Axon to deliver a solution integrated with situational awareness and evidence management for first responders," said Christopher McCall, Fotokite's CEO, in a statement. "While the demands on first responders grow in complexity every day, we are grateful to be part of the solution by delivering actionable intelligence at the push of a button." 
For information on pricing and availability, see here.

Request product info from top Police Drones/UAS companies
Thank You!