How LASD is using a new video-enabled UAS to enhance public safety
When talking about the tech, people get hung up on what the ceiling for a unit might be, but in reality, it's the floor that matters
---
Few forces are impacting law enforcement like video. Policing in the Video Age, P1's yearlong special editorial focus on video in law enforcement, aims to address all facets of the topic with expanded analysis and reporting.
In the first installment of this four-part signature coverage effort, The Video Technologies Shaping Policing, we address how technologies including police drones, throwable robots, body-worn cameras, dash cams, and videos shot by the public are impacting law enforcement. Click here to learn more about the project.

Los Angeles County Sheriff Jim McDonnell recently announced the department's acquisition of an unmanned aircraft system for use in search and rescue, explosive ordnance detection, hazardous materials incidents, disaster response, arson fires, hostage rescue, as well as armed and barricaded subjects calls.
The new UAS is assigned to the Special Enforcement Bureau, where it will be the most beneficial to units under its umbrella, including the Emergency Services Detail, Special Enforcement Detail, Arson/Explosives Detail and the HazMat Detail.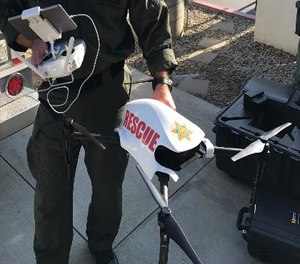 "Having such a versatile tool will soon prove to be a great asset because it can be quickly deployed and provide close up views of outlying subjects," the agency said in a written statement. "The ability to rapidly gather otherwise inaccessible, yet vital, information during tactical operations is exponentially increased and can, thus, assist deputies to better determine the safest, most prudent and humane approaches to uncertain, isolated or hostile situations."
Very specific missions
Captain Jack Ewell, who leads the new unit, told Police1 that the department had been looking at this type of technology for several years and waiting for the right time to be able to implement it. A confluence of recent events created the right opportunity to move forward with the effort to create the unit and acquire the technology.
"For the last few years, the regulations seemed very unclear about exactly when you can use them, how you can use them, how they're regulated and that type of thing," Ewell said. "The FAA last summer came out with real solid public safety guidelines which cleared all that up for us and seemed to make it pretty straightforward. And then at the same time the technology, the breakthroughs are just incredible. Even from just a few years ago until now, it's night and day on how easy they are to operate, how safe they are, how efficient, how long they last. The cost dropped greatly over that period of time as well. So all those things combined made us decide that it was an appropriate time to launch our unmanned aircraft program."
Ewell's team consists of six deputies who each received a Remote Pilot Certificate with a small Unmanned Aircraft System rating from the FAA. Each deputy had completed a minimum of eight hours of supervised flight time in order to get checked off to operate the aircraft, and done weeks of studying to have the knowledge to be able to pass the written test and get the remote pilot license. 
The UAS can remain aloft for 20-25 minutes without changing batteries, and if a mission requires more time aloft, the battery can be switched out in about one minute. But Ewell said that instances in which extended flight time will be required are likely to be rare.
"It may complement our manned aircraft program but it doesn't take its place at all. We would not use the unmanned aircraft for surveillance purposes. So we don't need it to be up for any kind of extended period of time. The type of missions we use it on would be a search and rescue in a particular area that our manned aircraft can't cover."
Indeed, LASD's airborne unit is a substantial fleet, comprised of 13 Eurocopter A-Star patrol helicopters and three Super-Puma rescue aircraft as well as three fixed-wing aircraft — one Beechcraft King Air and two Cessna 210s. But it is far too dangerous for those aircraft to fly in some of the deep canyons in LASD's jurisdiction. And they certainly cannot fly between trees under the canopy in search of a missing person.  
The floor, not the ceiling
When talking about UAS or UAV technology, people sometimes get hung up on what the ceiling for a unit might be, but in reality, it's the floor that really matters — it's how low you can go and how small the spaces you can access. Further, a UAS can access places which would pose undue danger to deputies and officers.
"The unmanned aircraft can be used for looking into a vehicle, like if we had a barricaded suspect and don't know if he is armed, he's not coming out of the car, and  we don't want our deputies to approach it until it's safe," Ewell said. "The unmanned aircraft is the ideal piece of technology to move up right at the same level as the windshield of the vehicle, look in and see if this person is resisting. Or maybe he needs medical assistance. Maybe he's unconscious. Is he armed? Using that information, you can safely bring your deputies up to solve the situation."
Ewell envisions using their newly acquired technology primarily for EOD calls — the department gets roughly 500 of those every year. In such a case, the UAS can be 5 or 10 feet off the ground and view a suspicious package or suspected IED from all angles and see what its components are. Ewell said that the UAS can do that in a fraction of the time it would take to get a robot deployed.
"Hazmat spills — same thing. It's going to be a first quick flight. You're going to fly over the infected area, do an assessment and determine who needs to be evacuated, how far, what the spills consist of and that type of thing," Ewell said.
Improving safety for all
"The dangers of law enforcement can never be eliminated," said Sheriff McDonnell during a January press conference. "However, this technology can assist us in reducing the impact of risks on personnel and allow us to perform operations to enhance public safety."
Recently, the LASD UAS was deployed for an armed, barricaded suspect who fired shots at officers.
"The unmanned aircraft was used to assist in safely resolving the situation without any injuries to law enforcement personnel," Ewell told Police1.
That incident is precisely the type of example of tactically sound leverage the UAS will bring for LASD personnel and the citizens they serve. With the ability to safely collect video of a situation such as those listed here, LASD will help to improve safety for everyone in their jurisdiction.

Request product info from top Police Drones/UAS companies
Thank You!