Police chief: Drones could one day replace Ariz. police helicopters
Critics worry that no matter how good the cameras on drones are — they can't compete with the two officers on each helicopter flight
---
By Joe Ferguson
The Arizona Daily Star
TUCSON, Ariz. — Could the familiar sound of a police helicopter patrolling the skies over Tucson someday be silenced by unmanned drones?
Maybe, says Tucson Police Chief Chris Magnus.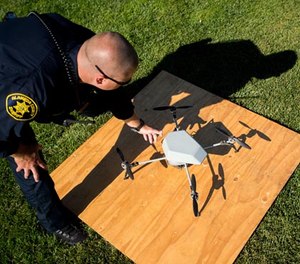 "Yes, we are looking at drones," Magnus confirmed last week, saying keeping the police department's two helicopters flying is extremely costly. A third helicopter owned by the department has been grounded and is being used for parts.
"We have an air support unit that is incredibly costly," he said "Why wouldn't it make sense to look at drones as a possible option? From a cost standpoint (drones are) far less costly potentially than some of the costs over the long-term."
Typically, drones equipped with cameras are much smaller than helicopters and are flown by a person on the ground using a control pad. The Sahuarita Police Department is the only law enforcement agency in the Tucson area using drones. That department south of Tucson was testing a drone program with a private company earlier this year and had plans to begin regular use this month.
Other law enforcement agencies in the area, include the Arizona Department of Public Safety are also looking at using drones. Federal law enforcement agencies on the border use drones.
Magnus made the remarks during an interview about capital needs for the department as part of the discussion of a proposed half-cent sales tax the Tucson City Council is considering putting on the May ballot.
If approved by city voters, the revenue from the tax would benefit law enforcement, the fire department and be used to repair city streets.
The police chief said the city's remaining two helicopters are also approaching the end of their useful life.
"They have costly components that must be replaced on different schedules and times, and so I think it would be financially foolish not to look at drones as at least a way to look at either augmenting or stepping away in part from that program," he said.
Drones would be helpful in other areas as well, noting they could be used to get aerial pictures of crime scenes and vehicle accidents, Magnus said.
He was clear, however, the issue is still unfolding and requires more consideration before moving forward with any plans. "No decision has been made yet," he said.
The department's helicopters were grounded for two weeks a year ago after an outside audit determined the division to be operating at a high safety risk.
The president of the Tucson Police Officers' Association, Roland Gutierrez, worried that no matter how good the cameras on drones are — they can't compete with the two officers on each helicopter flight.
Experienced officers on the flights, he said, are better equipped to help personnel on the ground than any drone could be, he said.
McClatchy-Tribune News Service

Request product info from top Police Drones/UAS companies
Thank You!