SC departments partner on UAVs
The Richland County Sheriff's Department and the Columbia Police Department have launched the 'Aerial Intelligence and Response' program for surveillance, search and rescue, and SWAT operations
---
With the deployment of two small, remote-controlled helicopters, the Richland County (S.C.) Sheriff's Department has teamed with the Columbia (S.C.) Police Department in an effort to enhance efforts in the area of intelligence gathering, surveillance, search and rescue, as well as special responses to critical incidents. The effort — dubbed "A.I.R." or "Aerial Intelligence and Response" — will give these two police agencies a new edge in their fight against crime.
Both agencies will now be able to use the small UAVs to capture criminals, gather intelligence, and search for missing persons or suspects (among many other uses), according to information provided to Police1 by Capt. Chris Cowan in the Office of Public Information for Richland County Sheriff's Department.
At a press event held yesterday, Richland County Sheriff Lott and members of the two participating agencies demonstrated the new equipment. Sheriff Lott emphasized that radio controlled technology has become more trustworthy, more reliable, less expensive, and allows for rapid deployment of an asset that will save time, money and lives. Lott added that the RC helicopter is very inexpensive and can be deployed very quickly — while more importantly, it can identify dangers in the community without putting human beings at risk.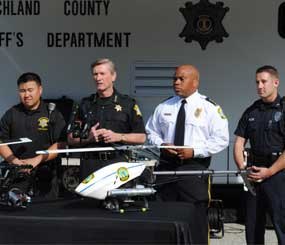 From Hobbyist to Specialist
Deputy Marcus Kim is spearheading the program, having been an international consultant to RC manufacturers and a professional RC helicopter pilot for 13 years. Kim, who also serves on RCSD's Community Action Team, will work closely with the Special Response Team and Criminal Investigations Division utilizing this technology.
Columbia Police Chief Randy Scott, quoted in a local news article about yesterday's event, said "This is an example of where jurisdictional boundaries are broken down for a criminal...Quite simply put, they can't run."
The cost of each machine is estimated to be below $3,000 in initial outlay, and costs for maintenance and operation is minimal, especially when compared with the valuable tactical information obtained from this airborne asset.
Many Airborne Options
There are many options available to law enforcement in the area of UAV helicopters. In October of last year I spoke with Mike Buscher, CEO of Vanguard Defense Industries, about a system his company has been selling to law enforcement for some time. The ShadowHawk is equipped with both a digital daytime camera and a FLIR system and has the capability of carrying 40mm pod-mounted less lethal rounds, 37mm flare and smoke munitions, and even can be equipped with TASER XREP.
Despite efforts by the ACLU to condemn these machines in other cities as an invasion of privacy (see mention of this in the video below), most citizens — at least those who really give it some thought — quickly recognize the value of giving law enforcement this kind of intelligence capability without busting the department's budget on a piloted helicopter, which is thousands of times more expensive, and brings into the mix various officer safety issues.
At yesterday's event, Sheriff Lott stated that he will continue to search for innovative ways to fight crime in his community.

Request product info from top Police Drones/UAS companies
Thank You!