A dynamic duo: Rugged meets powerful in this versatile, lightweight notebook
Getac's new B360 notebook is MIL-SPEC rugged while providing the power and brightness to handle any computational challenge in the field
---
Sponsored by Getac
By Police1 BrandFocus Staff
Historically, notebook computer manufacturers have built their products for business, consumer and gaming users, none of whom expose their notebooks to the temperature, environmental and handling extremes experienced by public safety users. This is why notebooks created for the business, consumer and gaming markets are housed in fragile plastic or thin metal cases. Physical toughness hasn't been required, so it isn't provided.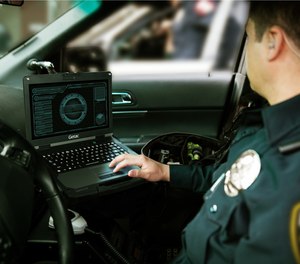 When computer manufacturers began to produce rugged notebooks for public safety, they realized that something had to give. In this case, it was performance. The focus was on producing notebook computers tough enough to meet MIL-SPEC standards, even if that meant excluding often delicate top-performing technology from their public safety notebooks.
Public safety users have lived with this compromise for decades, based on the mantra that powerful performance and ruggedness were mutually exclusive qualities. Well maybe that was the case in the past, but it isn't any longer: Getac's new B360 fully rugged notebook shows that public safety can have it both ways.
Truly, truly powerful
It is easy to claim that a notebook computer has power. But the proof of it lies in the notebook's actual components and performance ratings. Everything else is hype.
In the case of the Getac B360 public safety notebook, this Windows 10 computer is equipped with a leading-edge 10th Generation Intel Core Processor with maximum turbo frequencies up to 4.90Ghz and 12mb Intel Smart Caches. The B360's onboard memory ranges from 8GB to 64GB (depending on the configuration chosen), bolstered by one or two removable solid state drives ranging from 256GB to 1TB in storage capacity each.
Most important for mobile public safety users, the Getac B360 is compatible with the 5G wireless networks coming online worldwide. This gives its mobile users access to fast broadband speeds comparable to what they have back at the station.
To deliver improved readability and durability, the B360's 13.3" IPS FHD LumiBond 2.0 screen uses a clear resin to optically bond its tempered glass and capacitive touch sensor LCD into a single unit for improved readability and durability. Powered by super-bright LEDs, the B360's screen offers a maximum brightness of 1400 nits at 1920×1080 pixel resolution that is enhanced by Getac's proprietary sunlight-readability and anti-glare solution. And yes, this touchscreen has been designed to reliably accept input from industrial weight gloves and pen styluses.
For those applications where demanding multimedia processing is a must, the B360 can be equipped with an additional NVIDIA GeForce 10 series GTX portable computing graphics engine. This engine combines NVIDIA Pascal GPU architecture, ultra-fast FinFET and DirectX 12 support to deliver highly detailed map and cable routing schematics, accurately rendered color images, and a high-speed, smoothly flowing user experience.
Add a high-quality front-facing camera (FHD webcam or optional Windows Hello face authentication webcam), LED backlit keyboard (membrane or optional rubber), Smart Card and SD Card readers (SIM Card, RFID and bar code readers optional), and hot swappable dual rechargeable batteries for long field deployments, and the B360 has the power, performance and features to handle the most demanding of computing requirements in the field. The user can even plug in an optional external RF antenna to boost connections to GPS, WWANs, and WLANs.
Finally, the B360 is secure. It comes standard with the Trusted Platform Module 2.0, a powerful anti-tampering device that checks for any signs of intrusion during system boot-up. Meanwhile, the optional Absolute DDS protective feature automatically disables the B360 if it detects an unauthorized or compromised entry.
Exceptionally rugged and tough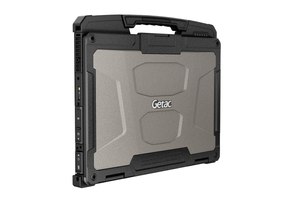 Clearly, the Getac B360 is a powerful notebook. But it is also exceptionally rugged and tough.
The proof: The B360's case and components are MIL-STD-810H, MIL-STD-461G and IP66 certified – the standards applied by the U.S. Department of Defense to the equipment purchased for American troops.
This means that the B360 has been shown to survive drops of up to 6 feet while in use, and to operate reliably in temperatures ranging from -29°C to +63°C (-20°F to 145°F). It also meets ANSI/ISA 12.12.01 standards for class I Division 2 hazardous locations. The B360 can be purchased with a salt spray and fog resistance option for use in oceanfront settings.
Yet the B360 only weighs 5.11 lbs.
Lightweight aside, Getac is so confident that the B360 can live up to whatever public safety can throw at it, that each of these notebooks comes with a three-year "Bumper to Bumper" warranty as a standard feature. If something should go wrong with a B360 in its first three years, Getac will fix and return it in a matter of days.
No compromises
The Getac B360 notebook shows what is possible when a manufacturer refuses to trade power for ruggedness. It is a no-compromise design that gives public safety the best of both worlds, at a time when tablets and smartphones are replacing conventional low-end ruggedized computers in public safety vehicles.
With the Getac B360, first responders get everything they need in a notebook purpose-built for their working environments. Tablets and smartphones cannot compare to its power and performance because they lack this computer's top-end components.
This is why the Getac B360 is the choice of public safety agencies who are serious about giving their officers the best tools for the job, bar none.
Get more information from Getac.
Read next: Spotlight: Getac's rugged mobile computers are built to withstand all types of weather conditions

Request information from Getac
Thank You!