PRESS RELEASE
Carson City, Nevada, selects Mission Critical Partners to support technology implementations for modernized public safety and justice communications systems
---
Project will replace aging systems to deliver advanced capabilities to users
STATE COLLEGE, Pa. — Mission Critical Partners (MCP) announced that Carson City, Nevada, selected it to support a project that ultimately will result in the implementation of new computer-aided dispatch, records management systems (RMS), and jail management systems (JMS) used by the sheriff's office, which provides 911 and law-enforcement services and maintains the county jail. Carson City consolidated with Ormsby County in 1969 to form a single municipal entity.
The project aims to replace aging systems — all three are at least 15-20 years old — with modern, advanced systems that deliver increased capabilities and streamline processes to be more efficient. MCP's support will focus on the following: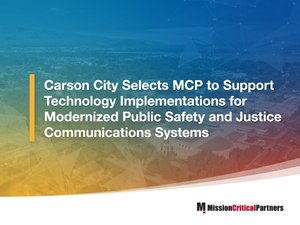 Documenting each system's current state
Development of technical specifications and request for proposals (RFP) documents for each system
Providing subject matter expertise to assist in the evaluation of vendor proposals to enable apples-to-apples comparisons, which is especially important as it relates to pricing
"MCP has a long history of helping clients successfully implement cutting-edge technology solutions, and we're honored that Carson City turned to us to guide this effort," said Darrin Reilly, MCP's president and chief executive officer.
MCP already has completed a needs analysis, which involved meetings with stakeholders to understand their needs and frustrations better. MCP also finalized an analysis of CAD, RMS, and JMS data provided by the sheriff's office to better inform the development of the technical specifications. Key needs include the following:
CAD mapping functionality that enables 911 telecommunicators to visualize the location of field responders to ensure that they dispatch the closest available response that is appropriate for the emergency incident, with the goal of shortening response times.
A geofencing capability integrated with the mapping solution that enables telecommunicators or incident commanders to set parameters pertaining to unit response.
Ability to perform wants and warrants queries, as well as vehicle registration and criminal history checks, e.g., queries of the National Crime Information Center (NCIS) database via the CAD system.
The seamless transport of RMS data, e.g., arrest reports, into the JMS for case initiation.
A mobile CAD capability that enables updates to be sent to field responders after the initial dispatch and supports field-based reporting to enhance situational awareness and improve efficiency
Enhanced mug shot capability in the RMS and JMS
Ability to automatically capture and update mug shots and demographic and biometric information, e.g., fingerprints, when arrestees are processed, a manual process today.
Ability to capture and update prisoner health records, including mental-health records, in the JMS without using a third party.
Enhanced ability of supervisors to query the RMS to determine the status of cases and to expunge, seal, or redact records, which currently is a manual process.
This project phase began in April and is expected to be completed by the end of the first quarter 2024.
"We're so thankful that we're working with MCP," said Sheriff Ken Furlong. "The RFP process is critical and complex, and we really appreciate their expertise."
About Mission Critical Partners (MCP)
Mission Critical Partners (MCP) is a leading provider of data-integration, consulting, network, and cybersecurity solutions specializing in transforming mission-critical communications networks into integrated ecosystems that improve outcomes in the public safety, justice, healthcare, transportation, and utility markets. Our comprehensive experience and vendor-agnostic approach helps us develop modernized solutions for our clients to maximize value and create optimal efficiency while mitigating risk. Additional information and career opportunities are available at www.MissionCriticalPartners.com

Request more info from Mission Critical Partners
Thank You!