Samsung's Galaxy S6 Active is versatile, rugged smartphone for cops
The phone's features are great for law enforcement and military applications
---
I recently tested Samsung's Galaxy S6 Active rugged smartphone, an Android 5.0 (Lollipop) device exclusive to AT&T subscribers. As more Android apps become available for law enforcement, this phone should be considered for service.
In full disclosure, my household includes half a dozen Apple products. I had never even picked up a Galaxy smartphone prior to this review. However, the S6 Active has won me over with its flexibility and quality, among other features.
Rugged without a Protective Case
When I buy a phone, I usually spend serious dollars for a phone case that can handle an active lifestyle. The case usually doubles the thickness and weight.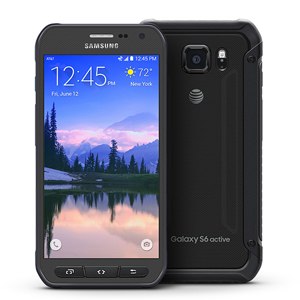 However, this phone fits in the pocket and doesn't need a case.
It is inherently rugged enough for law enforcement. The S6 Active is rated at IP68. It can handle complete immersion in shallow fresh water for 30 minutes, which is exactly how I tested it.
I took several underwater pictures and worked all of the buttons while it was submerged much longer than specified.
HD Display for Clearer Details
Samsung uses AMOLED in the S6 Active's 5.1 HD display. If I pull up the same photo on my iPhone and the S6 Active, image details are clearer on the latter device's display. My investigator friends pass scene photos to their team via cell phone. Image quality is critical.
The display is Gorilla Glass 4, capable of multi-touch gestures. The touch accuracy is outstanding. The S6 Active rode in my pocket for a week, where my knife, torch and change go. The glass is still pristine.
The hydrophobic screen allows the user to shake water off, rather than towel it off.
Connectivity for hours
The S6 Active can access all of the common data transfer protocols, which makes it appropriate for international use. It can transfer 5GHz in Wi-Fi, which is noticeably faster in a crowded Wi-Fi user environment.
The phone can also handle 10 units as a mobile hotspot — a critical crime scene feature.
Additional connectivity options include ANT+, USB, tethering, vehicle link and printing. It uses a common USB connector to charge and communicate with a computer, instead of an overpriced, fragile cable.
The S6 Active has a 3,500 mAh battery and effective power saving settings. My tests showed a quick startup and app switching, as well as reasonable battery life as it uses Samsung's Exynos 7420 Octa-core 64-bit processor, which is an energy saving chipset designed for multitasking efficiency.
State-of-the-art Camera
The S6 Active's 16MP camera with an f/1.9 lens is the feature that sets it apart. Besides social networking oriented features like facial detection and geo-tagging, it is capable of manual control. In auto mode, I found the camera was hard to "fool" in tricky lighting conditions.
The laser focusing of the camera seems to focus and meter faster than the iPhone 6 and definitely wins in resolution and clarity comparisons. It has a little less warmth in the default white balance, but its true color rendering is spot-on.
For evidence gathering, some of the novelty features of a cell phone camera are useful. For example, the S6 Active has a panoramic capture, designed to send "eat your heart out" photos to your working friends while you are on vacation.
Like most investigators, I used snapshots to refresh my memory before testifying. The pano and selective focus features are perfect for virtual "walk-throughs" when looking at evidence placement. 
Other Features
There are other crime scene orientation features like a barometer, digital compass and full navigation that just can't be overlooked in this package.
This phone has all of the features desirable for smart phone users, including geek toys like a heart rate sensor and voice-activated selfies.
It is just as light (5.29 ounces) as and slimmer (5.78 x 2.89 x 0.34 inches) than similar devices. I like the grippy surface on the sides and back, and that I can rinse it off.
The phone has six buttons, which, without a case, are easily pressed accidentally. However, users can lock them.
From my experience, the Samsung Galaxy S6 Active is probably the most advanced pocket computer out there, and its features are great for law enforcement and military applications.

Request product info from top Police Wireless Communications companies
Thank You!