Director of bombed Minn. mosque says it lacks security cameras
Gov. Mark Dayton called the bombing an act of terrorism when he and other officials visited the mosque
---
By Jeff Baenen 
Associated Press

BLOOMINGTON, Minn. — A Minnesota mosque that was bombed over the weekend doesn't have outside security cameras that could have captured what happened, its executive director said Monday.
Mohamed Omar, of the Dar Al-Farooq Islamic Center in Bloomington, told The Associated Press that his community, which is made up mostly of Somali immigrants, can't afford security cameras. He also said the mosque didn't receive any threats beforehand or claims of responsibility afterward.
Officials say witnesses saw someone throw something from a truck or van before the blast and saw a vehicle speed away afterward.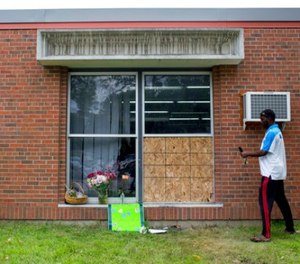 Nobody was hurt in the explosion, which happened just before morning prayers on Saturday, but the blast damaged the imam's office across the hall from the worship space. Ceiling tiles still littered the office floor Monday along with tiny glass shards. The explosion left a small hole in the ceiling and damaged the imam's desk. The shattered window had been boarded up. On the window ledge outside were flowers left by well-wishers.
The FBI has not announced arrests or said whether it has identified any suspects. An FBI spokesman did not reply to a call Monday seeking an update on the investigation. The FBI's Minneapolis office tweeted a picture Sunday of its command center, showing over a dozen people, most with their faces blacked out, and said it was "All hands on deck!"
Omar said his community is grateful for the support it has received from people throughout the Twin Cities, including other religious groups. Members of an Eden Prairie church dropped off a basket of notes Sunday night. Visitors continued to drop off flowers and donations Monday.
While the bombing was "horrific and tragic," Omar said, "on the other hand, good people came out, and they outnumber that one bad guy, and we are so pleased and so happy to see this community coming together in our support."
Gov. Mark Dayton called the bombing an act of terrorism when he and other officials visited the mosque on Sunday.
In a sign of the ongoing safety concerns, a car from a private security company was parked outside the mosque Monday.

Request product info from top Police Surveillance companies
Thank You!