From RICO to analytics: How technology can speed up gang investigations
Modern analytics technology can reduce the time required to identify networks, operatives, criminal activity patterns and other indicators of organization
---
By Captain Stephen G. Serrao, Police1 Contributor
Curbing shootings, drug trafficking and other gang-related activities that plague U.S. cities requires adding modern tools to the law enforcement arsenal.
Attacking a gang's social networks and organizational hierarchies using racketeering statutes helps law enforcement and prosecutors combat such problems, but can be labor intensive.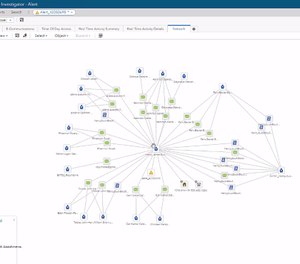 Using advanced analytic techniques like text analytics, entity extraction, entity resolution, social network analysis and geospatial analysis may super-charge the racketeering approach by automating the identification of relationships and key players in networks in a fraction of the time currently required.
Augmenting with analytics can speed the process of uncovering gang networks
The FBI's Violent Gang Safe Streets Task Force program rallies 160 task forces across the country to pursue violent gangs using traditional law enforcement activity. Wire intercepts, consensual monitoring and financial analysis complement other techniques to reveal the networks and relationships within a gang.
Although racketeering laws allow prosecutions against criminal groups, the investigation methods are time consuming. Modern analytics technology can reduce the time required to identify networks, operatives, criminal activity patterns and other indicators of organization.
While the FBI's task forces are an effective threat to gangs, gang activity continues to thrive in most midsize to large cities. According to the FBI, some 33,000 violent street gangs, motorcycle gangs, and prison gangs with about 1.4 million members are criminally active in the U.S. and Puerto Rico today.
Using analytics technologies, resource-strapped law enforcement agencies can go from being buried under individual shootings, drug offenses or robbery cases, to identifying and interdicting the networks that underpin so many of those crimes. Technology can help identify entities and reveal hidden relationships between entities, filling in the intelligence gaps and exposing the larger criminal network.
Entity Extraction/Resolution
By applying techniques such as entity resolution to large data sets like CAD, RMS, real estate and telephone records, social services data, arrest records, case notes from other law enforcement agencies and other sources, the relationships and activities comprising a criminal network are revealed.
Entity resolution gives investigators a consistent single view of an offender or suspect. They can know that the Jimmy Williams in one database, the J.J Williams in another and the James Williams in a third are the same person, based on resolving the entity using non-obvious data points. When combined with commercially available transactional data, previously unknown connections can surface quickly for further investigation.
Text Analytics
Another useful tool is text analytics, which can be applied to unstructured data such as case narratives and notes, interviews and web and social media content to uncover names, phrases and descriptions that could identify and link crimes and perpetrators.
Word cloud technology and tile maps can be used to surface the high-frequency crimes and suspects involved in them. This can instantly provide investigators with insight into what is occurring and who is perpetrating it without having to read a single report.
Automated Temporal Social Network Analysis
All of this information can be presented to investigators in a visual view that shows the complex, spiderweb-like network of a gang. As more of the network is filled in, the "hot spots" or individuals and locations linked to the prevalent gang activity become clearer over time.
An investigator can focus on just one person or entity and quickly click through previously unknown relationships that are generated automatically by the technology. As more suspects are identified, they become loci in a previously undetected network.
Automated Geo-Spatial Analysis
Finally, using geospatial tools to view crime can decrease the time required to identify and understand trends and patterns. A geographic view of gang-related criminal activity overlaid with suspects and known gang activity locations can speed the development of an investigative strategy. This can also help guide preventative tactical patrol decisions to deter open and flagrant violations of narcotics and other quality of life crimes.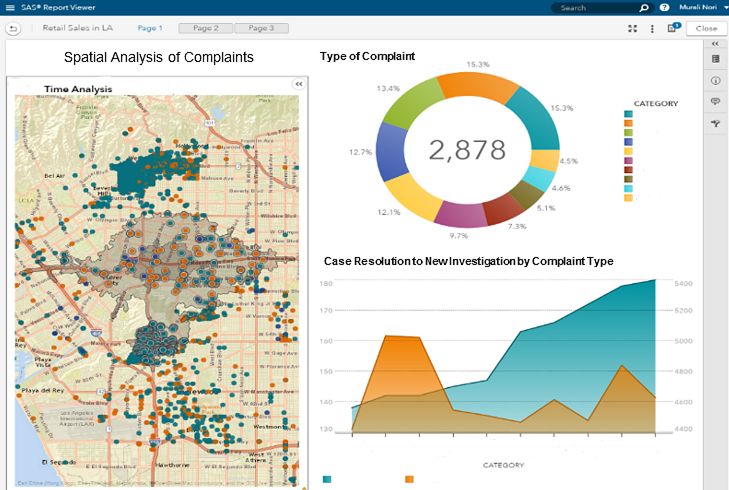 Using geospatial tools, analysts and intelligence officers can gain better insight into clusters of gang activity. (Photo/SAS Communications)
Conclusion
With gang violence on the rise, local law enforcement agencies need to follow the blueprint laid out by the successful weakening of the traditional Mafia. An approach to dismantling the organization using racketeering approaches and employing advanced analytics to uncover previously unknown social networks and associations can help overcome a frequent lack of resources to tear down the networks that perpetuate so much violence in this country.
---
About the author
Captain Stephen G. Serrao is a former New Jersey State Police Counterterrorism Bureau Chief. He now serves as a Law Enforcement Industry Consultant for SAS, a leading analytics software provider. 

Request product info from top Police Data/Information Sharing Software companies
Thank You!