SHOT Show 2017: A gun belt with no holes?
Blade-Tech beefs up the unique Nexbelt for better concealed carry
---
I've been meaning to write about the Nexbelt for a while. If you're anything like me, your weight goes up and down a bit, especially over the holidays. My, um, love handles also like to shift when I sit down (yeah, too much information), so I am always adjusting my belt back and forth a notch. Not a big deal, unless I am wearing a firearm and unbuckling my belt smakes the gun shift or be seen. For the best fit, I've also had to punch holes in between the ones that the belt came with.
Nexbelt thinks that they have the solution; a patented belt design with no holes, but with a cable tie-like panel on the back which is gripped by a spring-loaded follower on the buckle. The belt can only be pulled tighter unless you press a small release to lift the follower off the one-way "zip track," allowing you to loosen and remove the belt.

The zip track. Note that the Blade-Tech version (top) is 4" longer for wearing with or without an inside the waistband holster. (Photo/PoliceOne)
Nexbelt is available in multiple men's and women's styles from casual to dressy. One of their latest styles is the PreciseFit gun belt. Available for both men and women, the 1-7/16 wide belt is heavier than their other lines.
Where's the Beef? Blade-Tech Has It
The folks at Blade-Tech, a purveyor of premium holsters, liked the Nexbelt concept, but felt that even Nexbelt's beefed-up gun belt still wasn't beefy enough for their needs. The two companies worked together to come up with a belt worthy of carrying Blade-Tech holsters – and their name. The Blade-Tech Ultimate Carry Belt by Nexbelt.
The belt is available in both tactical ($49.99 in black or coyote) and leather ($59.99 in black or brown) versions. The Blade-Tech Ultimate Carry Belt features these major upgrades: a stiffer lining, substantially upgraded buckle attachment clasp and set screws, and a more aggressive and longer zip track. The belt is easy to size and fits up to a 50 inch waist and it comes with an extra set screw and hex wrench.
Per regional sales managers Justin Crawford and Brian Yip, the new belt will be available directly from Blade-Tech's website and Blade-Tech distribution in mid-March. There is a 10 percent discount for LE and Military.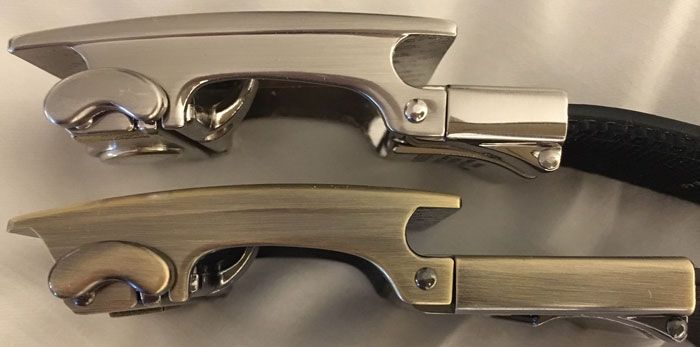 The Blade-Tech version (bottom) has a much stronger attachment slot than the original Nexbelt buckle. (Photo/PoliceOne)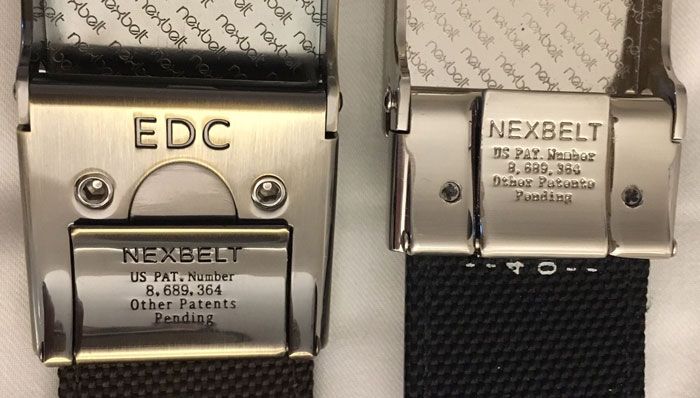 Here you can see the larger attachment clasp on the brass Blade-Tech version. The hex set screw also minimizes stripping. (Photo/PoliceOne)