Tactical jeans? 5.11 reveals exciting new apparel at SHOT Show 2017
There were probably a half dozen brand new items being closely scrutinized by the hordes of attendees, but two new items in particular caught my eye
---
When it comes to making sure to have something new to talk about every year at SHOT Show, 5.11 Tactical is as regular and reliable as they come. Visiting their enormous booth at the 2017 expo in Las Vegas, they delivered yet again.
There were probably a half dozen brand new items being closely scrutinized by the hordes of attendees jockeying for the best views of the racks, but two new items in particular caught my eye.
The first is a new high-tech uniform that features a host of very intriguing design elements. The company calls the XPRT Uniform collection "the most feature rich and innovative uniform available for the world's premier law enforcement and military special operations units."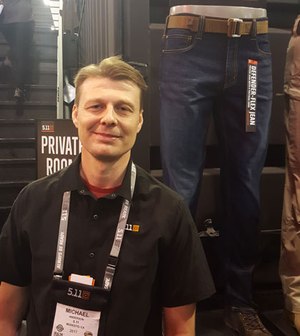 That may sound somewhat hyperbolic, but it also may be true.
Let's begin with the fabric. The company partnered with Cordura to develop a new fabric called NYCO Tactical. It is a cotton-and-Cordura blend that company spokesman Michael Anderson says has "no-melt, no-drip properties." The fabric also has the Teflon finish 5.11 has been putting on much of its apparel for years.
On the design side, there are big accordion-like openings on the back to create maximum freedom of movement as well as ventilation. There are an abundance of pockets — it is a 5.11 uniform after all — with document pockets, pen pockets, zippered pockets and  all manner of other pockets.
Because the uniform is designed for "the world's elite law enforcement and military operators," there is padding placed where you'd expect — elbows, knees, shoulders. There's even a Kevlar-lined collar.
The second product comes with a little bit of a personal backstory. Three years ago at a SHOT Show event hosted by 5.11, I suggested to the head of design that for their next April Fools' prank, they should unveil a line of "Tactical Skinny Jeans" — you know, in response to the trend of wearing jeans that look like they were spray painted on.
I was only half-kidding. I argued at the time that making a version of the covert pant in a denim material would open up a new segment of the market and provide undercover officers another option for their operations.
Well, I sincerely doubt my suggestion was the impetus, but 5.11 did it. Tactical jeans are here.
Dubbed the Defender-Flex Pant and Jeans, these garments feature advanced fabrics — a Cavalry Twill cotton/polyester blend for just enough elasticity — and "classic jean styling" to achieve a very covert look. The pockets that 5.11 are famous for — some large enough to furnish a full 30-round AR-15 magazine and front pockets suitable for CCW carry — are abundant.
Best of all, priced at around $70, these jeans are competitive with a purchase you'd make at the Levi's store. Needless to say, this is big news for the Wyllie household, as my wife has been begging me for years to "wear a pair of jeans every so often."
You're welcome, my dear.

Request product info from top Tactical Apparel companies
Thank You!