Providing Confidence at the Core, Angel Armor Truth Series Trauma Plates Perfect the Art of Ballistic Science
---
Fort Collins, CO — Angel Armor today announced its newest product in their ballistic protection lineup with the Truth Series, the most advanced trauma plate ever designed.
Truth Series ballistic trauma plates provide cutting-edge handgun and special threat protection, exceeding industry standards. The Truth Series flaunts an ultra lightweight, semi-rigid design available in a variety of cuts, sizes and stylized graphic options such as the Thin Blue Line and Patriotic Flag.
"In today's unpredictable and fast-paced environments, officers need to know that their most vulnerable areas are protected," said Philip Hicks, Director of Business Development for Angel Armor. "Our Truth Series ballistic trauma plates provide revolutionary defense against the most prevalent threats our officers face today — giving them confidence to complete their mission."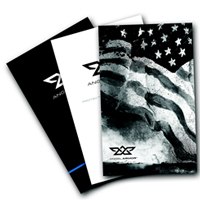 Constructed of a proprietary hybrid ballistic material, Truth Series exceeds NIJ IIIA 0108.01 standards and surpasses Angel Armor's rigorous testing protocol for multi-round and special threat protection. When used in conjunction with a Level IIA vest, additional special threats, such as stab resistance and 00 buckshot, are added.
For product inquiries, please contact Philip Hicks at 970-999-3015 or philip.hicks@angelarmor.com.
About Angel Armor
Angel Armor provides advanced ballistic solutions for heroes who protect our way of life. Angel Armor is dedicated to the production and optimization of advanced armor solutions for ballistic protection. With innovative manufacturing processes and techniques, made only in the U.S., Angel Armor's product attributes range from soft to hard and concealed to structural. To learn more about Angel Armor's Truth Series, please visit angelarmor.com.  

Request more info from Angel Armor
Thank You!