Q&A: How LPR has changed law enforcement
One of the inventors of LPR cameras shares the history and evolution of these essential tools
---
Sponsored by Jenoptik
By Laura Neitzel for Police1 BrandFocus
Since the earliest license plate reader technology debuted in the late 1970s, it has evolved to become one of the most essential and widely used tools law enforcement agencies have in their daily toolbox. Today's automatic LPR systems are useful not only for enforcing traffic laws, but also as an effective crime fighting and investigative tool that saves precious hours during a critical incident or investigation.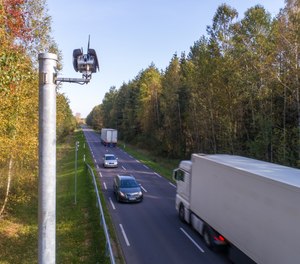 To learn more about LPR technology, Police1 and Finbarr O'Carroll, president of Jenoptik's Light & Safety, Americas division, reached out to Bill Thomas, a research and development architect for Jenoptik and one of the inventors of LPR technology. Thomas holds a bachelor's degree in physics and a master's degree in optics and has over 40 years of experience working in the fields of imaging, optics, camera sensors, machine vision, image processing, optical character recognition and artificial intelligence.
Here we share their conversation, led by O'Carroll and lightly edited for brevity and clarity.
HOW DID LAW ENFORCEMENT AGENCIES DO LICENSE PLATE CHECKS PRIOR TO THE INVENTION OF LPR?
Prior to the introduction of LPR and back office applications, the checking of license plates were only possible by visual observation by a police officer and a manual database check-up – normally involving the checking of manual paper records.
This was extremely time-consuming and invariably inaccurate, lacking up-to-date intelligence. LPR was, in fact, developed alongside the increasing availability and viability of mobile computing and was improved over time.
WHAT WERE SOME OF THE BIGGEST DRAWBACKS OF THAT APPROACH AT THE TIME?
Visual observation was restricted to the most suspicious or important cases or vehicles. The vast majority of vehicles were unchecked, and the overall process of checking was exceptionally time-consuming and often inaccurate.
WHY WAS THE LPR CAMERA WAS MADE SPECIFICALLY FOR LAW ENFORCEMENT?
The first LPR system was developed in 1978 for testing at a River Tunnel crossing in the United Kingdom, with the potential overall application for toll charging. Point-to-point (or average speed, as it is referred to in some locations) applications soon followed the first deployment, as well as general surveillance for law enforcement and management at border crossings and ports-of-entry. (Editor's note: ALPR is better known in the U.K. as ANPR in descriptions and histories of the technology.)
Actually, law enforcement or police interest did not really take off until the 1990s following the widespread deployment of closed-circuit television cameras for general surveillance. These CCTV cameras were converted to include LPR as smaller and readily available PC-based processing became available.
WHAT DID THE EARLY TECHNOLOGY LPR CONSIST OF?
The first LPR used old CCTV cameras, and later on, charged-coupled device cameras, which are essentially what are known today as digital cameras. Active infrared illumination to use the benefit of retro-reflection was implemented. However, vehicles had to be stationary or very slow moving to avoid motion blur back in the early days.
Processing at this time was completed by large, rack-based computers, with customized hardware image processors built from discrete transistor-transistor logic chips, which are now largely obsolete.
HOW HAS LPR TECHNOLOGY EVOLVED IN THE YEARS SINCE?
In the 1980s, CCD cameras became available, which allowed the use of "flash" illumination and shorter shutter speeds. Light-emitting diodes, or LEDs, were not commonly available until 1990s, so xenon flash lamps were used, or sometimes continuous tungsten infrared illumination with short camera shutter times. This development allowed moving vehicles to be captured with good clarity, using PC-based processing using frame-grabber boards that capture individual, digital still frames.
At first, specially-designed hardware was needed for processing video, but as processors became more powerful, the processing was completed in the software. Moving to the 2000s, embedded processing began to emerge, allowing the processing of LPR to be active within the camera itself at the roadside, now referred to as edge computing, which is described as bringing computation and data storage closer to where it is needed to improve response times and save bandwidth.
This development led to a major expansion of the deployment of LPR for law enforcement. LED lamps that can produce high-energy flash illumination and high-resolution CCD and the more-advanced CMOS sensors contributed to huge improvements in performance in the following years.
HOW HAS ALPR CHANGED AND IMPROVED THE LABOR-INTENSIVE, TIME-CONSUMING PROCESS OF CHECKING LICENSE PLATES?
With the widespread deployment of LPR cameras, both in fixed and mobile installations, automatic surveillance of vehicles by monitoring license plates has been revolutionized. In fact, LPR has become ubiquitous, featuring in many TV police procedural and documentary programs. It is now a primary tool in crime investigation, as well as for traffic violation detection and management.
With wireless communications technology, LPR data and database lookups are done within seconds, allowing alerts on vehicles of interest to be issued in real time. Centralized data collection, combined with sophisticated database search tools, allow retrospective searches, analysis and movement tracking to be done.
HOW HAS IT BECOME A FORCE MULTIPLIER FOR LAW ENFORCEMENT AGENCIES?
Widespread deployment and centralized database infrastructure has really revolutionized things.
The deployment of LPR has revolutionized the way in which law enforcement agencies operate, similar to the introduction of fingerprint analysis and DNA testing. LPR technology has been embraced as a force multiplier in order to make existing resources more efficient and effective. Automated checking of suspect vehicles and proactive alerting have really given law enforcement an edge in the battle to deny criminals use of the roads.
LPR is an especially valuable force multiplier with computer software that can automatically – with minimal human intervention – detect threats, crimes or events of interest and automatically generate and distribute alerts for those events. This technology is now widespread and experiences great success in law enforcement applications worldwide.
WHAT DO YOU THINK IS THE BIGGEST IMPACT LPR HAS MADE IN THE DAY-TO-DAY LIFE OF A LAW ENFORCEMENT OFFICER?
The biggest positive impact that LPR provides to daily lives of law enforcement officers is the ability to proactively and automatically check many hundreds of vehicles while on regular patrol with minimal human intervention. This allows officers to conduct their normal duties while the technology works effectively in the background.
In addition, the ability to access real-time information such as crime information, suspicious activity, intelligence reports and analysis of vehicle behavior all assist the officer in the investigation of crime and criminality.
IS THERE STILL ROOM TO INNOVATE IN LPR? WHERE DO YOU SEE IT IN THE NEXT 5 OR 10 YEARS?
There is always room to innovate. Better performance, more features, higher resolution cameras and wider coverage, combined with affordability, will lead to the wider deployment in law enforcement and commercial applications. New features such as make, model, color detection and detection of violations such as turns, stop-in-the-box, seatbelts and mobile phone use are all coming on stream. The deployment of single boxes with high processing power and wide coverage (resolution) running multiple and simultaneous applications will become the normal accepted standard in the next one to two years.
Visit Jenoptik for more information.
Read next: How to take the guesswork out of license plate identification

Request information from JENOPTIK
Thank You!