How simulation training helps officers hone crisis response skills
Reality-based scenarios can help improve communication techniques to reduce use of force in calls involving people in emotional distress
---
Sponsored by VirTra
By Margarita Birnbaum for Police1 BrandFocus
The Los Angeles and San Antonio police departments are among agencies that have partnered with mental health professionals to handle emergency calls that involve people in emotional distress. In doing that, police departments hope to reduce use-of-force incidents.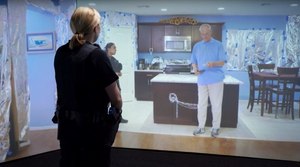 Nicole M. Florisi, a former police sergeant and current instructor at the Force Science Institute, says departments must offer their officers targeted training to help reduce use-of-force incidents involving people in emotional distress.
Specifically, the veteran SWAT officer and counselor says departments need to educate officers about behaviors associated with mental illnesses, such as depression, anxiety and schizophrenia. That training should include effective communication skills so officers can learn to successfully interact with people in emotional distress.
To get the most informative and realistic experience, Florisi recommends simulation-based training programs, such as those offered by VirTra, because the information and skills officers learn through simulation training involves mental and physical elements, as well as decision-making, and therefore sticks much more than what they learn through classroom lectures and passively watching videos.
"How we train most of the time isn't really how the brain learns," said Florisi, a part-time officer with the Jerome Police Department in Arizona. "We need to be in reality-based, scenario-based integrative training that hits all the components to create both psychological arousal and physiological arousal."
She believes that simulation-based training may help prevent excessive force incidents raging from unnecessary arrests to fatal shootings.
Properly communicating with someone in emotional distress, Florisi says, "can be the difference between life and death. It can also be the difference in keeping your career or not."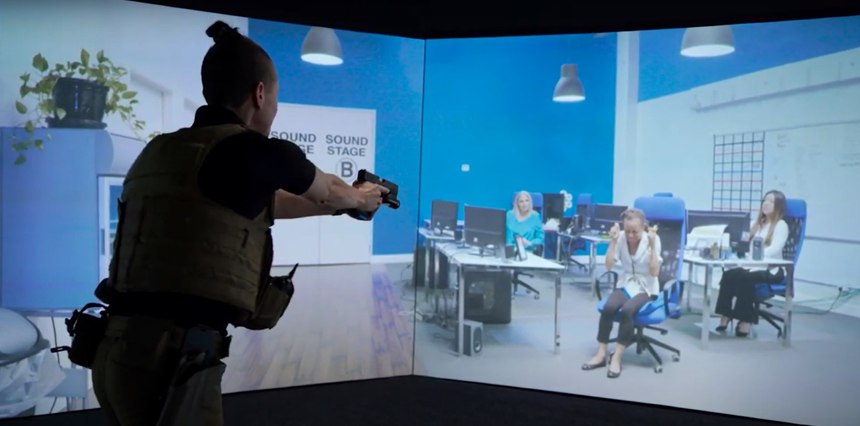 COMMUNICATION APPROACH IS CRITICAL
Certainly, most encounters between police officers and people who have a mental illness do not end in use of force, in part because many of those encounters have nothing to do with a person's mental illness. Data, however, show that officers spend more time dealing with mental disturbance calls than they do on calls involving traffic accidents, burglaries and assaults.
The more information and context officers have about the circumstances that triggered an incident, says Florisi – such as a divorce, change in medication, loss of a loved one or drug use – the more likely that they will be able to keep everyone safe.
"Helping officers identify what type of communication is best in those situations is what's really critical in dealing with anybody, not just someone who has a mental illness," said Florisi, who wrote VirTra's mental illness simulation curriculum. 
Officers who go through VirTra's mental illness training program learn basic information about depression, anxiety, schizophrenia and other disorders, including the physiological processes and harmful behaviors associated with them. They also learn the best tone, words and phrases to use to effectively communicate with someone experiencing a mental health crisis due to illness or substance abuse.
Two common mistakes officers make when dealing with a person in crisis, says Florisi, are:
Thinking that they can make the person obey them.
Thinking that they can reason with the person.
VirTra's simulation training drives home that officers need to learn to respond to the individual's behavior, rather than the emotional trigger.
"What we're trying to do is reduce the emotion that's driving the behavior," Florisi said.
AWARENESS OF TRIGGERS, BLIND SPOTS IN TRAINING
Perhaps one of the most important things officers learn in the simulation training is managing their own emotions that may affect their job performance.
Many officers live with depression, anxiety and other mental illnesses and aren't aware of how deeply they are affected by them or how their illnesses affect their job performance, Florisi says. In addition, many don't understand how the body's physiological responses to stress may affect their decision-making process.
"There's a misconception, from the public but also among police officers, that you're immune to human psychology and human factors, "Florisi said. "The brain doesn't work like that."
It's important for officers to be watchful of the verbal and nonverbal triggers that may cause them to become aggressive, she says, which can lead to inappropriate use of force and potentially dire consequences.
One of the benefits of simulation training with reality-based scenarios is that officers can identify areas where they need improvement when responding to emotionally charged, high-stakes calls. As instructors shift the way the scenarios unfold to challenge officers during the simulation sessions, they can learn how to identify when they are responding poorly to a situation and use breathing and other techniques to calm down.
"We are tasked with the sanctity of life, and that requires some professional neutrality," Florisi said. "To achieve our police objective, officers have to be able to successfully navigate their working environment — and part of that is learning to regulate emotion and communicate effectively."
Visit VirTra for more information on mental illness and de-escalation training.
Read Next: Why simulation training is good for officers, agencies and the public

Request information from VirTra
Thank You!