How virtual reality could transform law enforcement
VR headsets are becoming increasingly affordable, and the technology's evolution shows no signs of slowing down
---

One of the most promising emerging video technologies is the virtual reality (VR) headset. While most of the attention on VR has been focused on the entertainment industry, the potential applications of the tech aren't just limited to gamers or moviegoers. From training to recruitment, VR has the potential to transform law enforcement operations in the very near future.
MOVING THE STREETS INTO THE CLASSROOM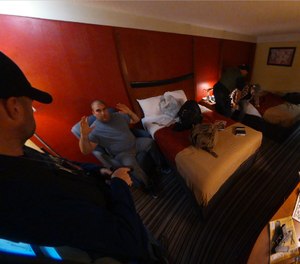 The value of real-world drills for scenarios such as hostage negotiation or active shooter response is undeniable. But whether it's large-scale gatherings like Urban Shield or localized events like a SWAT team exercise, the cost and logistical challenges that come with on-the-ground training means agencies can only realistically participate in them sporadically. A slew of VR companies offer or are developing solutions to this issue designed to be cost-effective while maintaining one of the keys to why real-world scenario training works: immersion.
From building-clearing exercises to shoot-no-shoot scenarios, virtual reality enables trainers to transport officers from the police station, the classroom, or even their own home, to the streets without setting a foot outside.
Some companies, like GovRED, offer solutions that allow officers to move freely within the virtual environment and use force options. Others, like D.I.R.T. (Digital Immersion Response Training), feature VR video simulations in which the officer plays the role of observer.
DIRT's Co-founder and CEO Darren Heater said his company's VR training was born out of his involvement with the FBI's INLETS (INtelligence and Law Enforcement Training Seminar), a training conference that brings counter-terrorism case studies and tactics to agencies nationwide.
"When you're in a conference, you hear amazing case studies and get great training, but a lot of it is presented via PowerPoint presentations where you just get tons of information thrown at you," Heater said. "I've always been passionate about scenario-based training and narrative, so I started brainstorming the idea: 'How do we get law enforcement to learn these principles, but then also get them immersed into a real scenario?'"
DIRT offers scenarios on topics ranging from school shootings to terrorism prevention and response. In the "Path to Radicalization" course, the viewer puts on a set of VR goggles and plays the role of a narcotics officer taking part in a hotel raid. The user can look around the environment in full 360 degrees to search for indicators of possible terrorist activity. After the video ends, a subject matter expert reviews what the user just saw (or the things they missed) and provides training takeaways. From there, users take an assessment test before moving on to the next VR training clip.
Heater, who has a background in filmmaking, says the key to making VR training effective is realism. The company uses real cops as actors in its virtual reality training scenarios, with scripts written by law enforcement experts from INLETS and American Military University.
"It's not some cheesy government-funded training film. You're literally immersed in these scenarios, so you feel like you're the third person on the SWAT team that's going into that hotel room and you're presented with all the stuff in a way that's just like you would see in real life," Heater said. "We didn't want to make it like a cartoon or a VR game, we wanted it to be real. The technology is now at a point where we could do that."
In the future, DIRT plans to expand the tech into a "choose your own adventure"-style training that gives users the ability to take multiple different paths within the same training scenario. "We wanted to create a technology that was highly repeatable that you could get into the hands of law enforcement.," Heater said. "With DIRT, cops are saying this is a game changer because they can literally do this at shift change. You don't have to go anywhere, you grab a pair of VR goggles and you have the training right there in your hand."
A NEW RECRUITMENT TOOL
The ability to immerse someone in law enforcement operations through VR has advantages outside the training realm as well. 360Immersive, another company that specializes in virtual reality solutions for public safety, worked with the Idaho State Police to create a virtual snapshot of the state and police agency for recruitment purposes.
"We're in Idaho. Everybody in Idaho knows what's great about Idaho. But people have no idea what Idaho is about if you haven't been here and experienced it for yourself," Jennifer Lastra, Managing Director of 360Immersive, said. "So what better way to recruit than to be able to showcase what's great about Idaho?"
The virtual reality experience, available via a downloadable app, puts the user into a number of different environments inside the ISP – from the academy to special operations. Users also get a glimpse of what off-duty life is like – equal time is given to outdoor and other off-the-clock activities the state has to offer. The idea is to give potential applicants both inside and outside of the state the opportunity to experience the job in a way that's engaging and innovative.
"Most officers are looking for a community where they can give and receive respect mutually. What better way to showcase what's great about the state of Idaho than to put somebody in virtual reality where they experience those feelings themselves – the feeling of community, the feeling of teamwork and collaboration, the feeling of family," Lastra said. "Law enforcement is a hard industry to recruit for right now. When you're trying to capture these 22 to 32-year-olds' attention, virtual reality is something they consider to be a really cool and innovative technology. Why not piggyback off of that and show the Idaho State Police brand and what it stands for?"
A WALK IN MY SHOES
VR also has the potential to create experiences outside of one's own perspective. One application is as a public relations tool for strengthening public opinion of law enforcement because the technology allows a user to virtually walk in a cop's shoes. Lastra suggested police agencies could bring VR into classrooms and community centers so the public can experience first-hand the challenges police officers face on patrol.
"You can develop empathy during virtual reality training because in essence you are removing yourself from your environment and being placed into another person's environment. And then you become that person," Lastra said. "This is what makes the technology so powerful."
This has training applications as well, such as supplementing CIT training. 360Immersive has been developing programs that help law enforcement and other public safety professionals better understand those suffering from mental illness.
"We wanted to be able to give them the experience of what it's like to be suffering from a mental illness," Lastra said. "The one we began to experiment with is schizophrenia. If you know anything about a schizophrenic person, they hear multiple voices, they have these flashes of light or narrowing of focus. What we've been able to do, using actors, is to show how complicated it is when a law enforcement officer is simply trying to do a health and welfare check on somebody with schizophrenia. With the use of virtual reality technology, we can recreate to a certain degree what that experience as a schizophrenic person actually feels like. And then being able to share that with public servants, they have a better understanding of what that person might be going through. You can't do that with traditional learning styles, it's not possible," Lastra said. 
ENDLESS POSSIBILITIES
VR headsets are becoming increasingly affordable, and the technology's evolution shows no signs of slowing down. From treatment of PTSD to a virtual command center, there is no limit to how VR could transform law enforcement training and operations.
"We're at the very infancy of consumer adoption. There's a long road ahead of us," Lastra said. "But it's going to become an everyday part of our life. And it's so much more than gaming and entertainment. It will be profound in the way it changes the way we interact, collaborate and communicate with others."
Request product info from top Police Training Simulators companies
Thank You!