Meggitt unveils clever new live-fire range product at SHOT Show 2017
Meggitt Training Systems is demonstrating a training product so new that it doesn't even have a name yet
---
The widely discussed criticism of SHOT Show 2017 has been that following the 2016 event — which featured countless new products and innovations on existing ones — the show floor really lacks that large number of shiny new toys.
But that doesn't mean there isn't a certain amount of new products to examine and write about. We've seen a whole new company with its debut entry into the striker-fired pistol market, and a line of tactical jeans (I never thought I'd use those two words together in a sentence) from 5.11.
Then, we have Meggitt Training Systems. They are demonstrating a training product so new that it doesn't even have a name yet. A patent is pending for a new accessory for Meggitt's live-fire track target system that allows police and civilian firearms trainers do to virtual-live-action, scenario-based training on the live fire indoor range.
The unit, which appears to be about five feet long, attaches to the existing XWT rail system which delivers the paper targets downrange. On that rig, protected by a hefty piece of steel, is a tiny video projector. That projector is wirelessly connected to a tablet computer mounted behind the firing line. From that interface, countless numbers of "videos" can be run, with the role player appearing in two dimensions on a blank white piece of paper or cardboard.
Of course, this is not a new idea. Police trainers in particular have for decades used video projectors and slide projectors to achieve the same effect — shoot/no-shoot scenarios with live ammo — but two Meggitt employees named Critt Bennett and Scott Billington put their heads together to create a really elegant solution that has pretty limitless potential.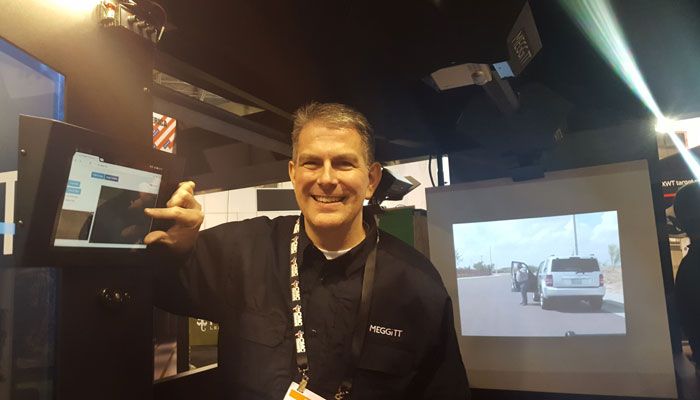 Scott Billington worked with his colleague Critt Bennett (not pictured) to create an elegant solution. (Image/Doug Wyllie)
"You can make a movie on your iPhone, put the video file in here, and be doing a self-defense training all in the same afternoon," Billington told me.
Admittedly, the value of a big, 270-degree virtual system remains high and this system will not replace that excellent technology. It's not meant to. This is a relatively inexpensive solution that can help further enhance police — and civilian — firearms training.
There is no price yet available, but considering its simplicity, it's likely that it will be very affordably priced.
Request product info from top Police Training Simulators companies
Thank You!