Minn. PD awarded $155K grant to advance officer training
The funds will purchase a training simulator that features immersive instructional scenarios focused on de-escalation, autism awareness and communication tactics
---
By Renee Berg
The Free Press
ST. JAMES, Minn. — The St. James Police Department will be better prepared for serving the public after receiving a hefty $155,000 federal grant that will allow the agency to purchase a training simulator
It will be the sole outstate simulator available, and after training its countywide team of 20, St. James will then offer training sessions to police officers and law enforcement agencies throughout Minnesota and northern Iowa. Only 45 law enforcement agencies in the country were awarded grants by the Department of Justice under this grant application.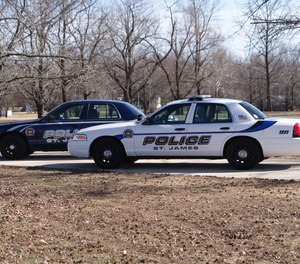 "Police work and police training needs to evolve just like any other part of society," said Chet Anderson, St. James Police Department assistant chief. "If you don't evolve, you fall behind. In order for officers to meet the demands placed upon them, we as a field have to evolve in providing the skills necessary for our officers to be successful."
The grant comes from the U.S. Department of Justice and is earmarked to purchase a simulator to enhance police officer training in de-escalation, autism awareness, and effectively communicating with the public, among other training topics. The simulator provides realistic and immersive training scenarios for police officers, Anderson said.
"We strongly support new learning tools like this," said Angela Youngerberg, human services director of business operations with Blue Earth County. "We believe the best training involves real-world interaction versus only a theoretical training approach."
The simulator is definitely a step up from traditional, standard training protocols, Anderson said, such as lectures and PowerPoint presentations.
The training simulator has an extensive library, including training on use of force, autism awareness, mental health awareness and decision making. "All of the skills that officers need to be successful with their jobs are contained within the scenarios in the simulator," Anderson said.
"Anything we can do to better train our officers in an immersive, realistic training environment is what we're looking to do to better prepare them for their job," he said.
It's expected that the simulator will be installed by the end of the year and will be housed in the St. James Police Department's training room. Officers will undergo monthly training exercises.
Measuring 30 feet by 25 feet with three screens providing an 180-degree visual for officers being trained, the simulator is "as realistic as we can get," Anderson said.
"Citizens expect a highly trained, very responsive police officer to perform their duties," he said. "We're trying to do everything we can to better train our officers. We want to provide a highly trained, well-experienced officer to handle calls of service on a daily basis."
"We as professionals do best when we can practice new skills through scenarios using real people or simulations," said Youngerberg of Blue Earth County. "This platform seems to efficiently use up-to-date technology to accomplish these goals.
"We, in the human field, are grateful that law enforcement is leading out with these efforts, and it will also help to promote more generalized community awareness."
___
(c)2022 The Free Press (Mankato, Minn.)
Visit The Free Press (Mankato, Minn.) at www.mankatofreepress.com
Distributed by Tribune Content Agency, LLC.
RELATED: 50 ideas for a $20,000 police grant
Request product info from top Police Training Simulators companies
Thank You!