PRESS RELEASE
Whelen Engineering Co., Inc. Introduces the Inner Edge XLP and XLP WeCAN DUO™
---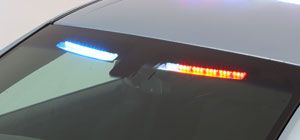 Chester, Conn. -
Whelen Engineering Co.
, Inc., Chester, CT introduces the Inner Edge® XLP and XLP WeCAN® DUO™,
Extra Low
Profile
, fully featured Super-LED® Lightbars to their Inner Edge™ Series of interior lightbars.  With a tiny ¾" high profile, XLP Inner Edge fits snugly against the windshield providing more visibility and headroom for the driver while virtually eliminating flashback.  Vehicle specific shrouds for most late model police vehicles are included.  All XLP models provide 40 Scan-Lock flash patterns.   Models are available in 3-LED and 6-LED DUO™ versions.  DUO technology models have color LED warning with White LEDs that reside in the same module allowing the lightbar to flash warning colors independent of the White take downs.  SAE Class 1 certified, rugged and easy to install using visor anchor points, and, covered by Whelen's Five-year HDP Heavy-Duty Professional warranty.