Why the SUV has become the new standard for patrol vehicles
The sheer utility of SUVs has proven capable of supporting a variety of police operational functions
---
This feature is part of our Police1 Digital Edition, a supplement to Police1 that brings a sharpened focus to some of the most challenging topics facing police chiefs and police officers everywhere. To read all of the articles included in this issue, click here.
By Dale Stockton
When you look at police vehicles around the country, it's clear that a large number of agencies are using SUVs as primary patrol vehicles. From rural counties to urban cities, the SUV is becoming a common choice. This is a remarkable difference from just a few years ago when the majority of police vehicles were rear-wheel drive sedans, most often the venerable Ford Crown Victoria Police Interceptor.
When the Crown Vic was discontinued in 2011, it was the end of an era. While not perfect, the Crown Vic had served well for two decades. Many officers logged hundreds of thousands of miles in different models of the car over the years and there was a fair amount of speculation as to the future of police vehicles. Automobile manufacturers were downsizing cars (and their power plants) to meet federal mileage standards so law enforcement professionals were concerned as to whether a viable replacement would emerge.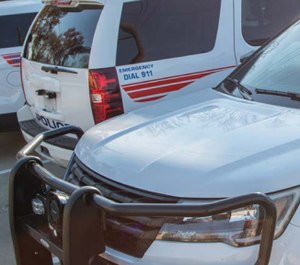 As the major manufacturers rolled out the new generation of police package sedans, a frequently heard comment concerned limited interior space and insufficient room for the equipment officers carry in their car. The smaller interior space was especially challenging when two large officers were assigned a car with the typical array of electronics now commonplace in most patrol vehicles. As agencies were working through their options, SUVs were growing in popularity among the public. This fact wasn't lost on manufacturers and it wasn't long before consideration was given to a police utility vehicle. However, the car manufacturers were not sure law enforcement would embrace the concept.
Behind the scenes
David (Doc) Halliday is the former commander of the Michigan State Police Precision Driving Unit and the Vehicle Test Team, which annually conducts a comprehensive review of police vehicles. He's also a founding member of both the Ford Police Advisory Board and the General Motors Law Enforcement Product Council. Halliday distinctly remembers when the Ford reps asked for input on what the level of interest would likely be for a police sport utility vehicle.
"Early in the process, they asked what we thought the percentage breakdown would be," Halliday said. "We thought it would probably be 60% cars, 40% utility. We got it wrong, it quickly became the other way around and now it's even higher, probably in the range of 75% or more SUV."
Why SUVs have become the standard
Halliday believes increased room and cargo capability are the key reasons officers quickly embraced the SUV as a patrol vehicle.
"When I started in law enforcement, we had a fourchannel radio, a first aid kit and some flares," Halliday said. "Over time, we added electronics, multiple radios, even printers in the cars. After 9/11, we began carrying CBRN-related equipment. There were times when you popped the trunk and it was literally filled to the brim. And if it was a special operator like a tactical guy with weapons, they were just flat out of room."
SUVs also provide a slightly elevated seating position, which most officers prefer because it improves the ability to observe their surroundings, as well as allowing for easier entry and exit. Higher ground clearance means curbs and other obstacles can be addressed with greater confidence and all-wheel drive means better traction during inclement weather or off-road situations. Although towing capability varies among the different manufacturers and models, it's generally sufficient to allow towing of support equipment like traffic enforcement or crime scene trailers.
Overall, the sheer utility of SUVs has proven capable of supporting a variety of police operational functions. The same vehicle platform that serves as a K-9 unit can be used by a crime scene investigator with specialized equipment. Tactical operators have found that long guns can be easily secured in waistlevel lockers and quickly accessed as needed. Some departments have equipped supervisor vehicles with specialized cabinets and even a canopy so that a minicommand center can be set up when the rear cargo door is opened.
Considerations when adding SUVs to a police fleet
Training and vehicle familiarization should be a priority whenever a new type of vehicle is put into service and SUVs are no exception.
Halliday noted that the computer-assisted safety features and all-wheel drive help, but he's concerned some departments may not provide adequate training.
"Many agencies are relying on the compensating capabilities of the vehicles and have cut back on their training," Halliday said. "They should be providing training with the new vehicles, but I feel that many don't."
Backing incidents have always been a concern and this will continue to be the case with SUVs. In fact, depending on the way the vehicle is outfitted, it can be even more difficult for an operator to utilize the inside rear-view mirror because many agencies have both a prisoner partition and a cargo partition in the vehicle, creating significant visual obstruction. This can be mitigated using a back-up camera and sensors, both of which Halliday feels are beneficial.
"Backing has to be a consideration," Halliday said. "The sensors provide an alert when you get too close to something and the cameras have proved really useful."
Once again, departments should ensure officers are properly trained and familiar with equipment and its limitations.
Vehicle operations consume a large part of any department's budget and SUVs can be more expensive to purchase than their sedan counterparts. This can be offset by improved resale value when the vehicle is cycled out of service due to the high popularity of this vehicle among the general population. Operational expenses also include fuel consumption and SUVs have traditionally posted lower overall fuel economy than sedans due to the vehicles weighing more. However, improved technology and powertrains have narrowed that gap significantly and some SUVs actually provide better fuel economy than certain sedan packages. Agencies should do their homework and consider other factors such as fuel consumption at idle since patrol vehicles are often left running for extended periods.
Conclusion
The current generation of police utility vehicles have proven they are capable of reliably supporting patrol operations. Acceleration and handling are on par with their sedan counterparts and they provide the benefit of a larger passenger compartment and more accessible storage area. Although they may be more expensive than a sedan, they may also be capable of delivering a higher level of service. Departments should look at their operational needs and consider the latest police utility vehicles offered by the major manufacturers.
---
About the author
Dale Stockton is a 32-year-veteran of law enforcement, having worked in all areas of police operations and investigations and retiring as a police captain from Carlsbad, California. He is a graduate of the 201st FBI National Academy and holds a master's degree in Criminology from the University of California, Irvine. He has served as a Commissioner for California POST, the agency responsible for all California policing standards and training. Dale is the founder of Below 100.

Request product info from top Police Vehicles companies
Thank You!