How to protect against patrol vehicle kill zones
In any given year, roughly half of all police-involved shootings take place from or around vehicles – find out the steps agencies can take to harden vehicles to protect officers from attack
---
On August 7, 2018, a gunman fired between 10 and 25 rounds at two New Jersey police officers while they were sitting in their vehicle at a red light, wounding them in an ambush attack. A year earlier, New York City police officer Miosotis Familia was killed after a gunman walked up to a police vehicle and fired one round through a window.
It is now accepted that ballistic vests save lives – if they are properly fitted and are worn religiously. However, they cannot protect officers from arm, leg, or head shots while they are sitting in their vehicles. Here are some actions agencies can take to help protect their officers from this type of attack.
Provide counter ambush training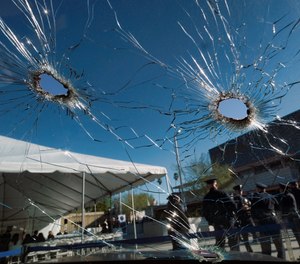 Remind officers that vehicle ambush is a real threat. They need to leave enough space around their vehicles when stopped so that they can make an escape. They should also maintain situational awareness even when seated in their patrol vehicle.
Run officers through a vehicle ambush counter-measures training program. If you cannot develop and run one yourself, take advantage of the program offered by the Federal Law Enforcement Training Center (FLETC), the NTOA's Police Counter Ambush Tactics class or the material taught on day five of the Advanced Response Police Officer Course from NTOA.
Make an effort to ensure every officer is trained and has bleeding control equipment in case they are shot.
Harden your patrol vehicles
Evaluate the use of armor in your vehicles. Grant money is available to help beef up your vehicles' protection without creating a military look the public and city councils hate.
There are many types of armor available. First-generation ballistic panels are mounted out of sight inside the door, but they require specialized skills and tools to pop the door panels off, mount the panels and put everything back together again.
The latest panels are designed using the same concept as the military's Long-Term Armor Strategy (LTAS), which is based on A-Kits and B-kits. Just like you can add rifle plates to your soft armor, a B-Kit can be added to vehicles for additional protection when required.
Rather than having a vehicle in the shop to pull panels, this type of armor seamlessly and invisibly bolts onto the outside of your vehicles, taking about 10 minutes to install. The modular design offers upgradeable armor packages to accommodate varying threat levels and is easy to remove when vehicles are decommissioned.
As I mentioned earlier, arm, leg and head shots are a concern. Transparent armor is available to harden side windows, protecting an officer's exposed limbs, head and neck. When shopping for window protection you want to look for armor that won't affect the regular operation and movement of the car window and is easy to install and remove.
Summary
Officers are being targeted and it is every agency's job to help protect then through training and the proper equipment. Give them personal bleeding protection and harden their vehicles. The decisions you make can help every officer come home safely after their shift and apply for their pension.