BearCat giveaway to launch at IACP 2022
Lenco Armored Vehicles will award a BearCat tactical response vehicle to one winning organization
---
By Police1 Staff
Lenco Armored Vehicles has announced its first-ever BearCat giveaway, in which the company will award a BearCat tactical response vehicle to one winning organization.
Lenco will introduce the giveaway at the IACP's annual conference in Dallas, Texas, at Lenco's booth in the exhibition hall (Booth #8608).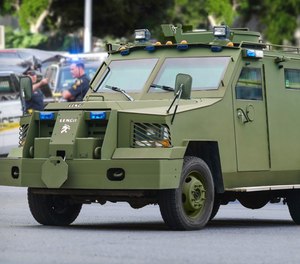 The vehicle is a Lenco BearCat G1 with a hydraulic ram bar, wraparound running boards, four-wheel drive, seating for 8-10, a rotating roof hatch and roof-mounted spotlights.
As police, fire and EMS agencies face ever-growing response challenges in law enforcement, natural disasters and more, Lenco aims to raise the bar for safety, as well as increase the accessibility of its protective vehicles.
Booth visitors at IACP can learn more about the giveaway, as well as Lenco's Grant Assistance Program, which is a no-cost and no-obligation grant consultation service for any agencies looking at options to help fund the purchase of a Lenco vehicle.
The BearCat Giveaway contest will run for one year and will be open to U.S. law enforcement agencies that don't currently own a Lenco vehicle. Agencies will be able to learn more and enter at FreeBearCat.com.