7 factors in choosing a video editing and redaction solution
There are many video redaction solutions available, and they vary widely in capabilities and ease of use
---
Few forces are impacting law enforcement like video. Policing in the Video Age, P1's yearlong special editorial focus on video in law enforcement, aims to address all facets of the topic with expanded analysis and reporting.
In the second installment of this four-part signature coverage effort, Solving the Evidence Management Challenge, we address the issues police departments currently face when it comes to managing digital video evidence, including data storage costs, cybersecurity, data retention, and data extraction. Click here to learn more about the project.
Navigating the complexity of BWCs is a challenge police departments continue to face. If you're in need of BWC training for your department, PoliceOne Academy has several online courses available, including "How to Implement a BWC Program." Start your path to becoming an expert by visiting PoliceOneAcademy.com and submitting a request to learn more.

The cost of video archiving was the first unforeseen speed bump in the widespread deployment of police body-worn cameras (BWCs). The challenge of video analysis and redaction is the second.
Police agencies looking to demonstrate transparency in their operations by distribution of BWC-generated video are inundated with demands for video clips, but they can't release the videos as recorded. Before the video is made public, identifying characteristics such as license plates and faces must be redacted to protect the privacy of innocent bystanders.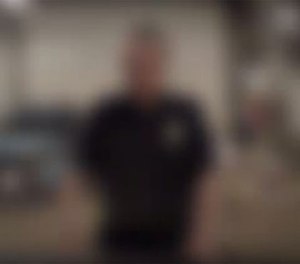 There are many video redaction solutions available, and they vary widely in capabilities and ease of use. Consider these issues in choosing a solution for your BWC deployment.
1. Be wary of an all-in-one package
Most BWC vendors include a video editing solution as a part of the total package they sell to their client agencies. In a few cases, the user is tied to using that video editing software, or it's difficult to get the video out of that software and into a third-party editor.
If that's the case, you're tied to the feature set and limitations of that software, and when new capabilities come available, you won't have them until the vendor decides to publish an update, and the BWC video editing tool may not work with videos from other sources like dash cams.
2. Understand the file formats
Digital video comes in several formats. The most common are *.avi, *.flv, *.wmv, *.mov, and *.mp4. An editor that will handle one file format may not be able to digest another. At some point, you will have to deal with video from an outside source, such as surveillance cameras or smartphones. That video can come to you in any format.
3. Protect the metadata
Most video from BWCs also includes a substantial amount of metadata that describes the time and date the video was made, the camera and user that produced it, GPS coordinates for its location, and details like whether the patrol car's emergency lights and/or siren were on.
If the video is edited in a third-party software package, the metadata may not be preserved properly. The metadata stream can be as important as the visual and audible content of the video, especially in a legal proceeding.
Editors with screen capture capabilities will seldom pick up the metadata. When using a screen capture application, the operator plays the video on their computer display, and uses the software to draw an outline around the video frame. The software records whatever is contained in the capture window. This method usually results in a file with lower resolution than the original (as it's limited to whatever was displayed), and without any metadata and/or audio track.
4. police video Redaction has to be perfect
A video is a series of still frames, usually about 30 per second. Any one of those still frames can be extracted for closer examination. Redaction involves blurring or blocking details of faces and other identifying characteristics. If it's not 100 percent effective, one or more frames that contain part of the information you intended to redact may be combined to reveal what you intended to keep hidden.
"One missed frame can reveal the identity of an individual and expose a police department to significant liabilities," said Sean Varah, founder and CEO of MotionDSP. His company produces Ikena software for video redaction and forensic analysis that is offered by several BWC vendors.
Most redaction is accomplished by an operator placing a circle or rectangle over the sensitive area of the video frame. That area is blurred or occluded from view, and the more advanced packages use artificial intelligence to follow the object as it moves, keeping the circle or rectangle over the object. If there is some lag between movement of the object and the redaction area, a portion of a face or a few letters or numbers can slip out and be visible.
This is especially common when the object to be redacted moves out of the frame. When this happens, the operator needs to repeat the redaction process when the object reappears in the frame, and ensure that any auto-tracking keeps up with the object throughout the entire sequence.
5. Create an audit trail
When a video clip depicts a controversial incident, any redaction to the video will be met with claims the video was edited to conceal police misconduct. The best editors will automatically create an audit trail of any changes, showing exactly what was added or removed, with timecodes and video frame regions recorded. This feature is a tremendous time saver that also adds greater integrity and transparency to the process. 
6. Software can be difficult to use
Anyone who has played with Photoshop or some other digital photo editor learns quickly that there is a substantial learning curve to edit photos skillfully. Video has all that complexity, and more. An editing package that contains all the possible bells and whistles may provide more capability, but it will be more difficult for users to master. Knowing what features you need, and selecting an editor that focuses on those, provides savings on multiple levels.
This is also a time to consider who will be tasked with the redaction and other editing chores. How long will it take to train people to use the software, and how often will that person need to be replaced? If the software requires considerable expertise, your agency could be left with a big deficiency if your key operator leaves that position.
7. Hardware demands are high
Graphics editing requires more computing power than email and word processing, and video editing is even more demanding on computer resources. Many editing packages will run poorly on the typical desktop or laptop computer, if they run at all. The computer you use for video editing will need a fast, up-to-date CPU and an equally powerful graphic processing unit (GPU).
Video software packages are generally engineered to concentrate the load on either the CPU or GPU. You need to know how yours is designed, and what the minimum performance requirements are. For best results, get a machine that can be dedicated to this task and has the most powerful graphics processing available.
A few vendors offer cloud-based video editing solutions, where the heaviest computing processes are run by remote computers. This reduces the need for a high-performance computer at your site, but demands considerable bandwidth from your internet connection. Many operators report that it can be extremely difficult to achieve frame accurate results with cloud-based video editing solutions.
Evaluate these factors in your selection and purchasing decision, and both you and the community you serve will be happier with the finished output.

Request product info from top Police Video Redaction Software companies
Thank You!