British police agency swears in first part-time officers
Police called it a "fantastic opportunity" for those who wouldn't otherwise be able to fulfill their dream of becoming a police officer
---
By Suzie Ziegler 
MANCHESTER, England — For the first time, the Greater Manchester Police Department (GMPD) is offering a part-time position. 
According to the BBC, the department swore in 24 part-time officers last week. A police spokesperson said the move aims to "make policing open to more applicants" with a "flexible alternative," according to the report. The change follows in the footsteps of London's Metropolitan Police, which in 2019 became the first British police force to offer a part-time position.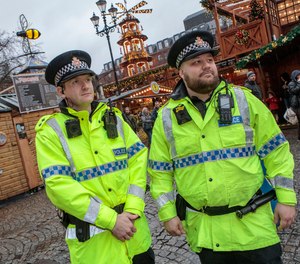 Det. Sgt. Anna Rickards told the BBC that the pandemic has seen a "seismic change" in work culture. 
Asst. Chief Constable Chris Sykes added that the part-time option is an opportunity to reach out to a wider demographic. 
"It's a fantastic opportunity [for people who weren't able] to fulfill their dream of becoming a police officer because the role didn't offer enough flexibility," Sykes told the BBC. 
New GMPD recruit Michelle Blake says she had always wanted to serve her community but never had the time between being a business owner and mother of three.  
"Knowing I can run my own business and join GMP is an amazing opportunity I couldn't pass on," Blake told the BBC. 
The part-time officers will work the same shift pattern and perform the same tasks as their full-time counterparts, according to the report. 
NEXT: State your case: How young is too young to be a police officer?