Calif. PD's first women's recruiting expo draws hundreds to explore potential police careers
"Women bring an intelligence and compassion side to the job, and an ability to engage with the community, that make them excellent police officers."
---
Reprinted with permission from Behind the Badge
By Cathi Douglas
Aimee Rivera wants to serve her hometown as a police officer, and the recent college graduate hopes her law enforcement experience will give her a boost among other potential recruits.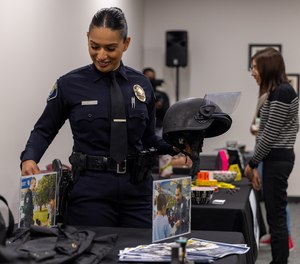 Rivera, 26, was one of over 100 prospective recruits attending the Santa Ana (California) Police Department's first Women's Hiring Expo held on October 1. The recruiting event was designed to introduce women to the department, its divisions and departments, and the application process.
A recent Cal State Fullerton graduate with a bachelor's degree in kinesiology, Rivera worked part-time for the university police department. The job made her even more determined to pursue her childhood ambition of community service through police work.
"I've always had a fascination with it," she says. "I believe women officers are growing in number because they have better emotional connections with others and can more easily defuse potentially violent situations."
Corporal Jorge Arroyo, SAPD's recruitment coordinator, says women are desirable as police officers because they not only equal men in their skills, but also bring a certain approach to police work that's needed and desired in Santa Ana and other cities.
"Women bring an intelligence and compassion side to the job, and an ability to engage with the community, that make them excellent police officers," Arroyo says.
Sgt. Rosa Ponce de Leon agrees.
"Women connect well with the community," she says. "We're rightfully expected to be as strong as a man, and we have the advantage that de-escalating conflict comes naturally."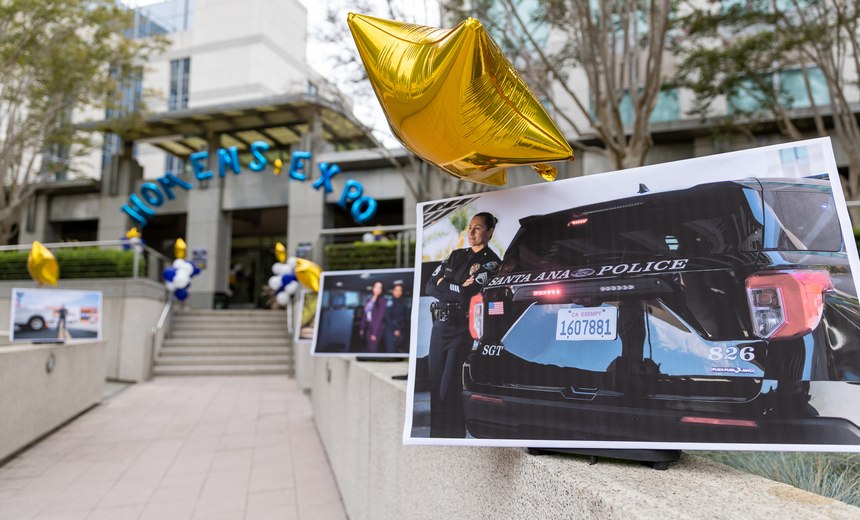 A 26-year SAPD veteran, Sgt. Ponce de Leon says she remains proud of her work and her fellow female police officers.
"It's very challenging for us to stay healthy emotionally, physically, and mentally, but I continue to believe in our professionalism, and in the importance of what we do," she says.
Police work, explains Asst. Chief Robert Rodriguez, is more than a career. In welcoming the potential recruits, he told them that SAPD puts the community first in all its efforts and that the department fosters a family environment.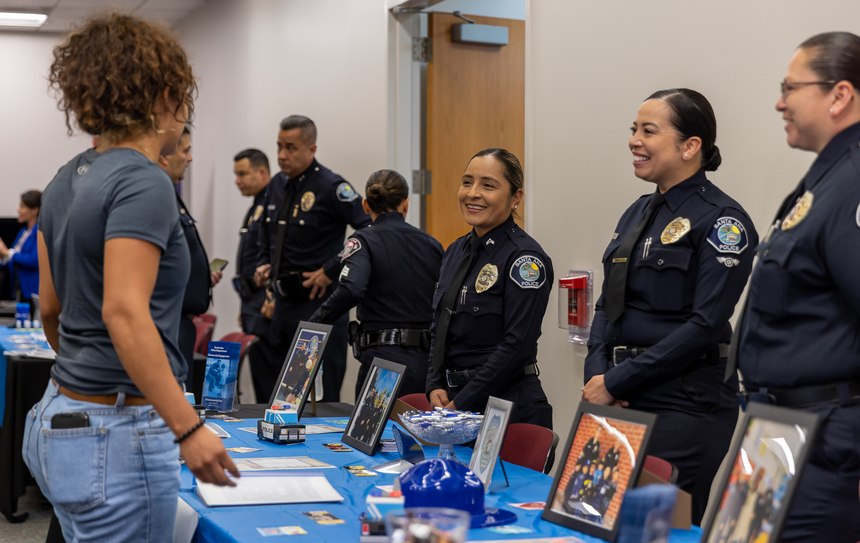 Deputy Chief Enrique Esparza, with 25 years of experience at the department, told audience members that SAPD is a team of professionals dedicated foremost to serving the community.
Once a candidate is screened, tested physically and mentally, and interviewed, a new hire can expect to spend 26 weeks in police academy training. But from the first day she is hired, she is paid to train and then, upon graduation from the academy, becomes a full-fledged police officer, says Sgt. Maria Lopez, SAPD public information officer.
Sgt. Lopez acted as master of ceremonies for the Saturday morning event, emceeing a panel of female officers representing various divisions within SAPD including dispatch, jail, detectives and patrol.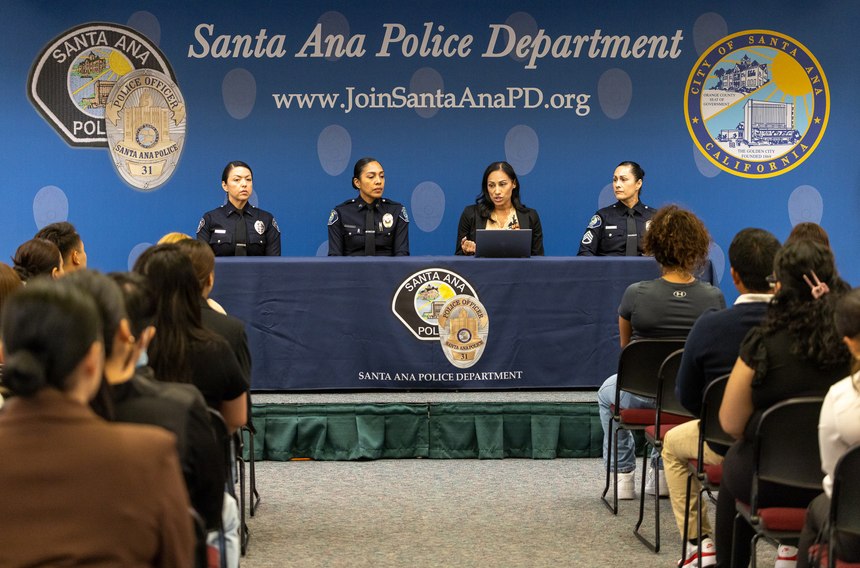 As part of the day's first panel, Sgt. Ponce de Leon noted that the department offers a variety of shifts and hours, including both full- and part-time work; shifts can start as early as 2 a.m. or as late as 6 p.m. and officers often work three 12 ½-hour shifts rather than a typical five-day, 40-hour weekly schedule.
Exposed to gangs as she grew up in her Placentia neighborhood, 22-year-old Ivette Morales, a graduate of Valencia High School and a former police cadet, says she is interested in joining the SAPD to work in gang suppression.
"Most of the time you don't see female officers," Morales observed. "But I think we have a distinctive way of connecting with people of either gender."
Fatima Farias of Garden Grove, 21, thinks female officers can make members of the community, fellow officers, crime victims, and suspects more comfortable.
"Women are trustworthy," Farias notes. "We have good people skills."
Growing up, she adds, "I always looked up to police officers, and I would like to have a career that's respected and rewarding."
Police1 resources on recruiting female police officers