How the Portland Police Bureau is rebuilding its ranks
From enabling applicants to sign up on the spot to prioritizing officer wellness, Oregon's largest police agency has reinvigorated its recruitment strategy
---
Police agencies across the United States are competing to recruit the best to serve in their ranks. There is no confusion as to why the most competitive recruitment push in law enforcement history is well underway.
Over the past two years, the policing profession has taken almost catastrophic hits. The COVID-19 pandemic and 2020's civil unrest, coupled with their aftershocks, led to an unprecedented number of police officers separating from the public safety community.
While violent crime is on the rise in most populated areas of the country, city administrators and police executives have embarked on an aggressive campaign of finding the next group of leaders for their agencies.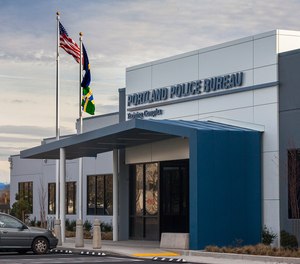 Portland staffing crisis
During the summer of 2020 when police were struggling with the effects of civil unrest and discussions about defunding public safety units were being debated, Portland City Council cut the authorized strength of the Portland Police Bureau (PPB) from 1,001 to 916.
Over the past two years, members of the largest law enforcement agency in Oregon quietly left in droves; some retired early, others lateraled to different departments and some separated completely from their police families for a change in careers.
The Portland Police Bureau currently has 772 sworn members in all its ranks, from the newest trainee up to the top position of chief. After additional cuts from the already mentioned 2020 reduction, PPB is now authorized to have only 882 members. Said differently, in just two years, PPB lost 119 sworn positions.
Of the current members, 509 are at the rank of officer. The bureau currently has 257 professional staff; it is authorized to have 304 staff members. These non-sworn individuals are vital in any police agency's day-to-day operations to ensure proper administrative duties are being completed, filed and disseminated.
A somewhat newer position within PPB is the Public Safety Support Specialist (PS3) classification. This 20-member group is unarmed but wears an official uniform and drives marked city vehicles responding to low priority calls for service. The PS3s assist community members and patrol officers with documenting and investigating criminal behavior. Early this year, Mayor Ted Wheeler recently announced that he wants to triple the number of PS3s in the City of Portland. To help with bolstering these ranks, PPB will rely on various documents and studies to find the most qualified candidates.  
The President's Task Force on 21st Century Policing, a modern-day field manual for how police agencies should function, discusses building a department that reflects the neighborhoods they serve and city leadership and PPB's Personnel Division, where the recruitment unit is housed, has adopted this recommendation.
It is apparent that some city officials recognize there is a need for a concentered recruitment strategy. "There is such a thing as too few officers," Wheeler said in the fall of 2021. "I can objectively say we are critically short-staffed."
Obviously, leadership inside the Bureau also feels the need to concentrate on its recruitment efforts. "This is a defining time in public safety and the City of Portland," said Chief Chuck Lovell. "We have been hiring, but now with some enhancements, we are able to increase this process and bring on the next generation of police officers."
New hiring drive
As part of this new hiring drive, the Bureau turned to traditional methods of beefing up its numbers:
Adding recruiters to the personnel division
Hiring more background investigators
Updating the hiring website, social media platforms and recruitment materials.
As part of the updates to the social media accounts, a new podcast and video from Chief Lovell was pushed out.
Current members are encouraged to use their professional social media accounts like LinkedIn to advertise that the Bureau is hiring and to answer or route any employment inquiries to the recruitment unit.
But more importantly, the personnel division is adopting more organic, non-traditional forms of recruiting. From the start, the unit was reinforced with almost 60 detached recruiters. These new recruiters continue to perform their normal duties inside PPB but have taken on the additional role of seeking future leaders. They represent diverse athletic, military, educational and language backgrounds.
Not waiting for the generic job fair to open on college campuses, the recruiters are proactively contacting universities and flying to campuses to attract applicants.
"When you have students walking to class, coming from the cafeteria, going to the gym seeing only one booth with signage and materials, it goes a long way," said lead recruiter Officer Patrick Johnson. "The students feel we tailored our visit just for them and in some ways, we did!"
College campuses are still a huge market for public safety agencies because of the mindset of athletes and military individuals who walk the halls.
"There is a teamwork type of mindset with these individuals…they are coachable and want to serve," said Johnson.
Another innovative idea that is rarely seen at public safety job fairs is having the prospective applicant become an official PPB candidate before they even leave the meet and greet. Recruiters with iPads in hand now have the capability to have the applicant fill out the necessary forms electronically that enroll them into the process of becoming a police officer in Portland. The prospective applicant can leave the meeting as an official candidate after being able to apply on the spot.
Spotlight on employee wellness
Highlighting the agency's commitment to wellness is another feature of the Portland Police Bureau's recruitment strategy.
All current members of PPB, sworn and non-sworn alike, are allocated four paid hours during the workweek to focus on their wellness. This time can be used to hit the gym, focus on finances, read a book, condition their minds and body with yoga. or even sit in complete silence to unwind before they end their shift. Wellness has become a major talking point between recruiters and prospective applicants. Applicants see PPB prioritizing officer mental and physical health.
"Show me the money!"
Obviously, like anyone weighing the choices of joining an organization, applicants want to know what the compensation package is.  
The Portland Police Bureau currently offers the highest wage scale in Oregon and one of the highest in the country for any type of law enforcement agency when you factor in cost of living considerations. Currently, the entry-level officer wage at PPB is $75,675 with a $5,000 hiring bonus plan. For lateral hires, the starting wage is set at $87,753. A senior officer makes around $108,000. This figure does not include many monetary incentives that are available (roughly 29% more). 
These monetary incentives include education premiums, longevity pay, shift differential, crisis intervention certification and state certification pay among others. Furthermore, annual cost of living increases, FTO certification, on-call pay and optional overtime compensation are available after officers complete their 18-month probation period.
"When individuals see these numbers on our recruitment boards…they see information about our wellness hours…they simply cannot believe it," said Johnson.
Emerging from the pandemic, PPB recruiters have met individuals who are changing their career aspirations and are choosing to serve their community. They have also noticed applicants are very receptive to the in-person interaction they are having on military bases and college campuses. While technology is helpful, agencies cannot just rely on communication like email and social media platforms; applicants still want this vital in-person interaction. Today, one of the most important roles for law enforcement is finding its future leaders. PPB recruiters are meeting that challenge head-on.