Improving candidate diversity key mission of the Ohio Office of Law Enforcement Recruitment
The office assists agencies with the recruitment of individuals pursuing an LE career with a special focus on minority and women applicants
---
In June 2020, Ohio Governor Mike DeWine established the Office of Law Enforcement Recruitment. The office is housed within the Ohio Office of Criminal Justice Services (OCJS), a division of the Ohio Department of Public Safety, and helps local law enforcement agencies recruit and retain minorities and women.
The office staff includes Karhlton Moore, OCJS Executive Director, Dr. Patrick Oliver, Director of the Criminal Justice Program at Cedarville University, and Anjolie Harland, OCJS Research Analyst. I serve as Office Director and as a police officer with Copley Township.
The Office of Law Enforcement Recruitment assists law enforcement agencies with the recruitment of qualified individuals who are pursuing a career in law enforcement with a special focus on minority and women applicants.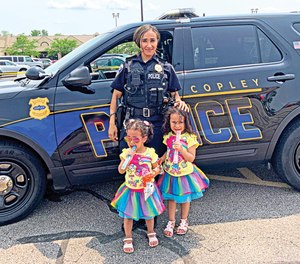 The office not only engages law enforcement agencies across the state but also collaborates with the diverse network of individuals within the communities we serve. The office will accomplish this goal by focusing on five important areas:
Assisting police agencies in a way that would consistently increase the pool of qualified applicants and the retention of officers;
Collaborating with law enforcement professionals to develop best practices in the recruitment, selection, and retention of law enforcement candidates who are best suited for this unique profession;
Utilizing best practices to assist agencies in their efforts to hire women and minorities;
Actively engaging women and minorities to consider a career in law enforcement; and
Focusing on supporting executive management and human resources on their vital role in the recruitment, selection process, and retention of their officers.
The office works with law enforcement agencies in Ohio and across the nation to develop and share cutting-edge best practices in law enforcement recruitment, selection and retention. The office seeks assistance from experts and stakeholder organizations in developing and sharing these vital best practices.
The office created a new website that offers a brief history of law enforcement, the basic requirements for becoming a police officer in Ohio, the behavior and traits of an effective officer, as well as the selection process that allows agencies to both screen in and screen out the qualities and attributes required for the law enforcement officer position. 
Contact information for the office is also included on the website should agencies need assistance in/with their recruitment efforts.
NEXT: Minority applicants share their experiences during the police recruitment process