NYPD swamped with recruit candidates despite reduced budgets
---
New York Times
NEW YORK — After years of struggling to lure top-quality recruits, the New York Police Department has found that the prolonged recession — coupled with a significant increase in first-year salaries — has generated new interest in police careers.
Applications to the Police Academy rose 54 percent in 2008 from 2007, when there were 17,212 applicants. The wider pool of candidates has enabled the department to become more diverse by the year; the percentage of black, Hispanic and Asian officers has steadily risen since 2000, as has the percentage of female officers.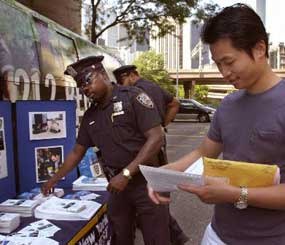 The department is also better educated than in the past: in 1999, 17 percent of the force had four-year college degrees; this year, the figure rose to 24 percent. However, the department has been unable to fully take advantage of the surplus of talented applicants because of hiring restrictions tied to the city's budget crisis. Over the next year, the department will continue to shrink through attrition to 34,304 members, about 6,000 fewer than in 2001.
Read full story: A flood of applicants to a shrinking police dept.