PERF report offers insightful strategies for addressing the police staffing crisis
Recommendations include re-examining hiring processes, updating hiring standards and offering recruitment incentives such as take-home vehicles
---
In case the reader is not aware of the Police Executive Research Forum (PERF), founded in 1976, here is their introduction from their website: "PERF is a police research and policy organization and a provider of management services, technical assistance, and executive-level education to support law enforcement agencies. PERF helps to improve the delivery of police services through the exercise of strong national leadership; public debate of police and criminal justice issues; and research and policy development."
PERF is widely cited in management studies, legislative proposals and research papers. The organization's most recently issued publication is part of its Critical Issues In Policing Series and titled "Responding to the Staffing Crisis: Innovations in Recruitment and Retention."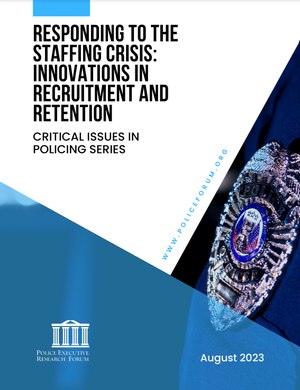 The report (available in full below) addresses not only the much-debated recruitment and retention challenge but also staffing and agency operations strategies. For those debating whether to invest in digesting the document, know that the report is presented largely in narrative format with vignettes and case studies, and weighs in at 71 pages with sidebars, graphics and charts along with commentary under five major headings based on PERF's own research.
The document explains that: "To understand agencies' challenges with recruiting and retaining officers, as well as the efforts many agencies are undertaking to address them, PERF conducted extensive background research, collected and analyzed responses from more than 250 member questionnaires, conducted one-on-one interviews with over 100 police leaders, and convened 275 stakeholders in Washington, DC on November 3, 2022, for a discussion forum on the issue."
The executive summary
The introduction to the study reiterates what is commonly known among police leaders and establishes some statistical foundation for concern. Officer retirements and resignations have increased. Sixty-five percent of agencies reported an increase in retirements between 2020 and 2022, and 66% reported an increase in resignations. Applications for open officer positions have decreased. Sixty-nine percent of agencies saw a drop in the number of applications for full-time officer positions between 2020 and 2022. Officer staffing levels are dropping. Overall officer staffing levels fell by 5% between January 2020 and January 2023.
General recommendations include:
Re-examine hiring processes. The study notes that "the inefficient and exclusionary hiring practices that agencies relied on when they were flooded with applications are no longer viable now that applications have slowed."
Agencies must adopt innovative recruiting strategies to reach a younger, more diverse audience.
Agencies should plan years ahead and "Go upstream" to identify future officers with programs like police explorers, cadet programs, and internships.
Agencies should consider updating hiring standards. Candidates who may not have been considered a "good fit" in times past might be a good match for the job.
Agencies should consider offering recruitment incentives such as take-home vehicles, child care, and education reimbursement to make the job more appealing.
While lateral recruitment with incentives is being used widely, this report points out some disadvantages such as masked misconduct and agency culture differences.
The report urges care in utilizing staff to avoid burnout by spreading duties among divisions, using civilian professionals, efforts to improve officer well-being, and efforts to build and maintain community support. 
Here's a closer look at some of the report's key recommendations:
Section 1: Understanding the police staffing crisis confirms what most observers know intuitively about the sources of staffing shortages. This section also addresses cultural differences between generations that have impacted the issue. The report suggests "departments should clearly state the organization's expectations and values as well as its diversity policies; they should be as flexible as possible on issues related to staff schedules; and they should take concrete steps to ensure mental health and promote a healthy work-life balance. They should also stress that policing can be an exceptional way for a younger worker to give back to their community and assist in positive social change throughout their career."
Section 2: Candidate recruitment and hiring addresses complex issues of racial and cultural diversity in the perception of law enforcement as a challenge to recruiting. The report speaks of "updating" and "revising" hiring standards, assiduously avoiding the implication of lowering standards. This may include issues related to minor criminal histories, learning lapses and prior drug use and making the application process less intimidating. The report emphasizes diversity, citing the Newport News Police Department example: "Our initiatives are to increase the number of minorities within the department. We are recruiting bilingual officers, and we're doing a great job at that; we're averaging about 25% Spanish-speaking in each of our academy classes and a recent class had almost 50%. Because we are recruiting for minorities, our classes are diverse. Our ultimate goal is for the agency to resemble what the city looks like."
Section 3: Officer retention reminds the reader of a number of basic leadership concepts regarding communication, respect, agency culture and opportunities for career growth. The report cites exit interviews as one research tool to understand retention challenges. Citing the Dakota County (Minnesota) Sheriff's Office: "Our exit interview process is our gauge as they walk out the door. Were we successful in creating that culture for you, or are you leaving because we weren't successful? Those are good opportunities for us to look in the mirror, have administrative meetings, and discuss where we failed with this human being. Did they not feel a part of the organization? Did they not feel valued? Did they not have input?" The Charleston (South Carolina) Police Department points out that "exit interviews are not enough to understand what officers are experiencing. Officer check-ins are essential to assessing the trends and temperature of your officers."
Section 4: Financial incentives as a recruitment and retention strategy reviews the cost of using money and benefits to recruit and retain officers. While these dollar solutions are attractive to agencies that can afford them, the report cites a number of longer-term problems that can arise with a reliance on this tactic. The report notes some success with retention bonuses compared to recruiting bonuses. In Oakland, California, the city council redirected funds into a bonus structure ($3,000 for three years, $5,000 for five years and $7,500 for 10-plus years) and it has proven successful. "Our attrition rate has plummeted," according to Oakland Police Department Chief LeRonne Armstrong. "We have seen zero officers leave, and 12 officers have returned."
Section 5: Agency operations offers examples of alternative scheduling, service delivery, desk-bound officers or specialty units handling some patrol duties, and creating other efficiencies to avoid mandatory overtime and canceled leave to cover staffing shortages. Many citizens still want to see a uniformed officer respond, but Chief Adrian Diaz of the Seattle Police Department noted: "Every city is going to have to figure out how much risk they're going to be able to assess when a 911 call comes in. So that system had to be built at the very front end, for us to really understand what calls we can push out to social services. We have a community service officer program, other alternative programs, and a lot of other different developments. But trying to assess risk on a call is really one of the biggest jobs."
For an agency leader who needs to explain police recruitment and retention challenges to their governing and funding body, the report validates what is generally widely assumed to be true. PERF carries authoritative weight for the common sense arguments and experience that a leader brings to their council, commission, or legislature.
---
Topics for discussion
1. The report suggests several innovative strategies for improving recruitment and retention, such as revising hiring practices and offering recruitment incentives. Which of these do you think would be most effective in your local context, and why?
2. The report highlights the importance of re-examining hiring practices and adopting strategies to reach a younger, more diverse audience. What steps could local law enforcement agencies take to increase diversity and inclusivity in their own ranks?
3. Financial incentives are discussed as a tool for recruitment and retention, but the report also notes potential long-term problems. What are some alternative non-monetary incentives or strategies that could be effective in your opinion?
Police1 is using generative AI to create some content that is edited and fact-checked by our editors.  
---
NEXT: What cops want in 2023: Download this in-depth analysis of Police1's State of the Industry survey on the recruitment and retention crisis in law enforcement.
Responding to the Staffing Crisis: Innovations in Recruitment and Retention by PG Edi on Scribd