What 'supporting' the police means
It is not a mystery why police officers – especially those still early in their careers – are choosing to leave urban policing or leave police work altogether
---
This essay is reprinted with permission from the Violence Reduction Project
A few months ago, one of my closest friends from my time at the Seattle Police Department handed in his gear. A veteran officer who had received advanced training in defensive tactics and gang investigations, he was well-regarded by our shift and by detectives for his ability to locate stolen cars, illegal guns and wanted gang members. With overtime and seniority, he was making a six-figure salary. But after the events of this year, he decided to take a job in the suburbs. There are a lot of stories like his: Seattle is on track to have 200 police officers leave this year, the equivalent of losing two entire precincts.
It should be obvious, but quality policing – the kind of policing that solves homicides and prevents shootings – requires police officers. And it requires good police officers, cops who are motivated to proactively stop violent offenders while also respecting citizens' constitutional rights. Yet police recruiting was down nationwide in 2020 even before the pandemic, rioting, and defunding hit. And Seattle is not the only big city to see a wave of police departures.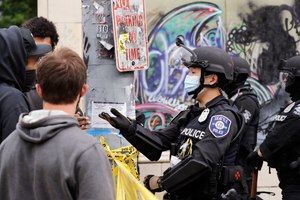 It is not a mystery why police officers – especially those who are still early on in their careers – are choosing to leave urban policing or leave police work altogether. In Seattle, exit interviews are public record: Officers said the rioting, lack of support from political leadership, and the threat of defunding and layoffs was driving them to quit. These problems came at a time when the city was already struggling with officer retention: a 2019 study attributed retention problems in part to weak front-line leadership, poor work schedules, and the fact that the department was permanently associating officers with the unfounded complaints filed against them (which affects promotional opportunities).
It is unsurprising then, that in 2020, Seattle saw 54 homicides, double the 10-year average. This is an even worse increase than other large cities in the United States, where murder rose an astonishing 37% across more than 50 major cities last year. Those who seek to defund or abolish police departments often pretend that policing has no impact on crime. In Seattle, the City Council has responded to mass resignations and retirements by taking the opportunity to cut the police department's budget even further. But social science research overwhelmingly suggests that hiring more police does reduce crime, meaning that reducing the size of a police force is likely to result in more murder.
But cities don't just need warm bodies in patrol cars. They need intelligent, diverse and motivated officers who are willing to risk their own safety while also learning from their mistakes. Everybody seems to agree upon the need for more "good cops" and fewer "bad cops," but who wants to be a cop in a time and place where doing so is psychologically, financially, legally and physically dangerous? Many well-educated, left-leaning professionals are quick to demand high standards and strict accountability for police, but would never for a moment consider becoming a police officer themselves, nor would they encourage their own children to do so.
The nationwide rise in homicides is especially dramatic this year, but it is not a new trend: Murder has been rising steadily in America since 2014. That was the year that, as then-FBI Director James Comey noted, a "chill wind" of anti-police hostility began putting a damper on proactive policing in communities across the country. Comey called it "What are you guys doing on this corner at one o'clock in the morning?" policing.
Comey knew that cities need officers who are willing to proactively go after violent offenders. But the current political moment means a police pullback is inevitable. This is not, as some have complained, a defiant response, to criticism. It is a matter of career survival. In San Francisco, an officer whose skull was fractured with a glass bottle is being criminally prosecuted for shooting his attacker.
In Washington D.C., an officer shot a gang member who drew a gun during a foot pursuit, resulting in protests, calls to fire the police chief and criticism from the city council.
In Baltimore, the state's attorney took more than six months before clearing police of potential criminal charges after officers returned fire, killing a gunman inside a methadone clinic who had already murdered one person and shot and seriously wounded a police sergeant.
In Minneapolis, a wanted felon rammed police vehicles, opened fire on officers and was killed in a shootout, prompting a small riot and leading a Congresswoman to accuse the police of murder. The message to cops is clear: If you go after violent criminals, and are forced to defend yourself, you will pay for it with your good name, your career, or your freedom.
When it comes to more routine police work, "reform" has often amounted to lengthy internal investigations of frivolous allegations and simple mistakes. In Seattle, blatantly false complaints so overloaded the civilian-run Office of Police Accountability that it finally agreed to once again let patrol sergeants handle them. Yet officers are still investigated for months over simple mistakes, such as an allegation (made by a police captain) that an officer failed to report "handcuffing discomfort," something mandated by the city's consent decree.
One Baltimore officer described a similar environment in that city after a consent decree was imposed: "Go out and stop crime but don't hurt anyone's feelings. Be aggressive, but not too aggressive." When everyday police work leads to nothing but paperwork, liability and a personnel record packed with false complaints, officers will logically minimize the amount of policing they do. The officers who really want to do proactive police work will seek employment elsewhere, just like those who have left Seattle.
Some might argue that the only officers driven away by this working environment are the "bad apples" and therefore no great loss. But any good police agency independently investigates the background of every officer they hire away from another department, which includes a review of personnel files, citizen complaints and sometimes a polygraph exam. Consequently, the officers who can't leave for a suburban police department are not the good officers, they're the ones with the worst track record of complaints and poor work performance. Suburbs and smaller cities are well aware that "defunding" and poor working conditions for urban police officers mean they have an opportunity to hire away the best officers, which is why they are recruiting them aggressively. And what will urban police departments do when they have vacancies and can't find any good recruits? They will be forced to lower hiring standards. 
It is possible to hold police accountable without driving away proactive officers. But it would require a recognition from policymakers that a robust and well-funded police force is a necessity. It would mean paying officers professional salaries in exchange for professional standards. It would mean treating officers' minor mistakes as learning experiences rather than opportunities to mete out punishment. And it would mean having political leaders and police commanders willing to stand up for officers who lawfully defend themselves, even when it is politically unpopular to do so.
I recognize that what I have to say will be dismissed by those who are heavily invested in the prevailing orthodoxy around police reform. I can only hope that the horrific rise in criminal violence this year will prompt some introspection. Making it miserable to be a police officer means that cities will have fewer good cops. Punishing officers for doing police work means less police work gets done. And fewer good cops doing less police work means preventable violence will continue unabated.  
The views expressed here are solely those of the author and do not represent the views of any government agency or organization.
Click here to read more essays from the Violence Reduction Project