A letter to the American public: Are police reform proposals real solutions or chimera?
While no solution will likely attract everyone as signatories, any reform must be credible and impactful to succeed
---
By Scott Sweetow and George Belsky
Calls for more police training, stripping qualified immunity, banning "chokeholds" and implementing accreditation as a panacea to the improper use of deadly force are not the simple solutions they are being held out to be.
We believe some of these ideas have genuine merit and should be pursued, while others may sound good, but they lack real value.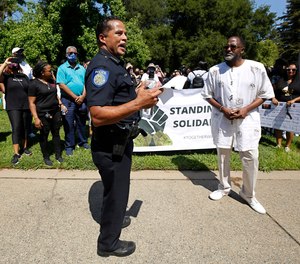 Consider these points.
1. Police training standards
All states have some standards for police training and conduct. Most utilize councils and boards covering peace officer standards and training, while others rely upon their legislature. Some agencies are allowed to hire officers and place them on the street with little or no training. This is a mistake, in our professional opinion, often done because of a paucity of finances by such law enforcement agencies. Strengthening state standards and implementing minimum national standards for licensing police officers is a worthy effort.
2. Setting national accreditation standards
I (Scott) worked on accreditation issues with ATF for multiple programs with the Federal Law Enforcement Training Accreditation (FLETA) body, and with FBI and ATF through the ANSI National Accreditation Board (ANAB) concerning the laboratory functions of the Terrorist Explosive Device Analytical Center when I was deputy director of that organization.
Accreditation usually but not always means an outside body has reviewed a police department's operations and policies and "tested" them against the standards each agency set themselves, or against well-accepted national or international standards.
However, accreditation does NOT necessarily mean a third party is going to come in and tell a police department what they think is best, as what works for the (fictional) Mayberry Sheriff's Department is not going to work for the New York Police Department! Similarly, what works for the ATF will not work for the Library of Congress Police.

Still, it would be possible to use FLETA or ANAB models to create such a law enforcement accreditation body and thus have an external review, which is desirable.
3. Qualified immunity
"Qualified immunity" has been vetted by the SCOTUS and has been accepted legal doctrine for many years. In fact, the SCOTUS recently declined to revisit its 50-year-old doctrine of qualified immunity for law enforcement officers. Because of this, some claim the doctrine unfairly inoculates police against charges of extra-constitutional brutality.

Qualified immunity has nothing to do with protecting officers from criminal charges in cases of misconduct; it only applies in civil cases. A federal agent who acts out of the scope of training and proceeds to do illegal things can already be individually sued because of the SCOTUS decision in Bivens at 403 U.S. 388 (1971). Similarly, under Title 42 U.S. Code § 1983, local (state, county, and municipal) officers may be sued.
Most police officers supplement agency protection with union or benevolent association protections. In federal law enforcement, there is the Federal Law Enforcement Officers Association while some agencies, like U.S. Customs and Border Protection, have actual unions. There is also professional liability insurance in case an agency is insufficiently assertive in defending officers. Local police have unions or allied fraternal organizations, such as the Fraternal Order of Police.
Stripping qualified immunity by changing the current laws will personally expose every law enforcement officer to potentially devastating claims and subject them to a level of risk we suspect few officers will be willing to tolerate. After all, if you are doing what you are trained to do and can still be personally sued and financially ruined, without a government agency to protect you, who will undertake that level of risk?
4. Banning chokeholds
Much has been made of banning what is colloquially known as "chokeholds." There are generally two types of chokeholds.
The first applies pressure across the windpipe or trachea and restricts or cuts off a subject's oxygen supply. When applied, these chokes are considered deadly force.
The second type of choke restricts blood flow to the brain by applying pressure to the sides of the neck. These latter techniques are known as vascular neck restraints (VNR) and when applied appropriately are both extremely effective and very safe for both the subject and the officer. A VNR will momentarily render the subject unconscious so they can be handcuffed and then revived with generally no lasting effect.
By simply banning all chokeholds, people with well-meaning intentions are forcing officers to move to a higher level of physical control (strikes) or an intermediate weapon (chemical spray, baton, or TASER), which can be more harmful to the subject. While this is a technical argument, it must be fully understood before a national policy is implemented. Sadly, some agencies have already stepped in to ban all such holds.
If all chokeholds were lethal there would be dead bodies every day in MMA gyms and police training academies.
We must seek credible solutions 
We live in emotionally charged times. Every American needs to feel secure their constitutionally guaranteed rights will be respected – including police officers.
Absent extreme solutions such as defunding police agencies or leaving the status quo completely unchanged, reasonable adults as free from emotion as humanly possible need to discuss equitable solutions that protect both the police and – critically – the communities they serve. These discussions must involve the community, law enforcement, civil libertarians, civil rights standard-bearers, attorneys and politicians if they are to succeed.
While no solution will likely attract everyone as signatories, any reform must be credible and impactful to succeed. Further violence, vigilantism, or ceding territory to lawless groups or causes is not such a solution, will further tear us apart and set us on a path nobody wants to travel.
---
About the authors
Supervisory Special Agent (SSA) Scott Sweetow is a recently retired 29-year veteran of federal law enforcement, having served his entire career as an agent with the Bureau of Alcohol, Tobacco, Firearms and Explosives (ATF). SSA Sweetow began his law enforcement career as an agent in the Los Angeles Division working arson and explosives cases and subsequently criminal intelligence. Promoted into the senior executive service in 2011, SSA Sweetow served as Special Agent in Charge in the St. Paul and Atlanta Field Divisions, Deputy Assistant for Intelligence, and in 2016 became the Deputy Director of the Terrorist Explosive Device Analytical Center (TEDAC), with the last seven months of his career as the Acting Director. SSA Sweetow is a veteran of the U.S. Army Reserves, holds a B.A. in Russian and Soviet Area Studies, and an M.S. in Strategic Intelligence. He is currently president of S3 Global Consulting, LLC, which helps companies close security gaps, mitigate insider threat and external risks, and improve defenses against terrorists who use explosives or firearms.   
George Belsky is a highly experienced instructor and trainer. He has over 30 years of experience as a police officer, special agent, trainer/instructor, special agent, supervisor, manager and executive. He has extensive experience managing complex, long-term undercover operations, implementing crime gun intelligence strategies, and leading at the tactical, operational, and strategic levels of federal law enforcement. He is a 1984 graduate of the US Military Academy, West Point.