Police1 columnist Todd Fletcher named 2022 ILEETA Trainer of the Year
The annual award recognizes a trainer who goes above and beyond to enhance the competence and confidence of the officers they train
---
By Police1 Staff
ST. LOUIS — Police1 columnist and veteran firearms trainer Todd Fletcher was named 2022 ILEETA Trainer of the Year at the 2022 ILEETA Annual Training Conference and Expo held in St. Louis, Missouri.
The annual award recognizes a trainer who has gone above and beyond to promote the cause of training and enhance the competence and confidence of the officers they train, according to the ILEETA website.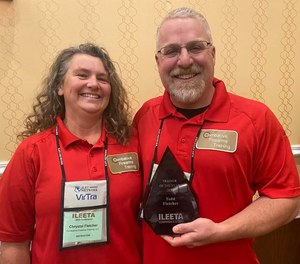 "It is an honor to be recognized by the best trainers in the world," Todd Fletcher told Police1. "I'm absolutely humbled and shocked by this award. There are so many talented instructors, trainers and mentors to choose from, and being recognized by ILEETA is an honor."
Todd Fletcher is the owner and lead instructor for Combative Firearms Training, LLC providing training for law enforcement firearms instructors from coast to coast. He has over 25 years of training experience as a firearms and defensive tactics instructor. He retired after more than 25 years as a full-time police officer and over 31 years of law enforcement experience.
Todd writes regularly for Police1 on firearms training issues and other critical topics, including the recently launched 30 days to better firearms skills challenge.