Tourniquet application training benefits from lights and noise
Increase the challenge by adding realism to your training scenarios
---
By Jason Williams and Brian G. Anderson
When testing the tourniquet application proficiency of your students, increase the challenge by adding realism to your training scenarios.
Both lights and noise will help simulate the stress of a real-life scene.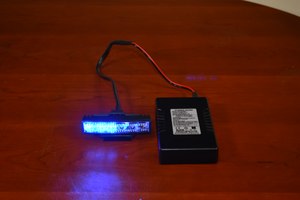 Light it up
Dark rooms provide a realistic training environment, but more realism can be achieved with the addition of flashing red/blue lights.
Old dashboard lights that have been removed from vehicles can add realism to a training session and the shop that performs the installations may have old lights that can be acquired just for training.
Given that the modern warning lights are constructed with LEDs and draw little energy, compact rechargeable 12-volt batteries can be used in the training exercises.
Crank up the volume
Dark rooms and flashing lights are great, and now the only thing missing is the sounds of an incident scene.
Putting out great sound during training is easy with the use of a little bit of simple technology. For hardware, MP3 players, smartphones, or laptops are easy to use and they can often be coupled to large speakers via Bluetooth. Public education offices may have large speakers that are used for school demos and other public events that may be perfect for the classroom.
When it's time to add sound to the training, there are several choices. Good audio content includes radio traffic from an earlier dynamic incident, crowd noise, a K-9 barking, and sound effects of sirens, air horns and helicopters. These can be found and downloaded from internet special effects websites or recordings can be made on-site. Other choices for audio include club music, up-tempo foreign language music and heavy metal music.
For more tourniquet training tips, see:
---
About the authors
Jason Williams is a 20-year veteran of the Aventura Police Department in Miami-Dade County, Florida. Jason has been a member of the multi-agency SWAT team for 16 years, as well as a team leader for the past 12 years. He is currently certified in several instructor areas including Active Shooter Response, less lethal, ballistic shield, mechanical/ballistic breacher and several more. Jason served as a K-9 handler for 12 years working two dual-purpose canines. His experience as a SWAT team leader/member and K-9 handler has pushed him to become a better tactician and to share his expertise.
Brian G. Anderson is a retired battalion chief and paramedic from Miami-Dade (Fla.) Fire Rescue. Prior to retirement, he focused on fire-rescue active shooter procedure development and inter-agency active shooter exercises. He is an instructor at Palm Beach State College and is also a volunteer instructor with Trauma Training Group, Inc., an organization that provides no-cost Stop the Bleed training in South Florida. He has delivered bleeding control training to private, public and charter school personnel and members of city and county law enforcement agencies.