What law enforcement can learn from averted acts of school violence
While much attention is given to responding to attacks in progress, increased research provides hope for earlier intervention and prevention of school violence
---
This feature is part of Police1's Digital Edition, "Prevention, disruption & response: The strategies communities must deploy to stop school shootings." Click here to download.
It is on the mind of every parent, every teacher and every police officer:
Will it happen here?
Will it happen today?
Can we stop it from happening?
The "it" is school violence. While much attention in law enforcement is given to responding to attacks in progress, increased attention and research provide hope for earlier intervention and prevention of school violence.
Report outlines disrupted school violence plots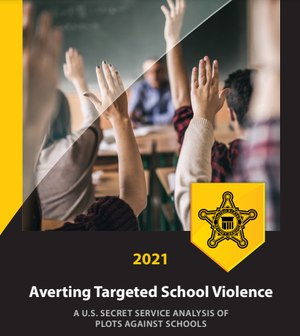 The U.S. Secret Service (USSS) has been in the business of predicting and preventing violence since the agency's duties expanded from protecting the integrity of the nation's currency to protecting the President. After the assassination of President McKinley in 1901, the USSS was authorized to protect the President. In 1906 Congress funded and formally mandated Presidential protection. Since then, the number of persons under USSS protection has expanded and the science of threat assessment has strengthened.
In its recently released report, Averting Targeted School Violence: A U.S. Secret Service Analysis of Plots Against Schools, the agency shares the findings of its National Threat Assessment Center (NTAC). The report outlines (available in full below) the findings from 67 disrupted plots against k-12 schools spanning 2006-2018. According to USSS Director James Murray, "The key findings of the study are clear and consistent: Individuals contemplating violence often exhibit observable behaviors, and when community members report these behaviors, the next tragedy can be averted."
A threat assessment model for schools is purposed to develop robust interventions and support for students experiencing distress. The goal of these efforts is not to administer discipline or generate criminal justice involvement but to intervene with a student to provide positive outcomes. The report recognizes that immediate and explicit threats, weapons and violence may require criminal justice intervention and response, the studies in this report were of cases where plots were disrupted rather than case studies of attacks carried out.
One significant finding is that assembling information on escalating student behavior through a threat assessment approach validates the observation that students who ultimately choose to target schools in violent attacks display a variety of observable concerning behaviors as they escalate toward violence. Another finding in this study of disrupted attacks is that the students who were prevented from a successful attack share many of the same characteristics as those who attempt and complete such attacks.
[RELATED: Register for Police1's webinar on Building safer schools: How law enforcement and educators can develop effective threat assessment teams to stop school violence]
Key findings of the report
The 64-page report is presented in a user-friendly format with clear graphics and subject headings. The executive summary and key findings are readily accessible to the reader who may then find more details within the body of the report.
The key findings are:
Violence is preventable when warning signs are detected and intervention happens.
Schools should intervene before legal action is required.
Classmate grievances are the most frequent motives in school attacks.
Students are the best sources of potential violence by other students.
Parents and families are important in recognizing concerning behavior.
School Resource Officers are an important component in violence prevention.
The expulsion of a student does not eliminate the risk they pose to themselves and others.
Students displaying interest in hate-filled or violent topics are at risk.
Certain dates get associated with school violence, especially the month of April
Many plotters had easy access to weapons.
The report used 67 cases where a planned attack was thwarted. This number, over a period of 12 years, obviously does not include all prevented school violence and excluded violence that would have been associated with other criminal activity such as gangs or drugs. The cases chosen met pre-planning criteria including evidence of conducting surveillance, recruiting others, documenting a plan, researching previous attacks, or successfully acquiring weapons.
Limitations are always cited in reliable research and the report explicitly warns that the small sample size of the study may not establish grounds for "generalized truths or making predictions" but does allow readers to learn from the attack plans studied.
Information on the derailed attack plans was garnered from open-source documents including media reports and reports from private or government agencies since much of the reporting of these incidents is about the attack planning and not a detailed background of the students. The 67 cases involved 100 persons who were current or former students at the targeted school. Only 43 of those persons were the focus of the researchers.
Of the schools studied only one was a private school and 84% were high schools. The cases studied spanned 33 states. About a third of the cases were in suburban areas, a fourth in rural areas, with the remainder in cities or towns. Although some high schools had attached buildings with lower grades, the middle schools and one elementary school had enrollments of over 500, as did more than half of the high schools.
SROs or security officials were part of over 90% of the schools studied. Only about one-third had a formal reporting system for concerning behavior, although others were encouraged to call local police, Crime Stoppers, or a number provided in some states for reporting. Few schools had active threat assessment teams or other personnel with assessment training.
Plotters tended to be solo operators with about a third involving more than one student, with a few cases involving up to six students. As expected, only 5% of plotters were female. The average age was 16 with a range from 11 to 19, most (95%) were current students of their target, and the rest were former students. Grades 9-12 were the most common.
Motives were undetermined in about a third of the cases studied. Derived from media and self-reports, grievances were cited most frequently. Of the 45% of plotters with a grievance motive, 31% involved peers with two-thirds of those reporting bullying. The remaining sources of grievance were staff, romantic, and other issues. Homicidal or suicidal desires ranked second and third with a total of 38% and the desire for fame was cited by 12%. Other motives determined were misogyny, white supremacy and psychosis.
Most plotters had more than one singular motive, especially the suicidal category which was frequently mixed with bullying and expected notoriety. Plotters intended to or expected to die in 37% of the cases studied.
Plans in all of the studied plots involved planning at least one of the following actions:
Weapons related
Executing the plan
Documenting the plan
Researching other attacks
Attempting to recruit others
Choosing clothing and music
Research and surveillance of a target
Researching other related topics
Acquiring gear
Playing video games to learn skills
Prepared a supply bag.
Weapons-related planning included internet searches on bomb-making, acquiring weapons from family, friends, or theft, and practicing with explosives or firearms. Over half of those planning an attack chose more than one weapon. While 96% were firearms, explosives, incendiary devices and edged weapons were often added, and many were planning on having more than one firearm. Other destructive items listed were tear gas, acid bombs, a crossbow and unconventional blades like machetes or throwing knives. In 70% of the cases, the student had easy access to firearms that were already available from family or friends.
Nearly three-quarters of plotters had detailed planning about executing their attack. These plans typically include the timing of the attack, dealing with police presence, getting to and from the school, and ways to cover their escape. Over half of the plotters documented their plans in journals, lists, manifestos, or diagrams. About a third of plotters researched previous attacks such as Columbine, the Aurora theatre attack, Virginia Tech and Sandy Hook. In 16% of the cases, the plotters attempted to recruit others, some with success and others with no takers.
Twenty percent of the planners specifically targeted security measures at the school. This included attacks on SRO and security personnel, disabling security hardware, blocking victim escape routes, and targeting those fleeing. Diversionary tactics such as starting fires or setting explosives off away from the school were also considered.
The first reported planning behavior could be found in only 22 of the cases studied. The advance time for planning ranged from one day to two years before the planned date of the attack. In the studies of completed or attempted attacks, the dates chosen were spread out, although April was common and none were in July. On the plotters' calendars, however, April was most prominent likely due to the anniversaries of the Columbine attack, the Oklahoma City bombing and Hitler's birthday. Other dates were chosen because of school events on that day or some personally meaningful date for the plotter. A third of the attacks were discovered and disrupted just a day or two before the planned attack.
Plans were leaked by 94% of the plotters, and most frequently to other students although 20% were discovered by adults. Plotters warned friends or other peers in about 20% of the cases. Three-fourths of the plot discoveries came from the plotters' own communicated intent. Behavioral concerns led to 10% of the discoveries, and in a few cases, the plotter self-identified to a counselor or teacher. In 12% it was a family member reporting the behavior.
Behaviors that led to the disruption of plans for an attack included weapons-related behavior, missing or stolen weapons investigations, noted behavior changes, or suspicious behavior reported by community members. The speed with which behaviors are reported is key to successful intervention. In the cases studied, 74% of the concerning behavior was reported the same day on which it occurred or became known and another 21% within two days. After an attack is disrupted, it was found that in 43% of the cases, others had observed behavior that should have been reported but was not.
Reasons for failing to report include that the observer thought the plotter was joking, fear of reprisal from the plotter, or indifference to the person. Over a third of plotters had a known history of school disciplinary history, and a similar percentage had previous law enforcement contact. The plotter exhibited symptoms of mental health issues in 70% of those discovered, and one-third had substance use or abuse. A variety of stressors were identified in the backgrounds of plotters ranging from health to social, to environmental.
While concerning characteristics can be examined by threat assessment teams with reporting encouraged and facilitated among students and families, an essential component is the response to the uncovering of potentially dangerous behavior. Support services or enforcement systems must respond effectively. Preventing school violence must be everyone's responsibility.
NEXT: Bystanders: One key to preventing school violence
Averting Targeted School Violence by epraetorian on Scribd