Big data, big results: How cops are combating crime with the cloud
Increasingly, police agencies are looking to software solutions that employ enhanced pattern analysis not only to help recognize crime patterns, but solve crimes
---
Pulse of Policing 2015: The State of Law Enforcement is an ongoing research venture aimed at examining the current state of policing in America from the individual, organizational, and industrial perspectives. Below is an article in a series of columns which will address how the private industry is tackling the challenges police departments are currently facing. Learn more about Pulse of Policing

By Robert Griffin, General Manager, IBM Safer Planet
There's no doubt "big data" growth is accelerating today as more of the world's activity is expressed digitally across the globe. In fact, it's estimated that 4.5 quintillion bytes of data are created every day from a variety of sources such as climate information, posts to social media sites, purchase transaction records, and medical images. In addition, there are already an amazing nine billion connected devices in the world today, and that number is expected to explode.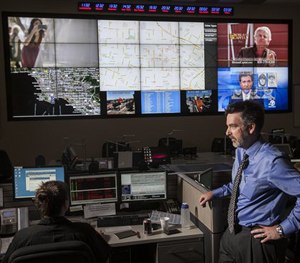 This flood of big data — and the demand from all types of users for quick access to it — is beyond the capacity for traditional processes today. Studies show that people engaged in analytics today actually spend more than 50 percent of their time finding, moving, and storing data and only a quarter of the time doing analysis. Staying on top of processes, having the relevant information at hand, and soliciting feedback from others are time-consuming tasks.
But there's good news ahead. The public sector, in partnership with business, is making great strides in solving big data challenges, especially as it relates to information sharing across jurisdictions. Increasingly, leading cities today are looking to software solutions that employ enhanced pattern analysis. 
Why the Interest?
Enhanced pattern analysis software can provide the "big picture" of big data across the range of law enforcement missions. Regardless of where in the investigative chain an official sits — tactical, investigative, or managerial — the information remains consistent, and can be pieced together throughout an investigation or used to generate leads from the scene.
For example, through the use of sophisticated analytics and "fuzzy searches," partial information such as a portion of a license plate, tattoo or nickname can be processed, shared across agencies, and used to help accelerate investigations. Geospatial mapping features can quickly create maps highlighting types of incidents such as arson, burglaries or prowling by specific dates, times of day, and location.
Enhanced pattern analysis lets crime analysts quickly organize and rapidly analyze huge quantities of seemingly unrelated data to not only generate leads for solving crimes, but also use existing big data in making non-obvious connections among people, places and other entities. This helps officials make smarter, more efficient decisions in the way they solve cases, share information, and ultimately increase the safety and security of a city.
And with more of this software available on the cloud today, small to mid-size law enforcement agencies can take advantage of the technology and have increased access to a global network of law enforcement information. The cloud-based model enables law enforcement agencies hit by shrinking budgets and rising expenses to avoid a high up-front capital expenditure as they seek to use new crime-fighting tactics.
Real World Examples
In Tucson (Ariz.), officials used enhanced pattern analysis for a community policing project to restore part of the midtown area. The city was able to track crime patterns over time and drill down into the data to look for the root cause. To track progress and ensure resources were applied effectively, data was used to evaluate if the policing approach was working to its fullest capacity.
This helped answer important questions such as whether more patrol officers on foot deterred crime more effectively than officers in a squad car in the same area. With this new insight at hand, there was a 60 percent reduction in drug-related crime within 18 months and a significant increase in police officer safety.
In Las Vegas, the Metropolitan Police Department (LVMPD) is using enhanced pattern analysis to help improve the city's public safety and secure information sharing with the agency's regional partners. The LVMPD is able to quickly organize and rapidly analyze vast quantities of seemingly unrelated data currently housed in four disparate databases. Departments can form information sharing agreements across the state and with other states and jurisdictions. As a result, officers can now generate leads faster during crime investigations and use existing data in making non-obvious connections based on information that was previously spread across the department between people, places and other entities, including mobile devices, phone records and vehicles.
The Charleston Police Department (CPD) in South Carolina is using enhanced pattern analysis software to assist the city's police force in identifying criminal hot spots to prevent crime and increase public safety. The CPD is able to augment its officers' years of experience and knowledge and provide them with a more in-depth method of looking at crime trends by centralizing previously disparate information including patrols, types of criminal offenses that are trending, time of day, day of week and even weather conditions.
Big Data, Big Results
Like other parts of the public sector, police departments continue to face the daily conundrum of having to do more with less — or do more with existing resources — to keep our cities and towns safe. Increasingly, leading-edge law enforcement agencies are looking to software solutions that employ enhanced pattern analysis not only to help recognize crime patterns, but solve crimes. These capabilities are now helping law enforcement deal with some of the age-old goals of crime fighting: removing criminals from the streets and creating safer neighborhoods.