How to build a diverse police force: Lessons from the corporate world
To truly embrace diversity, police departments need to implement change from the top down
---

Editor's note: This special coverage series, Recruitment & Retention Crisis: The Struggle to Hire – and Keep – Good Cops, will take an in-depth look at the recruitment and retention challenges currently facing police agencies, share potential solutions to the crisis and highlight best practices progressive PDs are deploying to bolster their ranks. Watch for further installments of this series throughout the rest of 2017.
By Simma Lieberman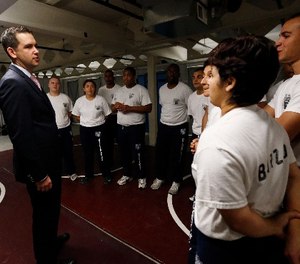 The corporate world is asking, "How do we recruit, engage and retain a diverse workforce?" Diversity is not just a good idea today. It is a business imperative if companies want to stay competitive and innovative.
What could law enforcement learn from the business world to increase diversity among its ranks? This article identifies common mistakes in diversity recruitment, perceived obstacles and best practices by organizations.
Common mistakes in diversity recruitment
Organizations make two mistakes when it comes to diversity recruitment:
1. Company photo diversity
The organization only considers the visible dimensions of diversity: primarily race and gender. The company photo looks good, but everyone thinks the same.
Differences that include sexual orientation, geographic background, thinking and communication style, work function, ability and disability, religion and work style are not valued and are even discouraged.
This is a very narrow definition of diversity and offers little or no value to the organization in terms of new ideas, creativity and innovation.
2. Diversity by numbers
Again, diversity is defined by what you can see. Demographics reflect the outside community, but it is only at the lower or entry levels. There is little or no diversity as you move up into management.
When questioned about diversity in their organization, leaders point to all the numbers. Every year they have good numbers, but the people are constantly changing.
Employees leave and get jobs where there is a value of diversity at all levels and they are encouraged to move up in the ranks.
Addressing diversity challenges
To be a successful organization in today's culture, you need to create an environment of inclusion where people feel valued and integrated into a company's mission, vision and strategy at all levels.
When employees' skills and knowledge are recognized, appreciated and utilized, they are more engaged in contributing to an organization's success. They are more willing to go the extra mile and share ideas and innovation. The visible and invisible dimensions of diversity that they bring are used as resources for success and growth. In order to create an inclusive work environment, you need a diverse workforce.
Assess your need. Clarify your definition of diversity. Include the visible as well as the invisible dimensions. Conduct a culture assessment of your organization, department or function using focus groups, interviews or surveys. Determine whether one or all of these methods would be most appropriate. Get feedback from the community and identify the needs of any potential end users.
Develop a strategy and implementation plan for a diversity/culture change initiative. Any culture change must be driven by senior management, and include the whole organization. Address all systems and processes including recruitment, employee engagement, retention, promotion and performance evaluation.
Barriers to success
There are three reasons why organizations drop the ball and don't move forward.
1. Analysis and data nullification
When the assessment is completed and data analyzed, leadership is in denial about the results. Employees lose any trust or hope developed as a result of participating in the assessment. Leadership places blame on employees for having a hidden agenda.
2. Short-cut solution
Leadership listens to the report and decides that hiring a member of one of the underrepresented groups is the answer. They conduct an executive search for the best and brightest and declare a solution found. There is no need and no time for any long-term strategy.
3. Diversity holding pattern
Executive leadership holds a strategy meeting, which results in good ideas or long-term vision, but there is no process of accountability or steps to implement specific actions. Other than discussing the need for more diversity in the organization, there is no plan to change employee recruiting and retention methods.
Recruitment strategies with diversity in mind
Organizations can deploy several strategies to improve diversity recruitment:
1. Create a diverse pool of candidates
If you are serious about implementing a diversity/culture change initiative, you must create a diverse pool of candidates. If you always recruit from the same places, with the same methods, you will always get the same people.
In today's competitive market, you need to be creative. You have to go where the candidates are and have a long enough lead-time to get a good selection of candidates.
Consider the following:
Research and develop a list of schools that historically have large numbers of women, people with disabilities, and people from different cultural, ethnic and racial backgrounds. Send recruiting teams to those schools.
Attend career days at middle and high schools and come prepared to discuss the benefits of working for your organization and your industry. Goldman Sachs began a program in 1998 called GS Scholars to introduce high school students from historically underrepresented groups to business and finance as a career option.

Employers from the publishing industry have participated in career days and gone into middle schools in racially diverse areas to interest students in book and newspaper publishing.

When GE Nuclear couldn't find enough qualified college graduates in nuclear engineering, they began to send recruiters to high schools to get people interested in the field before they went to college.
Contact student groups on mainstream campuses and ask them to suggest the best candidates or include notices about your organization in their newsletters or other vehicles for communication. Develop relationships with diversity-related organizations (e.g., Black Student Union, Native American Students Organization, Asian-American Student Union, LGBT organizations, etc.) and sponsor events.
Send a diverse team to meet with people at schools and other recruiting sites and build relationships so your organization will be the agency of choice to apply to work.
Develop relationships with diverse community organizations and let them know about the opportunities in your organization.
Diageo has sponsored LGBT events during Gay Pride Week in San Francisco and has used marketing and PR people who specialize in the LGBT market.
Sodexho, a food and facilities management services company, in partnership with the US Pan Asian American Chamber of Commerce and the SODEXHO Pan Asian Network Group, has set up a scholarship for Asian American college juniors who are also involved in community service.
Identify new ways of reaching target markets. In 2002, Nurses for a Healthier Tomorrow, a not-for-profit coalition of 37 nursing and health care organizations, ran promotions in 436 movie theaters before films like "Spiderman" and "Star Wars" in order reach a young market who might not have thought about nursing as a career.
2. Clearly communicate your recruitment process
Your criteria for interviewing and hiring should be based on qualifications and not just because you are more comfortable with someone who went to the same school, practices the same religion or shares your gender or sexual orientation. Have a diverse panel conduct interviews so you can get other perspectives.
Include diversity as part of your mission statement and display it on your website and marketing material. One of the first things a potential recruit will do in researching your organization will be to look at your website. If it does not state and show a high value for diversity, there is a good chance that recruit will look elsewhere.
Diversified Maintenance Services, a facilities service organization, mentions the diversity of their management team in the first sentence of their mission statement. "Diversified Maintenance Services, Inc. (DMS) has a diverse multicultural management team with decades of combined management experience, unique in their unparalleled vision and expertise."
Market your diversity initiative throughout the organization so the word gets out that your environment is a great place for everyone to work. Identify any changes your organization has made regarding diversity and how diversity goals are being met.
3. Change perceptions about your profession
Identify stereotypes of people who work in your industry and develop strategies for changing perceptions:
Use more inclusive language and visuals in rule books, training and recruiting materials. Make sure all pronouns aren't female in industries like nursing and that all pronouns are not male in industries like law enforcement.
Johnson and Johnson created a "discover nursing" campaign featuring male and ethnically diverse nurses in television commercials.
Be aware of your own biases and stereotypes and their impact on the environment. Participate in high-level diversity training.
Create processes to make people who are different from you feel welcome and included in your organization, and then use the media to alert potential employees that you are a welcoming, inclusive employer.
Organizations like PriceWaterhouseCoopers and Wellpoint advertise in "Diversity, Inc." and market the diversity of their employees as strength. This not only increases their customer base but it helps promote them as employers of choice.
Mentor people who are a different gender or from different cultural or ethnic backgrounds. It will help you become more comfortable with other people and will help your staff grow in their careers.
Incorporate ideas from other cultures to solve problems and be more innovative.
4. Implement policies that support diversity recruitment
Use resources that are already in place and research what other organizations have done to be successful. Implementing the following policies will support your diversity recruitment:
Develop relationships with employee affinity groups and keep them apprised of any openings.
Provide cross-cultural communication training to help staff work well together and serve the client population more effectively.
Survey and interview staff across demographics to determine their needs in order to create a strategic plan for retention and increased recruitment under represented populations.
Rethink your beliefs that a candidate should always have direct eye contact, be a certain weight or height, speak the way you do, have children, be single, lead in a certain way, not be hearing impaired, etc. Outside of physical requirements for being able to do the job, don't let your biases exclude excellent candidates.
Examine your definition of leadership qualities to include ways in which people with different thought processes and communication styles can lead. If you have been hierarchical in the past, start learning that people with consensus styles can also be effective leaders and do not exclude them from the recruiting process.
Conduct exit interviews and identify patterns and themes if they exist. Be willing to change to accommodate and use new ideas and creativity.
Use a recruiting team trained in diversity and inclusion awareness.
The Compass Group, a hospitality and facilities management corporation, trains their recruiters so they can communicate and interest diverse candidates. They know that the recruiters are the frontline people and how they interact with potential candidates can be the deciding factor in how that candidate will follow up.
---
About the author
Consultant Simma Lieberman is known as "The Inclusionist," because she creates inclusive workplaces where employees love to do their best work, and customers love to do business.
Simma is a member of two diversity think tanks, a former co-chair of the San Francisco Regional Chapter of Out and Equal, and former board member of the Northern California Chapter of the National Speakers Association. She is the president of the Northern California Chapter of Society for the Advancement of Consulting, and an inductee to the Million Dollar Consultant Hall of Fame.
Contact Simma at Simma@Simmalieberman.com or visit http://simmalieberman.com/ for more information.