Iowa LEO collects equipment to outfit Alaska police department
After reading a news story about the challenges of rural policing in Alaska, Officer Peme Canas began collecting equipment and donations for one small town
---
Tom Loewy
Quad City Times
DAVENPORT, Iowa — Davenport Police Officer Peme Canas believes in the power of caring and community.
Even if the community is 3,403 miles from Davenport in a place called Savoonga, Alaska — a city of roughly 700 on Saint Lawrence Island. It is a town so far away it is closer to Provideniya, a port city on the Russian tundra, than any point on the coast of Alaska.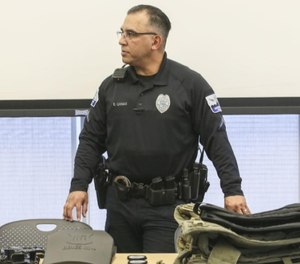 Thanks to Canas, sometime next week a plane will deliver vests, heavy vests, TASERs and other equipment items to the police force charged with protecting the citizens of the distant dot on the map.
The 16-year veteran of the DPD first heard of Savoonga and its six-person police force while reading a Pro Publica story about the challenges faced by police forces across Alaska. He was stunned when Savoonga Police Chief Michael Wongittilin described a department without any equipment to protect themselves or the town's residents.
No guns. No tasers. No vests. The Savoonga Police don't even carry badges.
"It was the spring (of 2019) when I read the story, and I tracked down the number for the Savoonga police department," Canas said. "I called there and Chief Wongittlin answered the phone."
Canas asked what he could do to help and pledged support for the police officers in Savoonga.
"Chief Wongittlin was very appreciative — but he was very reserved," Canas said. "He had heard that kind of stuff before, but nothing had ever come of it. I think he didn't want to get his hopes up."
Canas has a well-earned reputation for helping others.
"Any opportunity Officer Canas has to help people, he steps up," Major Jeff Bladel said. "He jumps in and goes all out. He is known in our department and throughout the community as someone who looks for opportunities to help others."
Bladel wasn't really surprised Canas wanted to help six police officers in a distant town with a hard-to-pronounce name. Canas' pastor wasn't surprised, either.
"Peme is just the kind of person who would read about someone in need all those miles away and still figure out a way to help," said Jim Powell, the pastor of Cross Point Church in Bettendorf. "He's a pretty humble guy who puts a lot of effort into helping others. And he knows how to get others interested in helping."
Canas reached out to his fellow officers, department leadership, the city of Davenport and Powell for help. Bettendorf Police, the Scott County Sheriff's Department and private individuals joined the cause.
After Canas learned it would cost at least $600 to ship the equipment, he said a number of shipping companies stepped up to help.
He wasn't surprised by the support.
"The story took off and got a lot of attention when the Anchorage paper wrote about it and that story was picked up by Pro Publica," Canas said. "But when people reached out, I wasn't surprised at all.
"I have a positive outlook. And I believe in the kindness of strangers. I knew all we needed was a spark and people would step up and help. I know the officers in Savoonga are moved by the kindness of people they will never meet."
McClatchy-Tribune News Service