It's personal: Understanding the risks poachers pose to LE
Understanding the potential for risk, and the different types of criminals game wardens hunt just might save a life
---
Nearly 50 years ago, Wisconsin game warden Neil LaFave was executed with two shots to the head with a .22 rifle. Then the murderer, angry over a citation for hunting pheasant out of season, decapitated the warden's corpse with multiple shots from a 30-06 and a shovel and buried his head and body in separate, shallow graves.
An investigator later found evidence indicating that the shooter, Brian Hussong, may have lain in wait and lured LaFave to his location.
It doesn't take an FBI profiler to read the rage in that crime scene. While it's rare that the minor consequence of a ticket for poaching results in such an extravagant display of violence, less dramatic attacks on game wardens and conservation officers are more common than the general public sees.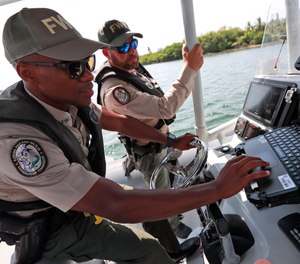 The risks game wardens face
With a few exceptions, like Dr. Stephen Eliason at Montana State University Billings, sociologists and criminologists concentrate on urban crimes leaving rural crimes under-researched and underreported. It can come as a surprise, then, to discover that game wardens regularly face high levels of risk. They work alone, often in remote places, and nearly everyone they contact is armed. One researcher found that wildlife officers are assaulted with guns or knives up to seven times more often than other kinds of officers, and are injured twice as often. They are specialists in a wider career field already associated with danger, and those hazards can become intensely personal.
Poachers – hunters who flout wildlife regulations – seem different from other criminals. Unlike "regular" bad guys (say, gang members or drug dealers) who often regard arrest and criminal charges as simply a cost of doing business, poachers rarely admit guilt. Even when they admit the technicality of their violation, they are insulted by criminal charges and see themselves as "good," even law-abiding people, who simply feel entitled to break laws they don't value. (When Dr. Eliason mailed surveys to past offenders for research, some were returned blank but with detailed letters attached, describing feelings of insult and outrage for being associated with their own violations – especially the label  "poacher.") 
Poacher profiles
Poachers fit some general profiles in the US – mostly young-ish, mostly white, nearly all male – but that's where the stereotypes end. While a few take game out of season to fill the freezer, most of them aren't hungry or poor. Rather, most violators are described by the game wardens who encounter them as middle class, with jobs, education, and nice trucks and equipment. Some sell to the black market, while others are simply competitive, like the hunter who took elk, bear and deer over salt licks in Crater Lake National Park for years. The trophies are their markers for a personal, internal scorecard. 
Some of these competitive poachers grow obsessed with illegal trophy hunting. One Montana FWP investigator, Brian Golie, calls these '1-percenters': sociopaths who center their lives around trophies and scores, even cultivating relationships with law enforcement just to practice their illicit craft more successfully. The thrill of the chase is refined and enriched by the thrill of outwitting wildlife officers, while the 1-percenters' family members enable their crimes, furthering their illusions of entitlement.
Others, like the Cajun poachers interviewed by researchers Craig J. Forsyth and Thomas A. Marckese, view poaching as an extension of their heritage and cultural tradition. They call it "outlawing," and like the 1-percenters,  the cat-and-mouse game with conservation officers only sweetens the sport. When this group of poachers was asked their reasons for offending, the list spanned a spectrum from "outlawing" being something they're entitled to do as part of their culture and heritage, to societal resentment. Wildlife regulations and conservation laws are for other people, specifically rich people who hunt for recreation. Outlaws, however, are a "sort of cultural hero" in this community, members of "a resistance."
Similarly, Claude Dallas was a serial poacher who saw himself as entitled to ignore conservation laws, regarding hunting any species anytime, anywhere as a cultural "mountain man" right. In January 1981, he shot and killed two Idaho game wardens, William Harlan Pogue and Conley Elms, who came to arrest him for taking bobcats out of season and then evaded arrest for more than a year.
That case bears some similarities to the Wisconsin murder, without the marked loss of control. Like Hussong, Dallas blamed the victim officers for his crime, justifying it by citing harsh attitudes, and claiming self-defense. As Hussong used a .22 for the kill shots, so did Dallas finish the two Idaho wardens with the poacher's common small caliber.
Both murderers attempted to avoid capture by hiding the bodies of their victims; both murderers escaped prison and lived on the run for a while.  Even the method of their escapes was reported to be similar.  In fact, Hussong's escape took place in August 1981 and would have been widely publicized while Dallas was still a fugitive for the murders.  It's easy to wonder if it influenced Dallas's escape five years later.
Search headlines and current cases will rise to the surface. Last October, a US Fish and Wildlife officer cited two men for hunting and fishing violations at DeSoto National Wildlife Refuge in Iowa. That encounter kicked off further investigations for interstate game violations, and by Christmas, one of those men had been arrested for threatening to shoot the officer and blow up his house. It wasn't an idle threat. The poacher had weapons, was seeking explosives, and had already located the officer's house. Local police were tipped by the suspect's hunting companion, who was alarmed by the plans and the stalking of the officer's house.
Because their numbers are few among US law enforcement, threats and violence against wildlife officers garner little press. Of course, it's impossible to predict just when any conservation enforcement action could turn violent. Most game wardens try to prioritize education over enforcement, but they cannot overlook egregious or repeat offenses, and they can't control the attitudes of the offenders they contact, either. Understanding the potential for risk, and the different types of criminals game wardens hunt just might save a life.
For some poachers, crime isn't business, it's very, very personal.
NEXT: Read more from Kathleen Dias on policing the remote and rural here