Boston city councilors continue push for police officers in schools
Following a video of students jumping a teacher and other disciplinary issues, councilors want to see more police and metal detectors in schools
---
By Sean Philip Cotter
Boston Herald
BOSTON — City councilors continuing to push for more police and metal detectors in schools are now leaning on the new school superintendent to take more action.
"Although BPS has promised to communicate more openly when incidents happen, and make bold changes to ensure that our students and staff are safe at school, this school year has not been much different," City Councilors Erin Murphy, Michael Flaherty and Frank Baker and City Councilor Ed Flynn wrote. "There should be no question among City and State officials about returning non-invasive technology such as metal detectors, and having police officers present in our schools."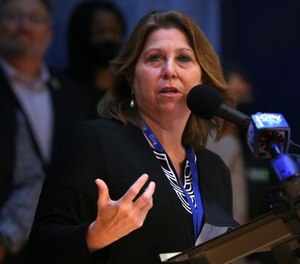 This comes on the heels of a letter at the start of the month from the same group of councilors — the more centrist cohort of the 13-member, otherwise politically left-skewing body — calling on the city administration to make similar changes following a video of students jumping a teacher.
This one, addressed to new Superintendent Mary Skipper, invokes a couple of new high-profile incidents including a bullet found in a school parking lot on Friday and then a widely-circulated video of a brawl in the corridors of the Boston Latin Academy on Monday, after which one teen was reported slashed in the hand.
"Unfortunately, these types of violent incidents are becoming commonplace in our schools," the councilors wrote. "Since police were taken out of our schools in the Summer of 2021, staff reported to an independent consultant that they spend more time addressing safety issues and less time teaching in the classroom."
Skipper's office couldn't be reached for comment. She took the reins at the start of this school year, though problems well predate that; last year saw a string of incidents of violence in and around schools that included a principal badly beaten by a student.
A report last week that was required under an agreement Mayor Michelle Wu signed last summer to avoid a state takeover of schools called on the district to reinstitute its own police department or having a contract with Boston Police.
Other city councilors and advocates have spoken out against metal detectors and cops in schools, saying these steps make schools feel more like prisons and aren't effective. A hearing last year about the matter included several testy exchanges between the two diametrically opposed sides.
"We have to make sure that we're working together and that the police are at the table and that we can't put the burden of school safety on classroom teachers," Murphy, the lead author of the two letter about school safety, said.
NEXT: Portland PD chief in talks about bringing SROs back to some city schools
©2023 MediaNews Group, Inc.
Visit at bostonherald.com.
Distributed by Tribune Content Agency, LLC.
McClatchy-Tribune News Service