N.J. police: Michigan State University shooter had note threatening 2 schools in pocket
"As the investigation continued, and out of an abundance of caution, the Ewing Public Schools were closed for the day," Ewing Police said
---
By Charles E. Ramirez
The Detroit News
EWING, N.J. — Police in New Jersey said the gunman who killed three and wounded five on Michigan State University's campus Monday may have been planning to threaten two schools there.
Officials for the Ewing, N.J. Police Department said Tuesday they were notified by New Jersey State Police at 6 a.m. that 43-year-old Anthony McRae had ties to their community. They were also told Michigan police found a note in his pocket that indicated a threat to two public schools in their community.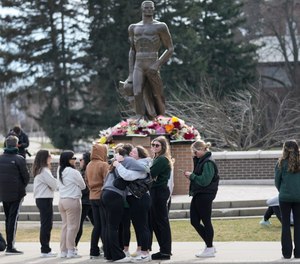 Michigan State University police officials confirmed a note was found on McRae.
"There have been reports of a note found on the suspect at the time of locating him," officials said in a tweet Tuesday. " We can confirm that there was in fact a note and it is currently being investigated by law enforcement."
Authorities in Michigan late Monday found McRae off-campus after he died of an apparent self-inflicted gunshot wound.
"As the investigation continued, and out of an abundance of caution, the Ewing Public Schools were closed for the day," Ewing Police said in a statement Tuesday. "Officers from Ewing and surrounding agencies were stationed at each public school as well as other schools in the township. After further investigation, it has been determined that the incident is isolated to Michigan."
Officers were to remain at the schools for the day and classes are expected to resume their normal schedule on Wednesday, police said.
They also said they determined that McRae has not visited the Ewing area for several years.
EARLIER: Police seek motive of gunman who killed 3 at Michigan State University
___
(c)2023 The Detroit News
Visit The Detroit News at www.detnews.com
Distributed by Tribune Content Agency, LLC.
McClatchy-Tribune News Service